Happy Married Life Of Lane Kiffin And His Wife Layla Kiffin!! Here Are The Few Things You Did Not Knew About Layla
Lane Kiffin is married to his wife Layla Kiffin for over 15 years. The duo has gone through many phases of their life together. Facing all the up's and down, Lane and his wife Layla are still together with the happy married life.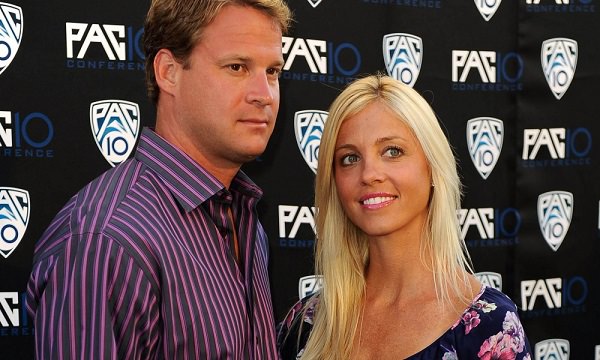 Here are the few things you did not know about Layla Kiffin. Get to know more about her here and also know about the married life of Lane Kiffin and Layla Kiffin.
Happy married life: Lane Kiffin and Layla Kiffin 
The story of Love!! Lane Kiffin was serving as a graduate assistant at Colorado State in 1999. During the time, he went to visit his father Monte, at the Tampa Bay Buccaneers facility. That was the time when he met his wife Layla Kiffin for the first time.
The duo became close to each other in a short period of time and start dating quickly. Just after the three months after they met, the duo got engaged. Dan Reaves, Layla's father once revealed how Lane asked for his daughter's hand for the marriage: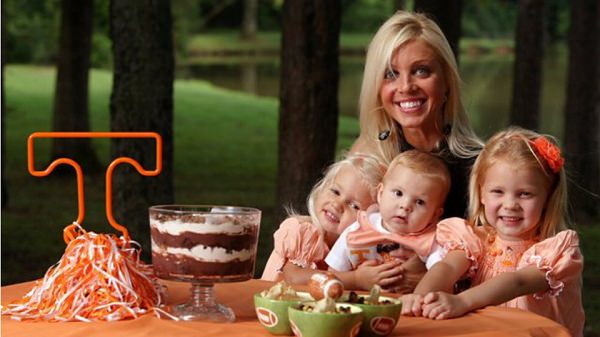 "The receptionist at my office buzzed me and said Lane was here to see me. I thought he was going to say that he was getting out of coaching and wanted a job. Instead he asked if he could marry my daughter. I called her to ask her, 'Is he serious?' (laughs) I wasn't supposed to ruin the surprise. They bought an engagement ring that same day."
The duo together has three children. Layla gave birth to her first child a daughter Landry in 2005. The duo welcomed their second daughter Presley after two years in 2007 and third child, a son Knox in 2009.
She gave birth to her son when Lane was the head coach at Tennessee. She focused her whole time on raising her children though she did not expect to be a stay-at-home mom and also could not imagine doing anything else.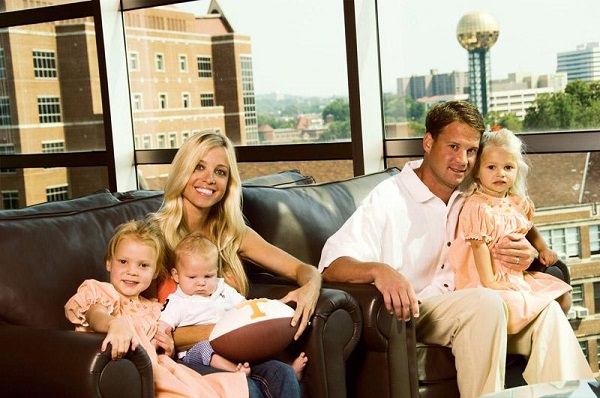 "I loved what I did and was really happy with the way my career was going. But since they have arrived I can't even imagine working. It's just not for me. We've said we want more (kids), but I don't know. I'm very happy with what I have right now."
Also read The late Bobby Dodd, the college football coach is remembered lovingly by his fans, team players, and his children-Linda and Bobby Jr.!
Few things you did not know about Layla Kiffin 
Layla Kiffin Gator fan from her birth as she had Gator Alumni parents. Football was always close to her since her childhood as her father was an All-American quarterback for UF. Later on, he became the coach for the team under Steve Spurrier.
Layla attended Bucholz High School for two years during her stay in  Gainesville. Later on, she completed her graduation from the University of Florida from 1992 to 1996 as both of her parents were alums of the school. After her graduations, she worked as part of the special events department with the Tampa Bay Buccaneers staying close to her college home.
Afterward, when her husband became  head coach for the University of Tennessee in 2008, Layla started wearing the "UT Orange." Furthermore, she also stated that the family comes first.
Layla is grateful
Lane Kiffin was Alabama's offensive coordinator from 2014-16 and says that his experience. He also shared that he has gained a lot of knowledge working with the coach, Nick Saban and he is very grateful that he could gain that experience.
You may like to read Football coach Lane Kiffin life is listed in details. Click to know his birth, father, ex-wife, children and coaching history!
More About Layla Kiffin
Layla Kiffin is the wife of famous American football coach Lane Kiffin. She came into the limelight as she tied the knot with the head football coach at Florida Atlantic University. Furthermore, she is the daughter of former footballer John Reaves. See more bio…