Hasan Minhaj is happily living life with wife but keeps marital life. Were dating since high school!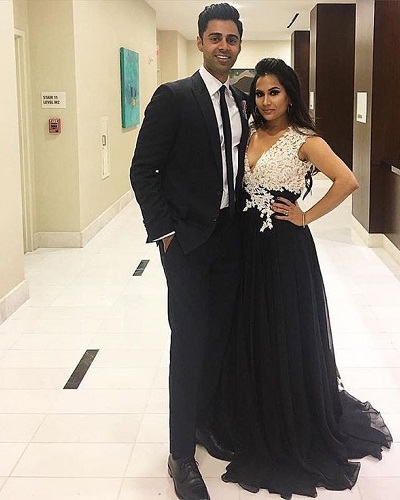 Some people like to flash all the things about their marital life whereas some of them get really hesitant and do not want to reveal a single word about their relationship and marital life.
Today we will be discussing an American actor and a TV show host Hasan Minhaj, who also wanna keep his marital life and personal life away from the spotlight.
---
Hasan's secretive but blissful marital life
Hasan was married to Beena Minhaj, a management consultant in January 2015, and the two are happy with one another.
Similarly, the two were in the relationship since both were students in college as they first met in college at the University of California and later turn their relationship into a blissful couple.
Revealing his emotion, when he saw Beena for the first time, he said:
"I met the love of my life there. It's wild. When you're living your life, you don't realize that history is happening in real time. So when I first saw her as a freshman, I was just living on the quiet floor in the Thoreau dorms. She was just a girl I had a crush on. I didn't know she'd be my wife."
They also said that their relationship was very traditional and said:
"Beena and I didn't move in together until we got married. We kept it very traditional … so I had to evolve very quickly."
The meeting with his wife was surely adorable but if you deep into his wedding day, you will find that it is more interesting. To remember all those weddings and dating memories, they hung all those pictures in their bedroom and it is totally incredible.
Despite putting his life away from the spotlight, his marital life is praise-worthy and living a happy marital life with his wife.
You may like to read Know the response of Jared Kushner to the call out from comedian Hasan Minhaj on Jared's close ties with Saudi Arabia Prince!
Hasan is proud to be a Muslim
When we hear a Muslim name, the image that sets in our mind is a bit special. But he proved about racial discrimination and said that he is very proud to be Muslim and said:
"A lot of times, we as a country don't want to talk about these things because we're living our day-to-day lives. So when you read [about] something like the Muslim ban, or [that] we're going to build a wall, people are like, Look, man, I'm just trying to go to work, drop my kids off at school, and live my life. The story that I'm telling in "Homecoming King" about falling in love, these are things that happened to me — that actually happen everyday in our backyards and in our communities. The reason why I think that the story is so powerful – and I think we've all experienced this, regardless of race, color, creed, or class or sexuality – [is] we've all dealt with these doorstep moments where we've put ourselves on the line and we weren't accepted because of something we can't control. Now, for me, it was the color of my skin."
He then added,
"But for other people it's a myriad of other reasons. It was the first We're going to go in a different direction moment, where you put your heart on the line and people say, Hey, because of variables you can't control, we just have to do something different because, you know, if you're seen with our daughter at prom, we're going to take photos, what are people going to think? And that moment in my life captured so much. And I think it speaks to a lot of moments people are having now."
Moreover, Hasan said:
"A lot of times in life, it's personal choices that you're making, actively, and then there's a myriad of forces and circumstances that are out of our control. And without even realizing it, you're riding a wave of events that you have no control of. So, I am who I am. I'm Hasan Minhaj. I'm this this Indian-American Muslim comedian in America during the Trump Administration. Now, a series of circumstances unfold where Donald Trump is the president, he pulls out of the event, the Administration has boycotted, all these variables happen."
Continuing the same phrase, he then added:
"A bunch of comedians had passed on the gig because it's too contentious. There's just a lot of, Will the event still happen? Is the event going to implode on itself? And then I get asked three weeks before the gig: "Do you want to do the dinner?" And I felt, Wow!What amazing timing and circumstances that, given the current administration, I would be asked to be the comedian to comment. I thought, This is a hell of an opportunity."
Also read "Language, even more than color, defines who you are to people."-Trevor Noah
Short Bio on Hasan Minhaj
Hasan Minhaj is an American comedian and actor. He is best known as the current senior correspondent on Comedy Central's The Daily Show. He launched his acclaimed one-man stand-up comedy special, Homecoming King, which debuted on Netflix in May 2017. More Bio…