Don't Miss Out Hilarious Bernie Sanders Inauguration Memes That Ariana Grande to Jennifer Aniston Could Not Stop Sharing!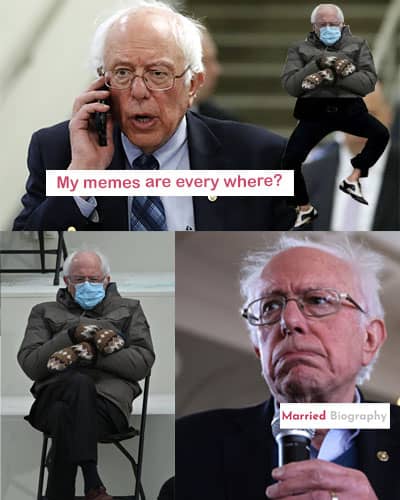 Bernie Sanders has a trending meme that celebrities are enjoying and sharing through their social media.
The meme originated from the picture of Bernie sitting wearing an oversized hand-woven mitten during the inauguration.
In the picture, he is seen folding his arms and crossing his legs on a cold day.
---
People have been photoshopping him and making some uncontrollably hilarious memes that celebrities have been enjoying. Here are a few of the memes you should not miss.
1) Jason Momoa
Jason Momoa shared a short video of him opening the folding chair in which Bernie was sitting. The chair transitioned into the viral picture of Bernie.
View this post on Instagram
2) Jennifer Aniston
Jennifer Aniston who has been rocking with her hilarious posts since she joined Instagram had shared multiple stories of her with the viral Bernie's pictures. The hilarious one had to be the one with 'our friend Bernie'.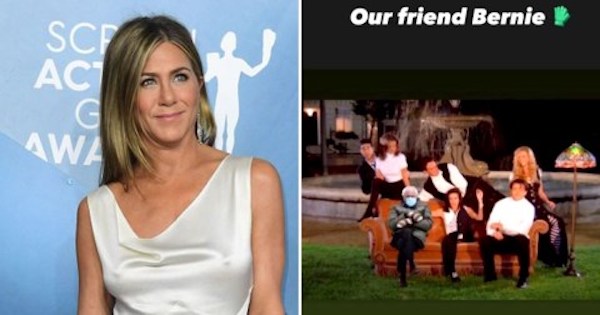 3) Ryan Reynolds
Ryan Reynolds shared his version of the Bernie Sanders meme. In the picture, Bernie is sitting beside Ryan. Some famous Instagram stars are wanting to see Bernie in Deadpool 3. There is another version of the meme where Ryan is carried by Bernie on his lap.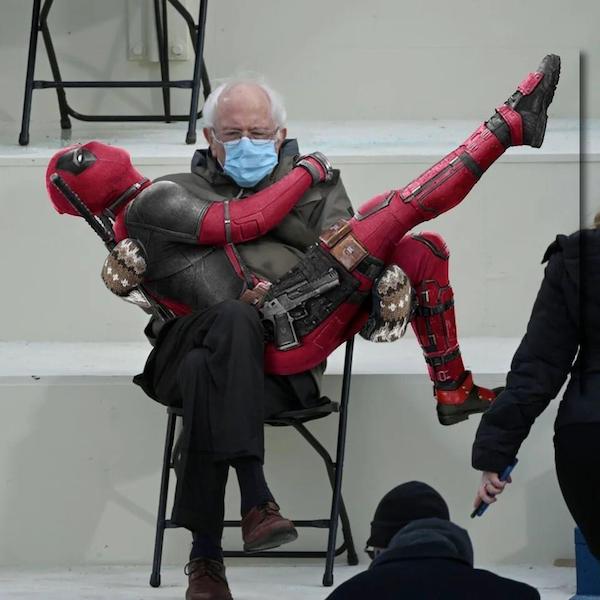 Also read Celebrities are often victims of social media trolls and memes! See how this multi-talented actress, Melissa McCarthy deals with trolls
4) Arkellsmusic
Arkellsmusic made everyone laugh with the original photo of two members of the band photoshopping Bernie in the center. Arkells music shared the meme through the Instagram page.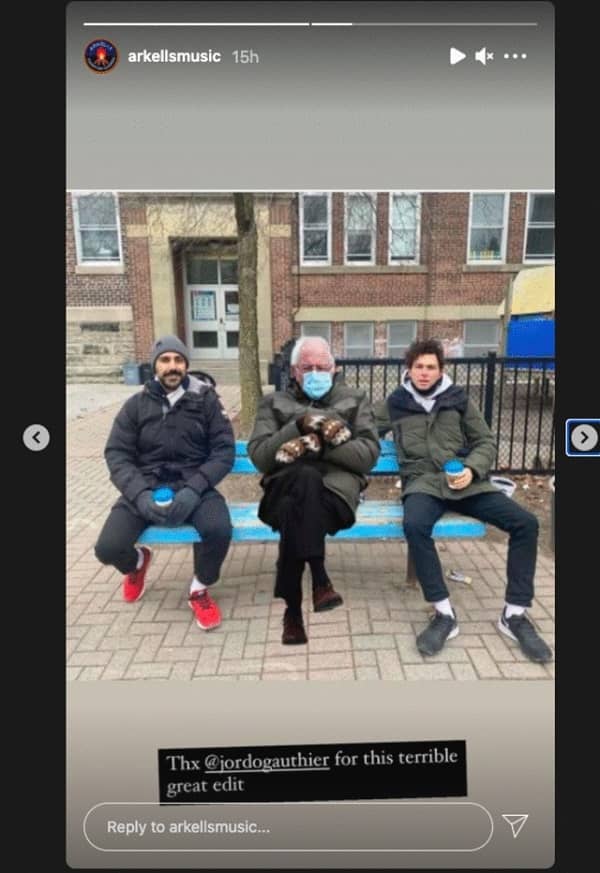 5) Sarah Jessica Parker
Sarah Jessica Parker shared the trending meme with Bernie in a scene from Sex and the City. In the meme, Sarah is sitting with two female co-stars sipping wine while Bernie is just on the side. She wrote,
"Like a needle in a haystack."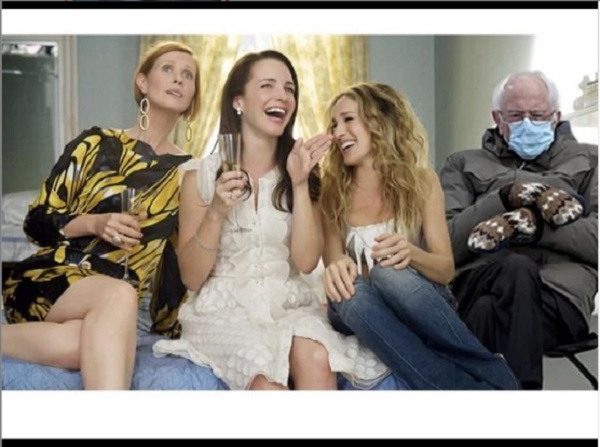 6) Ariana Grande
Ariana Grande shared a glimpse of the inauguration while putting Bernie Sanders in the park. She captioned it as 'oh happy day'. Grande also shared pictures of Michelle Obama, Jill Biden, and Kamala Harris.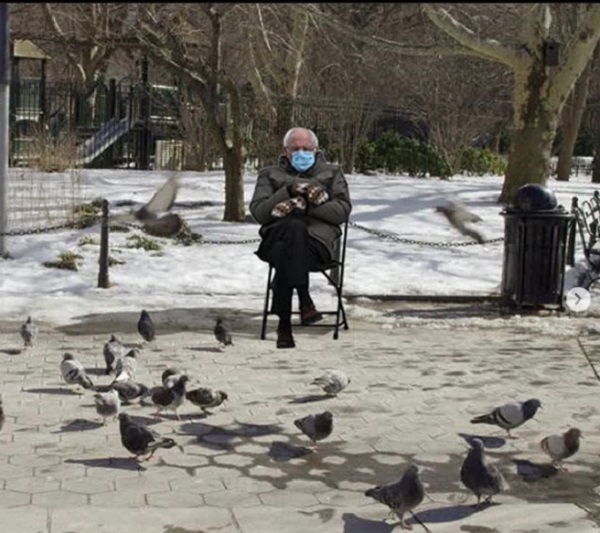 7) Demi Moore
Demi Moore also shared a video of her making pottery where she is held by Bernie Sanders while making pottery. She wrote,
"This is the one Thank you for this masterpiece! #FeelTheBern"
View this post on Instagram
8) Busy Phillips
Busy Phillip shared a meme of Bernie where he is placed between a crowd of people. Phillips said that Bernie knew there was a mixup.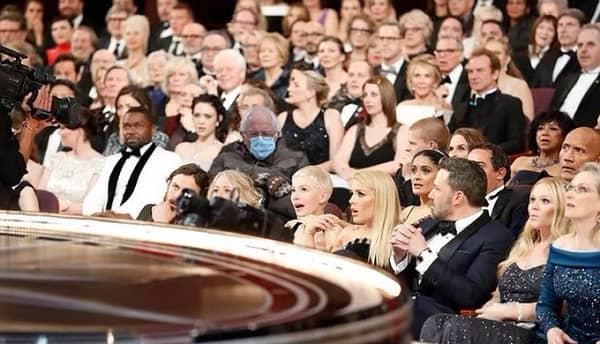 Also read Kourtney Kardashian Slammed for her Meme! Fans hate On wearing Fur Coat and Joke about 'Mental Illness'!!
9) Paul Bettany
Paul Bettany posted a meme of Bernie Sanders on his Twitter in which Bernie is photoshopped into a play of the Marvel Cinematic Universe.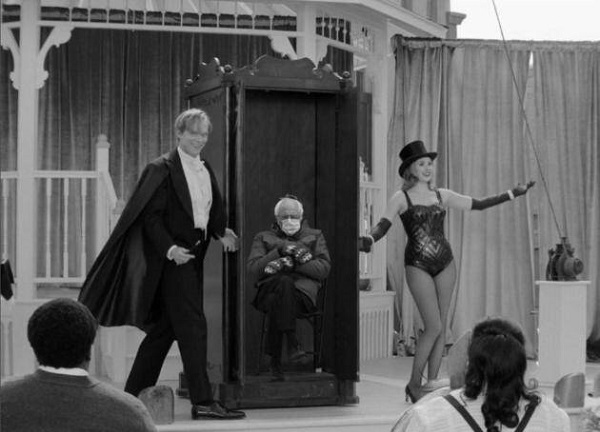 Short bio on Bernie Sanders
Bernie is an American politician. Bernard Sanders has been the junior United States Senator from Vermont since 2007. Additionally, he is the longest-serving independent in U.S. congressional history.
He gained international recognition due to his campaign against Hillary Clinton for the party's 2016 U.S. presidential nomination. Read more bio…