Hilarious Comments and Replies on Elon Musk's Death Tweet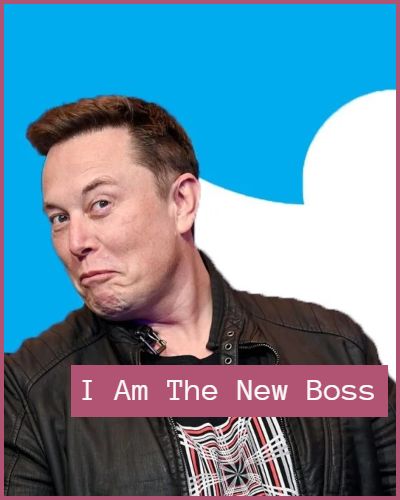 Elon Musk via his Twitter account wrote a suspicious post indicating death on May 8, 2022.
The post is getting viral with several hilarious Clinton.
Is Elon Musk really predicting his mysterious death?
---
Is Elon Musk dying anytime soon?
Twitter is floating with tweets after Musk posted a mysterious death tweet that reads,
"If I die under mysterious circumstances, it's been nice knowin ya"
Hilarious Comments at its Peak
The comments and replies to the tweet of Tesla Ceo, and the owner-to-be of Twitter are popping out to be hilarious enough.
MrBeast targeting his Twitter ownership to make it even funny writing,
"If that happens can I have Twitter"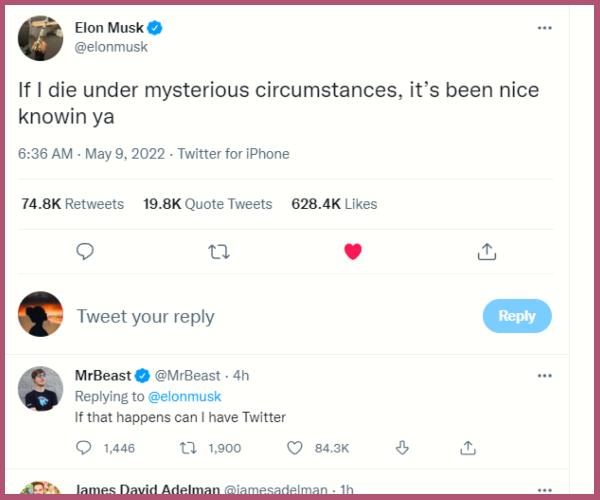 Also, seems like girls are more into Elon Musk as the most eligible bachelor. A beautiful lady even responded to Elon Musk's death post by writing,
"Marry me First" 
Also, Read It's Official! Elon Musk Buys Twitter For $44 billion
Elon Musk Death tweet targets Hillary Clinton
Likewise, the thread links of the post are suggesting Hillary Clinton. What has she done now to find out with us?
Among the tweets, the one mentioned Hillary Clinton is getting thousands of likes. Host and comedian Kim Young wrote,
"Wait… What do you know about Hillary Clinton??"
Is the tweet relating to the video viral on Hillary Clinton saying about overturning the supreme court decision of Roe Vs Wade? Read more…
Someone, Please Shift Focus Outta, Hillary Clinton
Eventually, the tweet came on mothers day so maybe he is saying about the abortion scenario going on in the country indirectly. His followers kept on questioning,
"Do you have dirt on the Clintons?"
Well, some even think this is the stupidity of Musk to talk about death as the most influential and powerful person in not only the US but the whole world. They advised him to think of Russia Vs Ukraine instead and wrote,
"This is too much. If you are going to lead…. lead. Stop with the drama. Now shift your focus back to how we can help the planet, the Ukrainians, and the vulnerable among us who weren't born into wealth, health, and prosperity. Focus. Lead. Or just be quiet."
How is John McAfee linked to Elon Musk's death tweet?
John McAfee is also the third-wheeler linked to the tweet after followers gave his reference to the tweet. Someone wrote,
"Tattoo coming next?"
John McAfee, a tech millionaire reportedly tattooed after getting a message from U.S officials,
"We're coming for you McAfee! We're going to kill yourself". I got a tattoo today just in case. If I suicide myself, I didn't. I was whackd. Check my right arm."
What has Mother Maye said on the death tweet?
Mother Maye Musk on mothers day was found replying to his son's tweet,
"That's not funny??"
Further on her tweet, her son Elon Musk responded,
"Sorry! I will do my best to stay alive."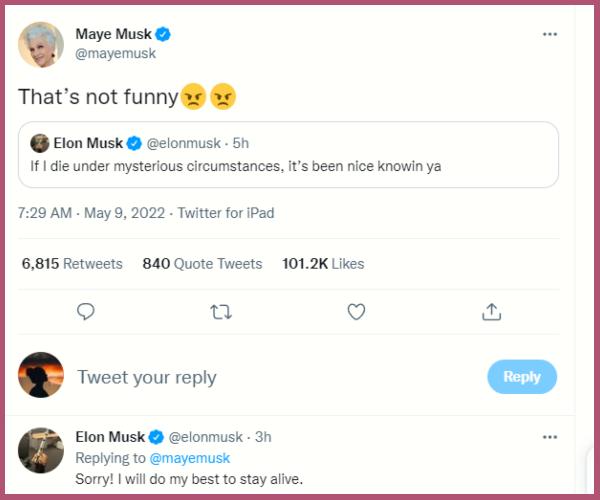 Also, read Elon Musk Walks With Supermodel Mother Maye Musk At Met Gala Red Carpet 2022
Is it democrats Vs Elon Musk?
Entrepreneur, innovator, gamer, artist, and internet freedom fighter Kim Dotcom wrote,
"Come and hang out in New Zealand for a bit. I'll mentor you on how to navigate the upcoming attempts by the Democrats to punish you. Best to be prepared."
Musk has even made decisions to charge costs for democrats, politicians, and influential people in the world for using charges. Indeed he is hilarious so are others who reply to his tweet.
Let's count on Elon Musk for positive changes and wish him longevity as he can possibly bring change.
Also, read "We're all gonna die"-Fox News host Lisa Kennedy Montgomery slams Democrats over their opposition to Obamacare rollback! Her strong political opinions in her career!