Hilary Duff celebrates her 31st birthday in Disneyland with her boyfriend and son!
American actress Hilary Duff is no more a kid! But she still spent and enjoyed her 31st birthday in Disneyland last week.
Hilary Duff and her recent birthday celebration
Hilary Duff rang in her 31st birthday with her boyfriend Matthew Koma at the happiest place on this Earth-the Disneyland. The couple was not alone and was accompanied by Hilary's son Luca Cruz Comrie and he choice friends. Her older sister Haylie Duff, 33 was also present on the occasion. She put up an Instagram story and posted a few of the important moments of the day on it. The social media posts revealed that she had a pretty good time there and the whole day for her was extremely eventful.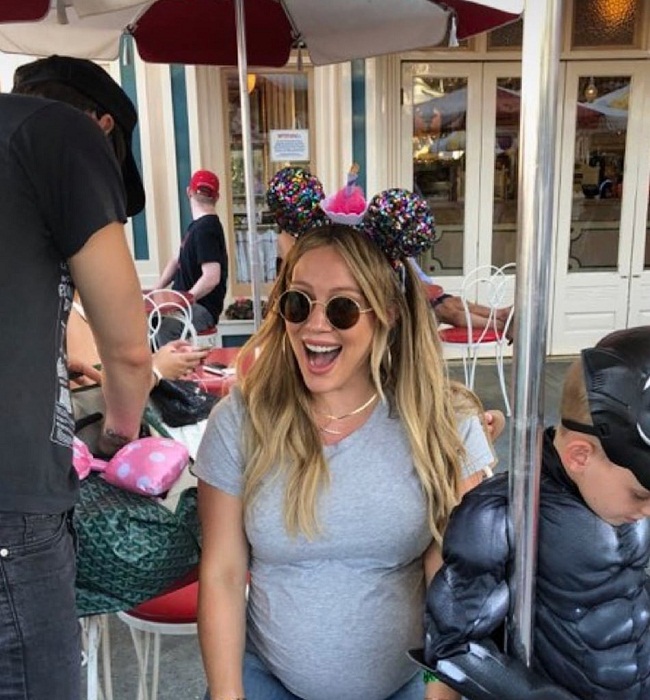 In one of the photos of herself, she looked full of joy and captioned it as:
"Braved Disneyland for my bday," 
She was wearing a gray T-shirt, ripped blue jeans, and a pair of Minnie Mouse ears for the occasion. Her baby bump was visible through the tight outfit. Her son Luca was dressed as a black panther and was seen in the background of this snap. He was thoroughly enjoying himself.
Hilary had on this Sunday worn a yellow maternity dress and posted a selfie of herself on her Instagram. She captioned the picture:
"@wraynyc if this dress doesn't scream Sunday ease I dunno what does."
Hilary Duff and her relationships and children
Hilary was romantically involved with actor Aaron Carter in 2001 and the relationship gained media attention since it was said to be a love triangle with Lindsay Lohan being the third person in it. The relationship between Hilary and Aaron was an on-again and off-again type and after three years they split permanently.
In July 2004, Hilary, 16 started a relationship with Joel Madden, 25 and by November 2006 they had separated.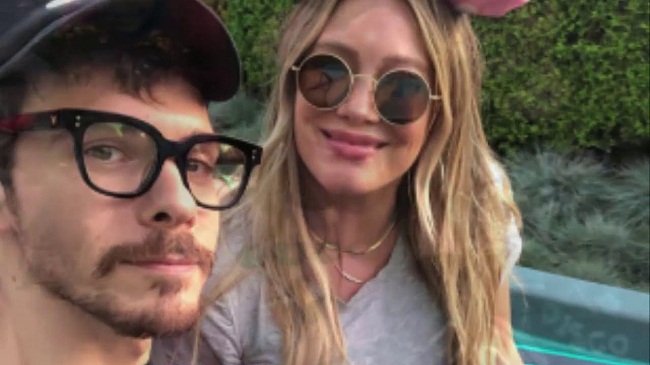 Hilary then began dating Canadian NHL player Mike Comrie in the year 2007 and they were engaged in February 2010. The couple was married on 14 August 2010 in Santa Barbara, CA. Their son Luca was born on 20 March 2012. In January 2014, they separated and continued to co-parent their child amicably.
Hilary was with personal trainer Jason Walsh from August 2015 and November 2016. Since January 2017, Hilary is dating Matthew Koma and in June 2018 she made the announcement that she is pregnant and expecting a daughter with Matthew.
Hilary Duff and her career in entertainment
Hilary Duff and her elder sister Haylie took training in ballet, acting, and singing when they were small. Her mother is a film and music producer and moved with her daughters to California to develop their career.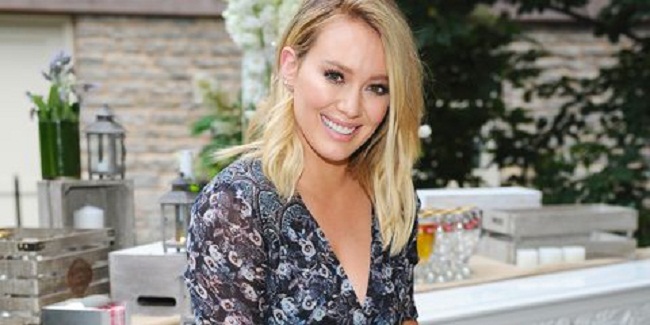 Hilary started as a child actress and also made music records and albums. She did a number of films and TV series and established herself as a mainstream actress. She has also penned some books and started a business. Hilary is a multi-faceted entertainer and with the support of her mother has come a long way into the showbiz.
Short Bio on Hilary Duff
She is an American actress and pop singer. She is famous for the bubbly Disney Channel's Lizzie McGuire on the series Lizzie McGuire from 2001 to 2004. More Bio…
Source: en.wikipedia.org, popsugar.com