Holland Taylor and Sarah Paulson are finding it difficult to spend quality time together due to their hectic schedules!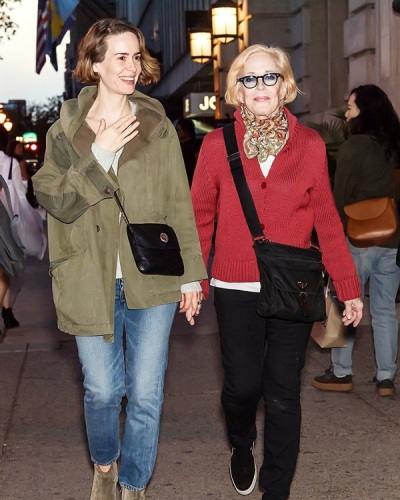 Holland Taylor and Sarah Paulson have been together for nearly 3 years but they seem to not have time enough for each other!
Their busy schedules have made things worse for them and they are still trying to navigate their time to be with each other.
---
Holland Taylor and Sarah Paulson and their hectic schedules
Holland Taylor, 76 told US Weekly:
"We have so little time together,"
She was at Elle's 25th annual Women in Hollywood celebration at the Four Seasons Hotel Los Angeles at Beverly Hills which was held on 15 October. She further added:
"My work schedule is fairly complicated; hers is unbelievable. I mean, she hasn't even had a day off."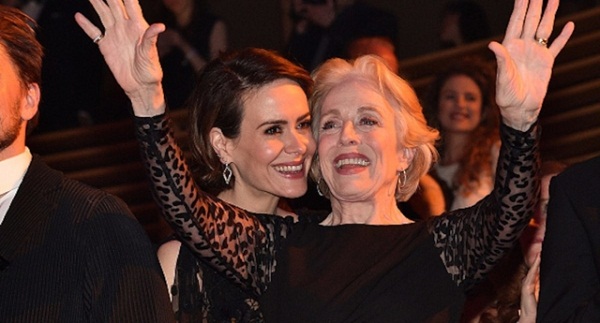 Sarah Paulson, 44 is busy shooting for American Horror Story and she is on the sets for long hours a day leading to the couple being unable to spend some time together.
Their activities together get limited to simple small things. They are unable to do many things that a normal couple is able to do.
Holland said:
"We like to do what a lot of people do, we don't have much time at home. We watch television, we talk, we read for a few minutes here and there. It's hard to grasp normal life out of such a schedule like hers is, but her career has soared this year and she knows she has to do it while it is soaring. She knows she has to do everything. She can't pass things by during this period, so she's doing great."
You may like to read Andrew Garfield: the backlash over his gay comments, his real-life love drama and more! Read it here!
Holland Taylor and Sarah Paulson and their participation in the Elle show
Holland and Sarah were there at the show and Sarah was invited to it. She was an honoree at this show which was sponsored by L'Oréal Paris, Hearts On Fire, and Calvin Klein.
Sarah said:
"It's a turning point because this year I'm an honoree. I've been to this event a couple of times, and it's always an incredibly moving night, You hear very personal stories from people feel safe enough to talk about things from an emotional standpoint where no one is worried about being too cool, and I think that's really exciting and empowering and encourages that feeling of sisterhood."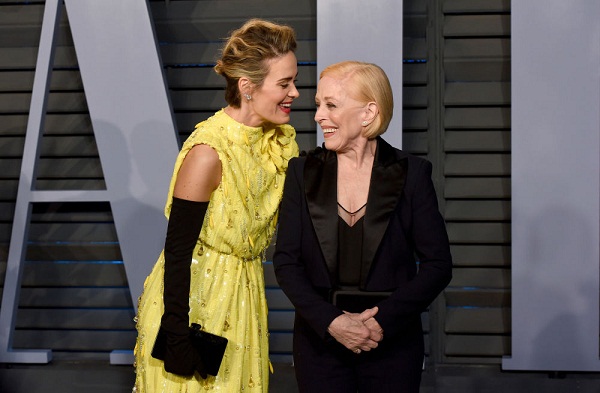 Holland was eagerly looking forward to hearing her girlfriend speak. She told the US:
 "I always love to hear her speak, She always has something to say worth hearing, and I love to see her shine."
Holland and Sarah's relationship
The two are lesbian and in a relationship since mid-2015. Sarah confirmed in January 2016 that she is dating Holland. There is a 32 years gap between them and they do not mind it.
She disclosed:
"If my life choices had to be predicated based on what was expected of me from a community on either side, that's going to make me feel really straitjacketed, and I don't want to feel that, What I can say absolutely is that I am in love, and that person happens to be Holland Taylor."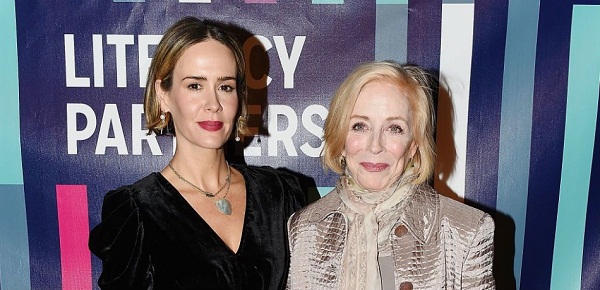 They had met 10 years ago but at that time Sarah was associated with Cherry Jones who was 18 years her age even at that time she had noted that Holland was extremely beautiful. When they remet, they began dating and are now in a relationship.
Also read "I'm going to take the High road because the low road is so Crowded." – Explore about Mia Farrow's personal life, developing days and achievements
Short bio on Holland Taylor
Holland Virginia Taylor is an actress and famous playwright from Philadelphia, Pennsylvania. Her prime casts include Judge Roberta Kittleson in The Practice (1998-2003), which won her the Primetime Emmy Awards in 1999. She is also known for her role in Two and A Half Men (2003-2015) as Evelyn Harper. She has appeared in films like One Fine Day (1996), George of the Jungle (1997), Legally Blonde (2001), etc. In 2013, she was nominated for writing and starring in a solo play called Ann. The play was based on the life and works of politician Ann Richards. More Bio…
Source: metro, people, dailymail