Hollyoaks actress Stephanie Davis reveals the new and clean look of her home on her social media!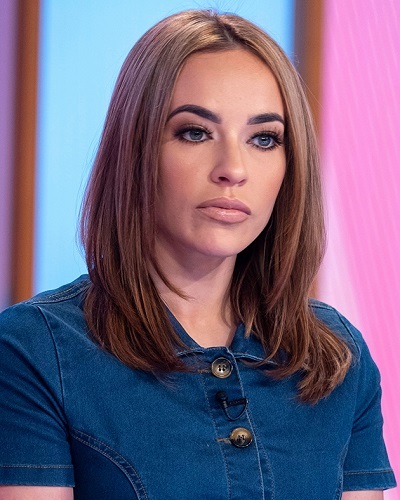 It is a pleasure to know that celebrities too take efforts to keep their home clean and sparkling. Recently, actress Stephanie Davis spend Friday night cleaning her home and making it spotless. She proudly displayed her great work on her social media for her fans and followers. Take a look!
Stephanie Davis and her house-cleaning spree
Stephanie Davis made a decision and carried it out successfully. She got busy this Friday night cleaning her house and making it spotless. She shared on her social media the new clean look of her home.
Stephanie, 26 took to her Instagram Stories to show her fans how well she did her house cleaning on Friday night. She filmed a video of her spotless house and posted it on her social media. She wrote:
"My home… has never… been… so clean… I haven't stopped.

"All bloody perfect, so cosy, smelling amazing, candles on, ready for the weekend,"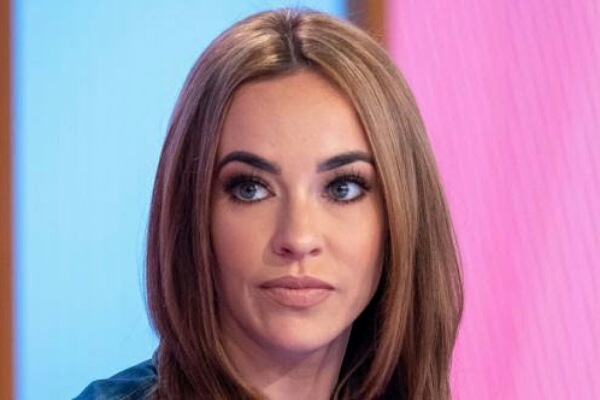 Stephanie Davis and her video of her clean home
The video that Stephanie posted on her Instagram Stories was, marvelous. It revealed that she had taken great pains to make her house look stunning.
There was this grey corner sofa which looked gorgeous. The walls looked bright white and the cushions appeared cozy. The houseplants and everything around looked tidy and clean.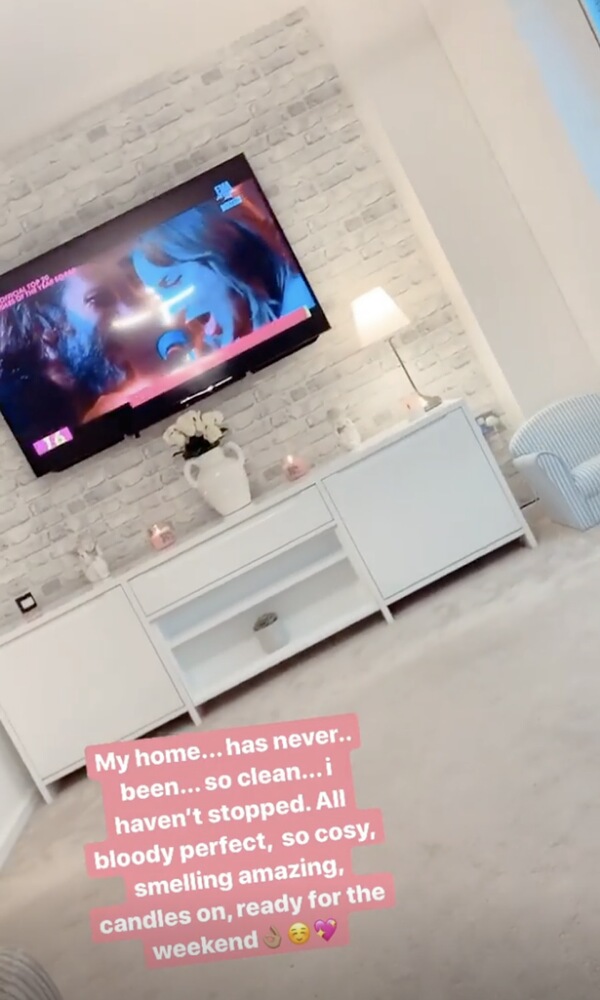 The TV was in a beautiful white cabinet and there was a lamp, vase of flowers, and also pink candles with a background of exposed brick walls. She added:
"Showing off all my hard work haha, spotless,"
She followed it with a smiley emoji. The kitchen area had dazzling counters with pink and white hues. She showed off her clean large room and wrote:
"Every crook and cranny cleaned, absolutely spotless, fresh pjs and fresh bedding. Time to relax, perfecttt," 
There were exposed white brickwork with a big double bed, pink duvet, and a chandelier. She then poses for the cameras in pjs and sticks out her tongue.
More of the clean home of Stephanie Davis
The Hollyoaks actress did not stop there. She revealed her spotless bathroom with a bathtub and a bath mat on which were the words:
'Wake Up and Make Up'
She returned to her bedroom and wrote:
"Never been so bloody tidy, every room is spotless! My work here is done, now time to relax and get cosyyyyy and enjoy the weekend.

"Tidy house tidy mind, absolutely perfect,"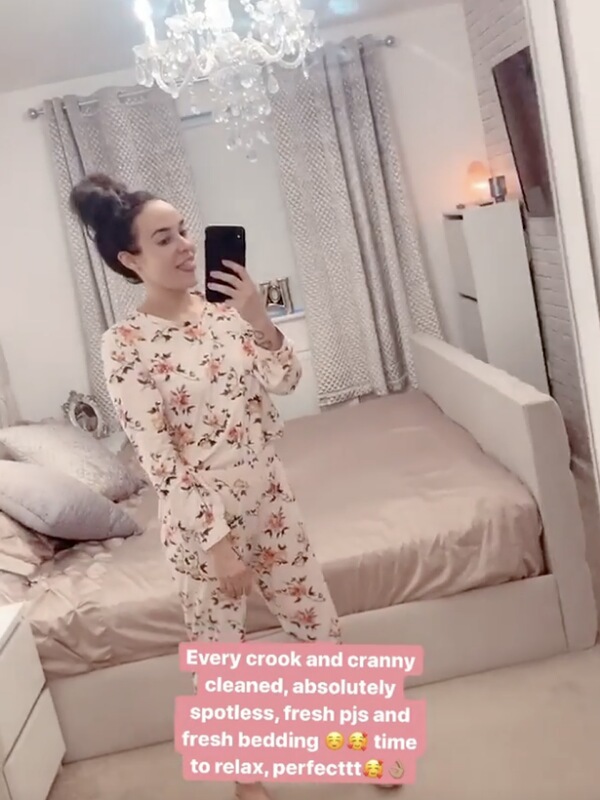 She shared more pics of herself chilling out on her sofa viewing TV shows and later on bed with her Jaffa Cakes. She is extremely happy about her son Caben Alibi's school achievement. Stephanie put up a picture of him and captioned ir:
"Proud mum post. So Caben is really advanced for his age and absolutely thriving at the moment, he's been visiting pre school for a while now , he loves it and doesn't' like going back to the nursery class.

"It would be unfair to keep him there when he gets frustrated because he wants to be doing and learning more.

"His speech, potty training (he now goes stood up like a big boy) has numbers etc, So they have decided to move him up early!

"He went in so happy today, and feel so proud that he's doing so well."
Short bio on Stephanie Davis
Stephanie Davis is an English actress. People mostly recognize her for her appearance in the Channel 4 soap opera 'Hollyoaks' and the seventeenth series of 'Celebrity Big Brother'. More Bio… 
Source: OK magazine