Do not miss these 8 Hollywood Celebrities Manicures, Nail Art. Whose design is the best?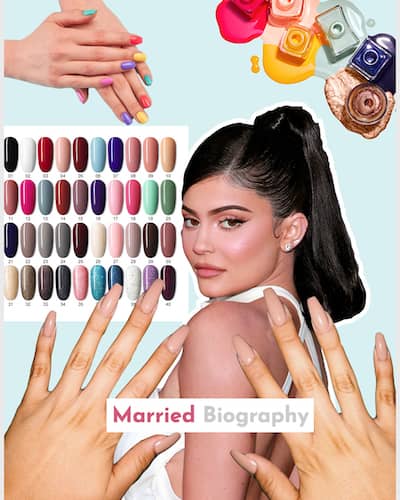 Celebrities are all about beauty and fashion. Hollywood actresses try different and unique nail arts and manicures in their daily life.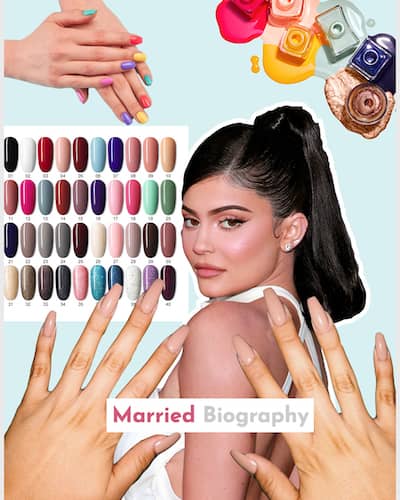 These are some celebs with the best manicure and nail art.
1) How many times do Kylie Jenner manicure?
Kylie is an American social media personality, businesswoman, and model. This young self-made billionaire owns a cosmetic company name Kylie cosmetic. She gains her popularity through the "Keeping up with Kardashian" show.
Kylie gets her nail done every week and spends four to five hours doing them. She spent $125 on a gel manicure. She has tried different nail polish including peach, gold, light pink, purple, matte, grey, green, and many more. Kylie also tried unique nail art like glitter, lip kit, flowers, rainbow flower nail, Stormi, drip, clear, and many more.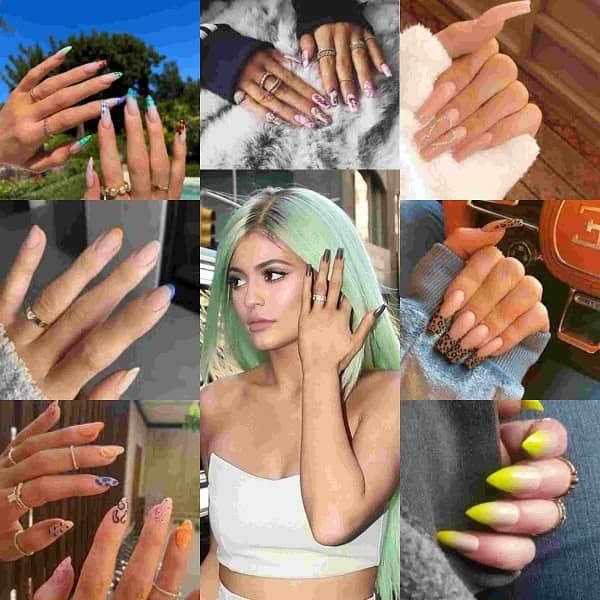 2) How much does Cardi B spent on her nail?
Cardi is an American rapper, songwriter, and television personality. She is best known for her aggressive flow and candid lyrics. Her Bodak Yellow album was number one on the billboard. Her recent song "WAP" was also a big hit.
Cardi Spent $200 for her signature manicure. Her manicure takes 3 hours and she gets her nail done at Jenny's Spa in the Bronx's Fordham. Her met gala's manicure gets lots of attention. This singer has done a number of manicure acrylic, glitter, long nail manicure, diamond, flower manicure, crystals, pearls, OTT, classic red nails, and many more.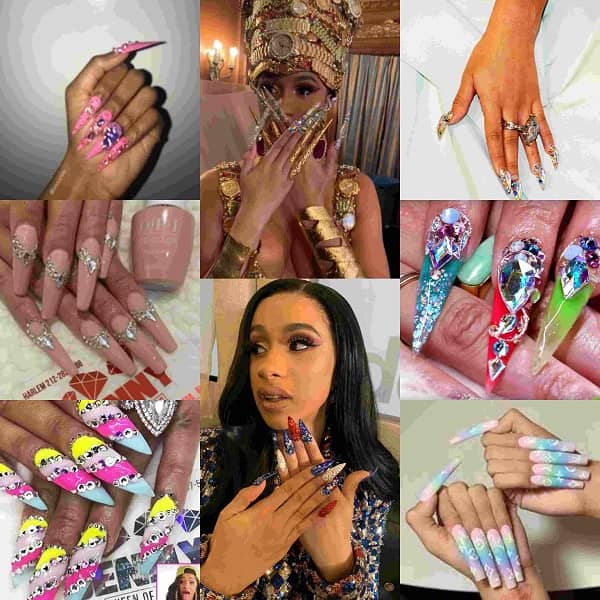 3) From whom does Billie Eilish get her nails done?
Billie is an American singer and songwriter. She is best known as a young successful singer. She has many hit song which has listed on top 10 billboard. Her recent song "Bad guy" was the best hit.
This singer has a unique sense of manicure and nail art. Billie gets her nail done by Tammy Taylor. Her nail is 3 inches long. Billie has tried the Gucci logo, Unas, neon green long nails, 3D glass nails, coffin, Burberry, and many more. once in a while Billie matches her nail color with her hair color and cloth.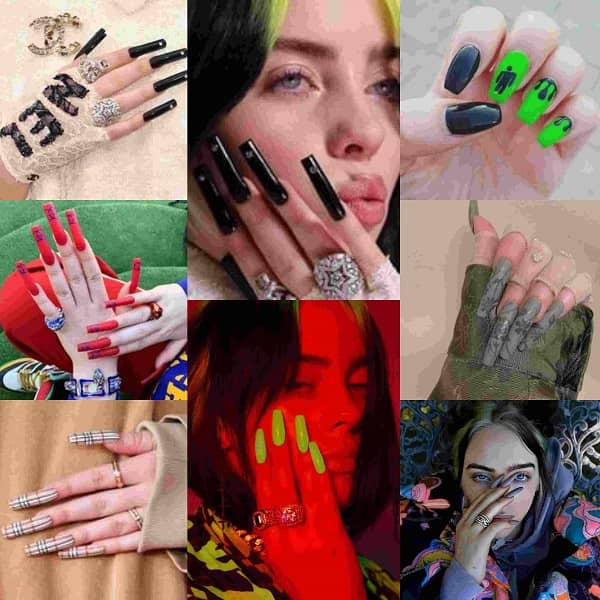 4)Where does Kendall Jenner do her manicure?
Kendall is an American supermodel, socialite, and media personality. She is listed as the highest-paid model. She came to fame after she appears on the TV show "Keeping up with Kardashians".
Kendall gets done her nails at Modern Pamper Salonher nail. She has tried many manicures gel with her younger sister Kylie. She has done cow, Wavy, Rainbow, green, matte, negative space, milky, short acrylic, caramel, peach color, modern pamper, and far more.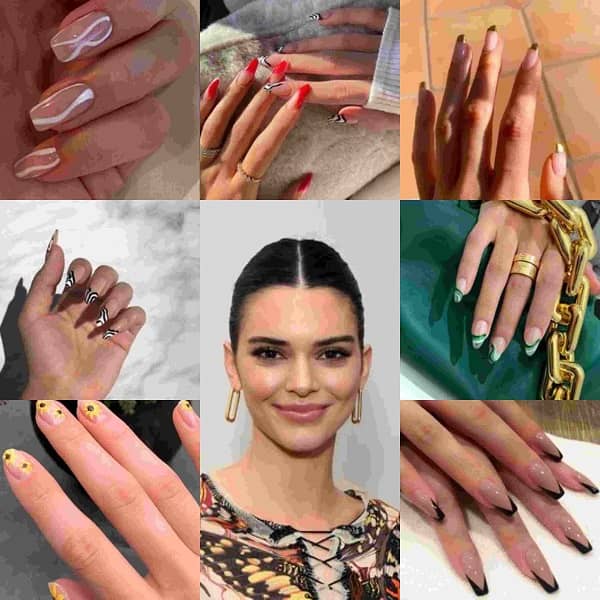 You may also like to read 8 celebrities with their tattoos on their body parts and the reason behind their designs!.
5) How much does Rihanna pay her nail technician?
Rihanna is a Barbadian singer, actress, fashion artistic director, and businesswoman. This singer has won 9 Grammy awards. She has managed to become one of the biggest selling female artists. She owns a cosmetic company named Fenty beauty.
Rihana is a fund of manicures, she has tried a number of gel manicures. moreover, she pays $6k to a nail technician. Rihana has been spotted in Tumblr, acrylic, gold, oval, almond, ombre, Fenty, glitter, pointed, squoval, sharp, and many more manicures.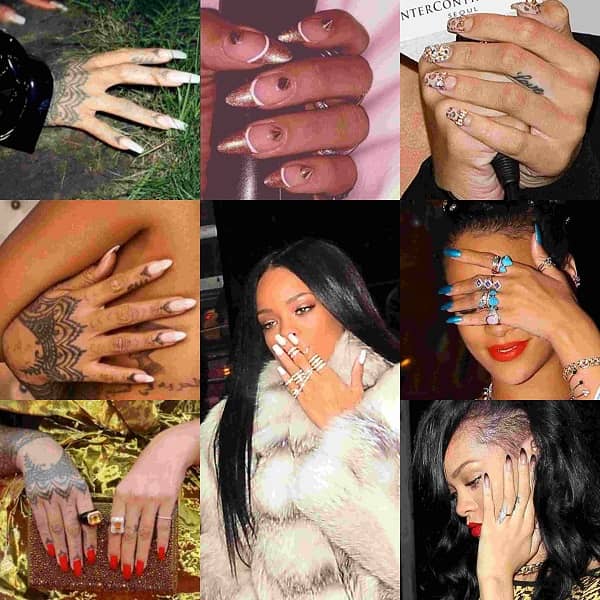 6) Want to know more about Dua Lipa's manicures?
Dua is a British singer and songwriter. She is best known for her songs New rules, IDGAF, One Kiss, Be The One, We're good, Don't start now, and more. Many of her songs are listed on the top 100 billboard chart.
This singer has done a number of manicures. Dua has tried 60s fringe and flower power french, real pressed flower, neon plaid, butterfly, collage nail art, purple checkerboard, smiley, ombre gradient, and many more.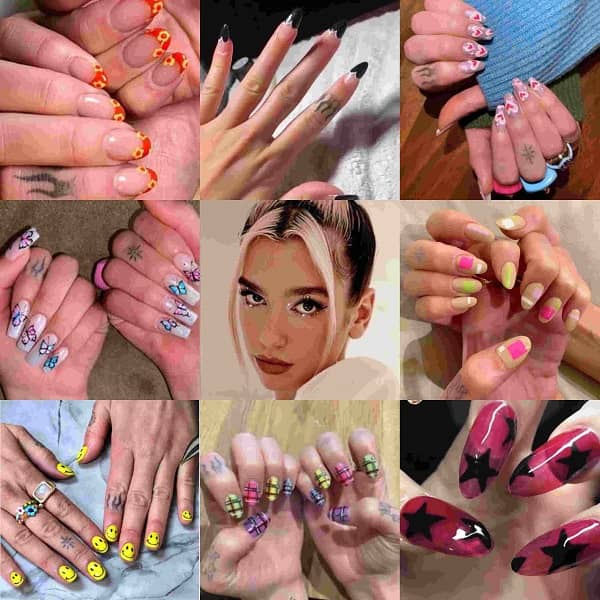 7)Lady Gaga's fake nail price?
Gaga is an American singer, songwriter, and actress. She is known for her creative ideas for the red carpet and met gala looks. She always tries unique and stunning ideas for her looks and beauty.
Gaga is really fond of manicures. She often changes her nail color and manicures it properly. One lady Gaga sold her pinky fake nails for $12000. Lady Gaga has tried various types of nail art including glitter, sharp, pointed, gold, crystal, flowers, acrylic, matt, gold, and many more.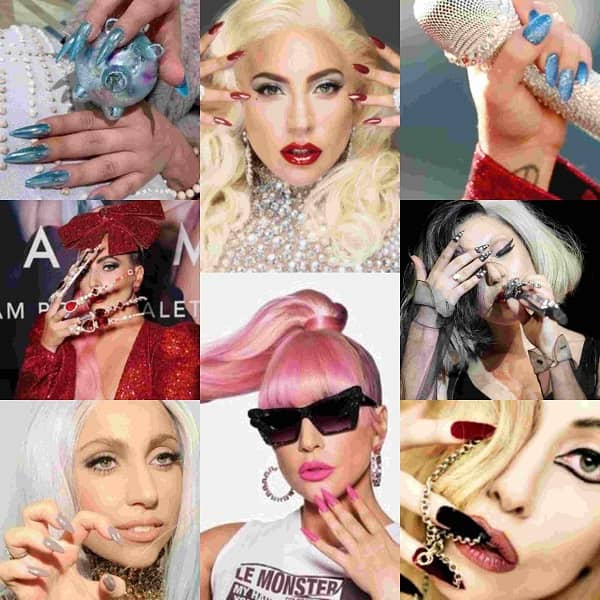 8)Nikita Dragun's peculiar manicures
Nikita Dragun is an American YouTuber, make-up artist, and model. She is best known for her makeup videos. She has millions of subscribers on her Youtube channel.
Nikita is very Fund of manicures. She often posts about her nails on her Instagram account. Nikita has tried a number of manicures like acrylic, fire, pointing, dragon face, diamond, flowers printed, short acrylic, glitter, Transparent Glass Nails with Rainbow drip, and many more.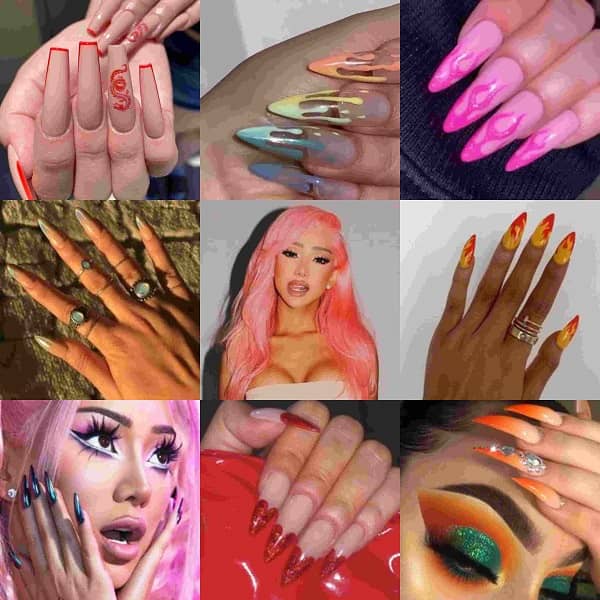 You may also like to read Checkout These Celebrities Who Have Tried Different Hairstyles.