How Instagram Reacted on Britney Spears Miscarriage?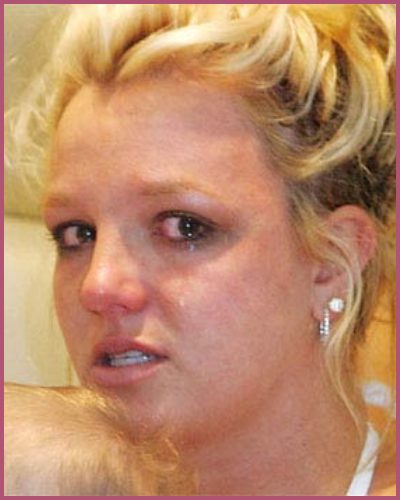 Britney Spears and fiance Sam Asghari announces heartbreaking miscarriage news on May 14, 2022.
Let's see how Instagram reacted to her miscarriage posts in her early pregnancy.
Spears who recently revealed her marriage plan no longer is becoming a mother.
---
Britney Spears and Sam Asghari had a heartbreaking news announcement while fans are celebrities are consoling them!
The newly engaged couple Spears and Asghari who were marrying anytime soon lost their miracle baby on Saturday, May 14, 2022, shortly after the wedding announcement.
Instagram Reacts on Britney Spears Miscarriage?
American singer Paris Hilton is with her friend Spears on her hard time as she consoled her,
"🥺I'm so sorry for your loss sis.😢 Always here for you. Sending you so much love❤️ Love you lots B💘"
Not only that fashion designer Michelle Castelo, New York Times best-selling author Robin Arzón, singer Christina Perri, Youtubers, media personality, and all other well-wishers were sorry for her loss.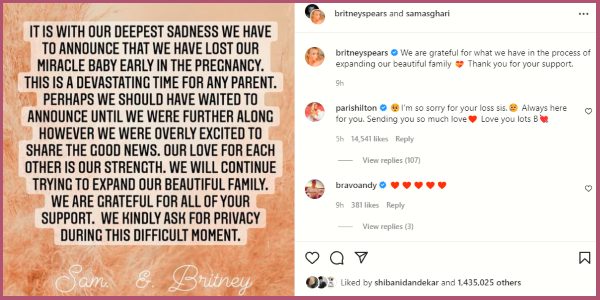 Meanwhile, someone from the concerned fan circle expressed grief stating,
"OH NO!!!! 😢😢😢😢 britney we stay by your side forever! Love u"
Also, Read Britney Spears, 40 is expecting Baby No. 3 with Fiance Sam Asghari
Love and Support continued…
A baby care product marketer Feedinglittles also showed concern in the comment section to the Grammy Award-winning singer as,
So sorry to hear this Britney. We have been rooting for you and your family. Send you love, hugs, and healing ❤️
The supporting and caring messages to pop star Britney Spears continued to come from an Instagram comment section,
It's better to be said and be supported rather than keeping it a secret and going through it all alone. ♥️ Sorry for your loss!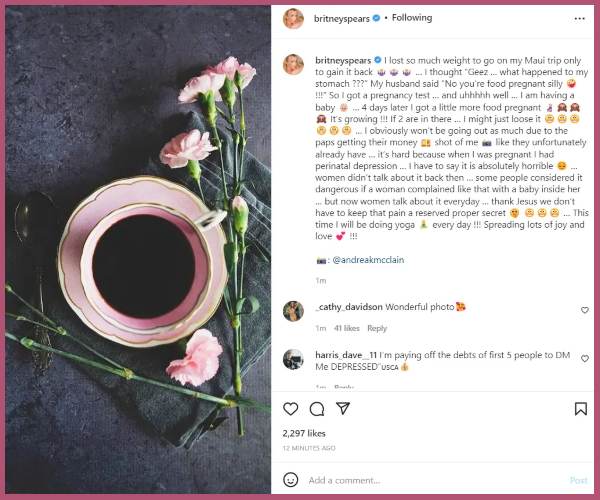 In between someone dragged the stigma of early pregnancy revelation of Britney Spears and continued her views,
"Im thankful you announced. There is stigma with announcing too early, and then with miscarriage you have to be quiet. By doing this, your allowing space for others to heal just as you. The more we speak about it, the more we all know we experience it together. Im sorry for your loss "
Instagram Announcement of Britney Spears Miscarriage
The couple who were planning marriage took over Instagram with a lengthy caption to covey the heart-rendering news on May 14, 2022, Saturday. They wrote,
"We are grateful for what we have in the process of expanding our beautiful family 💝 Thank you for your support."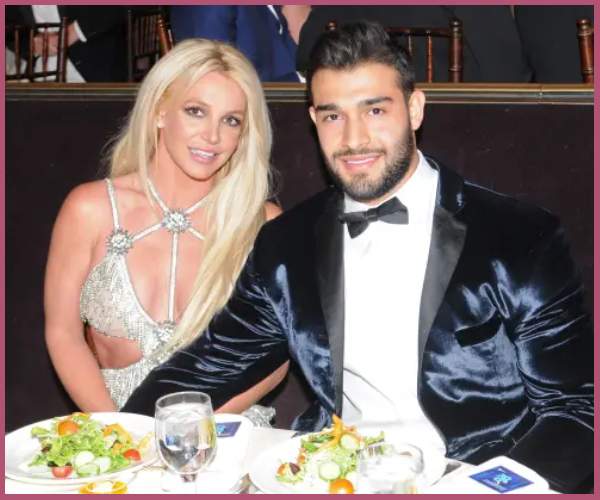 Britney Spears, 40 back on April 11, 2022, had revealed she is expecting Baby No. 3 with fiance Sam Asghari but a month later their baby is gone. The Instagram photo which they uploaded is a heartbroken story via text post which reads,
"It is with our deepest sadness we have to announce that we have lost our miracle baby early in the pregnancy. This is a devastating time for any parent."