How is it possible to give birth to 8 children at a time by a human? Let's know the brave lady, Nadya Suleman who became pregnant & gave birth to octuplets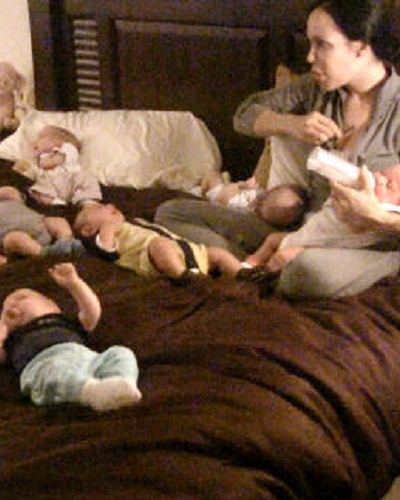 To come into the spotlight, people try to do what not!!! Some automatically become famous for their praiseworthy career while some earn fame via their exceptional talents. It's not easy to come into the limelight and win hearts, but media personality Nadya Suleman was recognized by media when she gave birth to eight children at once in the year 2009. She is also known as Octomom.
Let us hear her pregnancy stories.
Did she share octuplets with her husband?
Nadya Suleman was a married woman. She is married to Marco Gutierrez. The couple tied the knot in the year 1996. But her marriage lasted for around four years and the couple separated and headed for divorce. The couple legally separated in January 2008. The reason for their separation was because Nadya could not conceive any children.
Nadya wanted to have her children but her husband was not fertile. She even requested him that they could have kids via several scientific methods, but her husband was against her. This caused fights and differences in her relationship and finally, they decided to separate.
Suleman after separation headed towards divorce and also did IVF treatment in 1997 with Dr. Michael Kamrava's assistance. After the divorce, she had her first child(baby boy) named Joshua Jacob Solomon. Again she became pregnant and in 2002 she gave birth to her baby(daughter) named Amerah Yasmeen Solomon.
She again had three children, Caleb Kai Solomon, Calyssa Arielle Solomon, Elijah Makai Solomon and Aidan Solomon under IVF treatment. Even after being a mother of six children, Nadya again underwent IVF treatment which showered her with octuplets. In 2008, Suleman gave birth to eight children at Kaiser Permanente Center, California.
This is how she came into attention and gaained fame..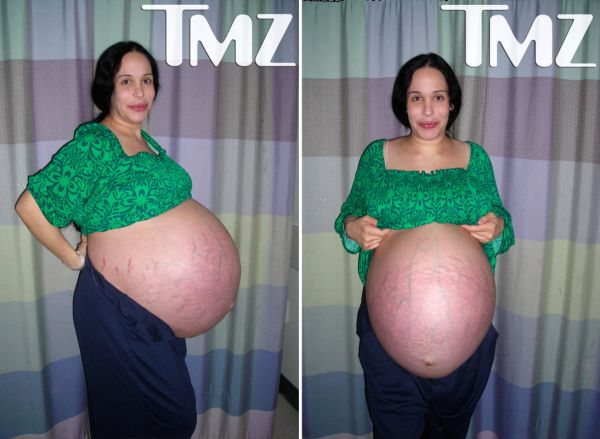 Hospital's staff were much excited about her delivery
She gave birth to eight children under the supervision of doctors Veena Manchanda, Dr. Mandhir Gupta and Dr. Karen Maples within a time difference of 36 seconds. The doctors in the hospital were also very excited to have such case, and Dr. Veena Manchanda says,
"We were all very excited because it was a once-in-a-lifetime opportunity for the whole staff,"
Dr. Karen Maples added,
"It's a surprise, Eight newborns are in stable condition, and they're doing quite well."
Though she did not wanna reveal the details about her babies, hospital staffs did
Nadiya did not want to reveal the names and details of her baby but the hospital staff disclosed the names of the babies, their weight, and their birth time.
Her first baby is a boy named Noah Angel Suleman weighing 2 pounds, 11 ounces born at 10:43 am. The second baby is a girl named Maliyah Angel Suleman born weighing two lbs., 12 oz at 10:44 a.m, third baby boy Isaiah Angel Suleman was born weighing three lbs., 4 oz at 10:45 a.m.
The fourth baby girl Nariyah Angel Suleman was born weighing two lbs., 8 oz at 10:45 a.m, fifth baby boy Jonah Suleman was born weighing one lb., 8 oz at 10:46 a.m. The sixth baby boy Makai Angel Suleman was born weighing  2 lbs, 12 oz at 10:47 a.m, the seventh baby boy Josiah Angel Suleman was born weighing one lb., 15 oz at  10:47 a.m, and the eighth baby boy Jeremiah Angel Suleman was born weighing 2 lbs. 11 oz at  10:48 a.m.
You may like to read The intriguing life story of the Octomom-Nadya Suleman!
Left the stripping profession for her children
Suleman was a stripper by profession before. She used to take her children to her workplace and once she saw her daughter wearing a stripper attire which was the mentally disturbing thing to watch for her. After that, she decided to leave her job and started to work as a therapy counselor.
Octuplets are happy with their caring mama
Present, all her children are with her and Nadia is raising them well. As well as all her children are sent to school. In 2016, octuplets celebrated their eighth birthday which she shared on her Instagram. They celebrated their birthday in Orange County, California in a vegan style.
Also read Stainless Steel engagement rings: The rising trend, affordability, and fineness, and durability!
Short Bio on Nadya Suleman
Natalie Suleman is an American media personality who came to international attention when she gave birth to octuplets in January 2009. She was born on 11 July 1975 in Fullerton, California, USA. Her octuplets are only the second full set of octuplets which was born alive in the United States. More bio…