"King of All Media" Howard Stern makes his first appearance on The Ellen DeGeneres Show. Controversy received for laughing with President George W. Bush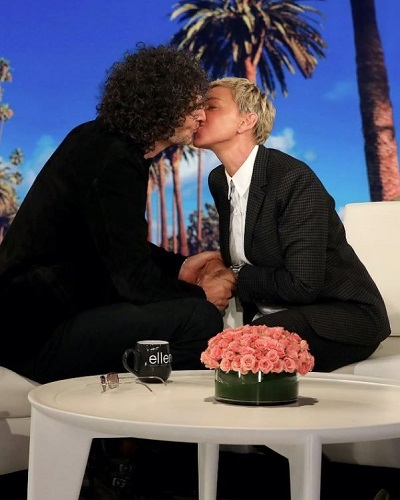 Ellen DeGeneres had radio personality, Howard Stern, for her Monday episode on The Ellen DeGeneres Show.
Howard Stern shared a kiss during the interview.
---
Howard's appearance on Monday's episode is his first-ever appearance in the show. In the 16-year history of the show, this "King of All Media" has never been here.
He said:
"This is the pinnacle of my career, but to one day, to be on the Ellen DeGeneres show."
Stern appeared with his wife Beth (in the audience). During Kimmel's late-night talk show, Stern proposed to her again. They celebrated their 11th anniversary earlier this month.
Also read: Nick Jonas joining Blake Shelton, John Legend, and Kelly Clarkson on The Voice as a coach for Season 18!
Remedy: Offering a kiss
Howard knew about the controversy that Ellen received for laughing with President George W. Bush. It was during an NFL game last week.
To distract Ellen and viewers from the controversy, Howard created a remedy by offering to kiss her. Moreover, Ellen also defended herself on her talk show previously.
Stern said on Monday's The Ellen DeGeneres Show: 
"People were giving you grief about this George Bush picture, But listen, you know, I'm always with you. I'm on your side. The problem is—and this is a brilliant booking on your part, having me on the show—people have this picture in their mind of you and George Bush. What you need to do, in my opinion, is take a picture with me, making out with me."
Stern also thought that if people would see Ellen with him then no one's going to be thinking about George Bush. Even though Ellen seemed too hesitant about the remedy at first. She even tried to change the subject, but Stern had already made up his mind.
After that, they both concluded that there would be "no tongue". Ellen also revealed the names of men she has kissed Colin Farrell and Leo DiCaprio. Stern said:
"This is the picture that's going to make America forget that you were sitting next to George W. Bush"
Stern and Ellen: Did not have a good relationship in the past
It seems they did not have on the best of terms. During a radio show in February of 2010, Stern threatens to walk off her then-position. It was when Ellen was an American Idol judge and Stern was considered to be added to the panel.
Later, Stern signed on to America's Got Talent. During a broadcast on February 11, 2010, Stern said:
"Ellen DeGeneres is such a jerk, She's such a foul piece of garbage, people who work with her know … she's a tyrant ogre, this whole nice girl image is a lot of horses*** fakery – she's miserable, and she is a miserable woman."
In 2012 based on sexuality, Ellen was made spokesperson of JCPenney. It was the time when she was threatened with a boycott by a group called One Million Moms. Stern came to her defense and hence their relationship was rectified.
The duo was invited to a bash Kimmel and SiriusXM show together. It seems past things have settled very well.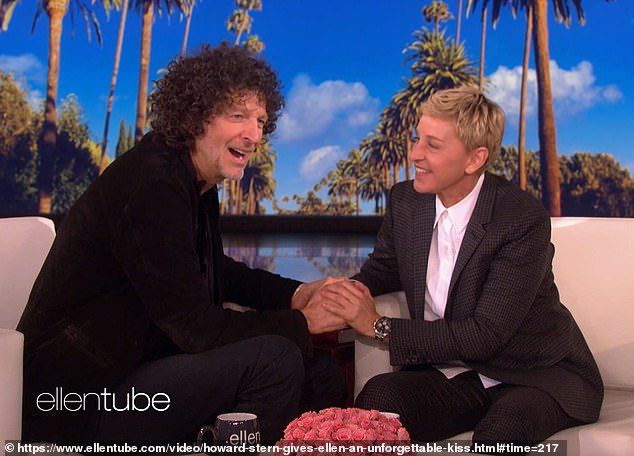 Short bio on Ellen DeGeneres and Howard Stern:
Ellen DeGeneres is an American comedian, television host, actress, writer, and producer. Ellen starred in the sitcom Ellen. She has also hosted an Emmy-winning Syndicated TV talk show, The Ellen DeGeneres show.
She is best known to young audiences as the voice of the endearing but absent-minded fish Dory in the blockbuster animated hit Finding Nemo. more bio…
New York-born Howard Stern is one of the eminent figures in the entertainment industry. He is an influential person in the world of radio hosting.
Similarly, Howard Stren is also a television personality, producer, and author. Additionally, he has also been in the acting industry and photography. He is famous for his nickname, "King of All Media." more bio…
References: (dailymail, insider, eonline)