Indian Woman is accused of Killing her Husband with the Help of her Lover and Burying Him Under Septic Tank!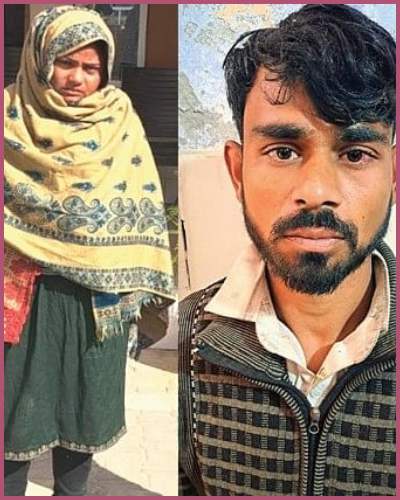 An Indian woman Neetu is accused of killing her husband with the acquaintance of her lover.
Satish Lal gone missing is found buried under the septic tank after his murder. 
Here's how an Indian wife killed her own husband and buried his body.
---
An Indian Woman Killed her Husband with the help of her Lover
Real-life incidents like Drishyam! An Indian woman Neetu is accused of killing her husband Satish Pal and building a septic tank over where she buried the deceased body.
Reportedly, Neetu committed this horrendous crime with the help of her lover and another acquaintance.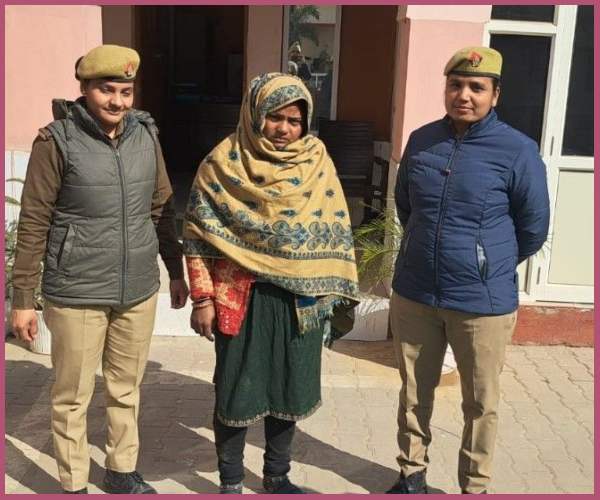 Police discovered the missing Satish Pal's body buried on the property where their under-construction home is located. As reported by the Times of India, the body was under a building site in Bisrakh on 14, January 2023, Saturday.
Immediately after the cops discovered the body of the deceased Neetu and her lover Harpal was arrested as the murder suspects. Meanwhile, the authorities are trying to track down Gaurav, a mason who is the third suspect.
Also, Read New York Murder: Trans Daughter Nikki Secondino, 22, Stabbed her Dad to Death while her Sister is Hospitalized
Where was Satish Pal? His wife and her lover Buried him under Septic Tank
Satish Pal an Indian resident was brutally murdered by his wife and her lover. As per the case filing on January 10, 2023, by Chotelal, a Ghaziabad resident, his brother Satish Pal had been missing for a week
On January 10, Chotelal, a resident of Ghaziabad filed a missing person's report after his brother had gone missing for a week. The Indian Police then questioned his wife, Neetu, for why she did not file a missing report of her husband even after seven days of his disappearance. They even suspected Harpal who used to frequently visit Neetu and Satish's home in the Gaur City of India.
Indian Wife's lover Gaurav confessed to the Murder
Later after the interrogation, Harpal confronted that he and Neetu developed romantic feelings for each other.  They were also planning to get married so they find Satish as a hurdle in their road and then finished him for good to give a new name to their extramarital affairs.
Harpal broke down and confessed that he killed Satish with Neetu and Gaurav's help and buried his body in a neighborhood plot.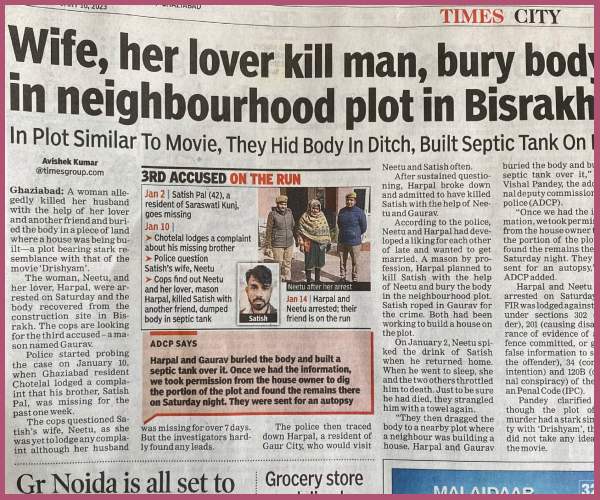 Satish also implicated Gaurav in the murder and revealed how Neetu drugged Satish's drink on January 2, 2023. They then strangled him after he got unconscious as the Police released the statement,
"They then dragged the body to a nearby plot where a neighbor was building a house. Harpal and Gaurav buried the body and built a septic tank over it."
Harpal and Neetu were arrested Saturday and charged under the Indian law of IPC sections 302 (murder) and 201 (causing the disappearance of evidence or supplying false information to screen the offender). They are also charged in 34 (common intention), and 120B (criminal conspiracy). The officials further added,
"Once we had the information, we obtained permission from the house owner to dig the portion of the plot where the remains were discovered on Saturday night. They were sent for an autopsy."
Also, Read Father Accused Of Murder Wife And Kids After Their Tesla Plunged 250 Feet Down A Deadly California Cliff!