Instagram posts! Liz Hurley is on a holiday in Maldives!
Elizabeth Hurley or Liz Hurley as she is lovingly called is on a holiday in the Maldives. The star uploaded a video of herself in an aquamarine two-piece bikini and caused quite a stir on her social media.
Liz Hurley and her new saucy video!
Liz Hurley, 53 is on a holiday in Milaidhoo Island in the Maldives. She is not new to posting her scantily-dressed pictures and videos. On 2 November 2018, she stripped for a sunbathing session and shared the details of the session online on her social media with her fans. She was wearing an aquamarine triangular bikini with matching briefs. The halterneck top had a gold chain in the middle and also at the side of the bottoms. She had worn no other accessories except a pale pink nail polish.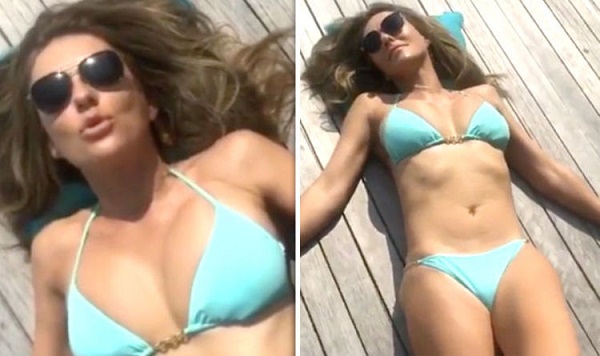 Her incredible figure was seen and she had worn glamorous sunglasses. She was lying on a deck and was writhing to the tune of the music. Her tresses were down in a natural wave and she was singing along with the music. She captioned this picture and video:
"Antibes Bikini @elizabethhurleybeach @milaidhoo,"
The comments from Liz Hurley's fans
Liz Hurley has around 1 million followers on her Instagram. She got a lot of comments for this post and some of them just put up flame emojis. One of her fans commented:
"You look great in that colour,"
A second fan wrote:
"Wow! Still look fantastic as always."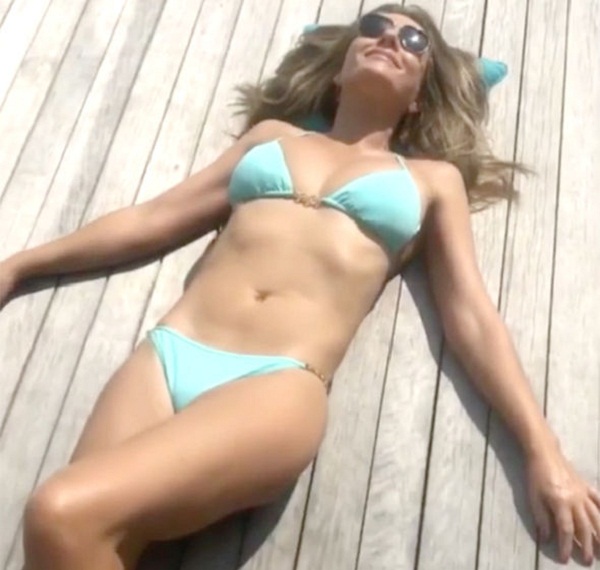 A third follower remarked:
"Wow you so beautiful,"
Another of her fans wrote:
"Elizabeth, you really look incredible."
Liz Hurley uploads more posts on her Instagram
The next day Liz uploaded more posts on her Instagram stories. She also put up a video and she could be seen wearing another piece from her Elizabeth Hurley Beach Collection. In this video, Liz could be seen walking around a picturesque beach which was deserted. Her outfit had a daring side split. It was a patterned blue all-in-one dress which was slashed at the neckline and had a long hem and floaty sleeves. She appeared to be braless in this attire.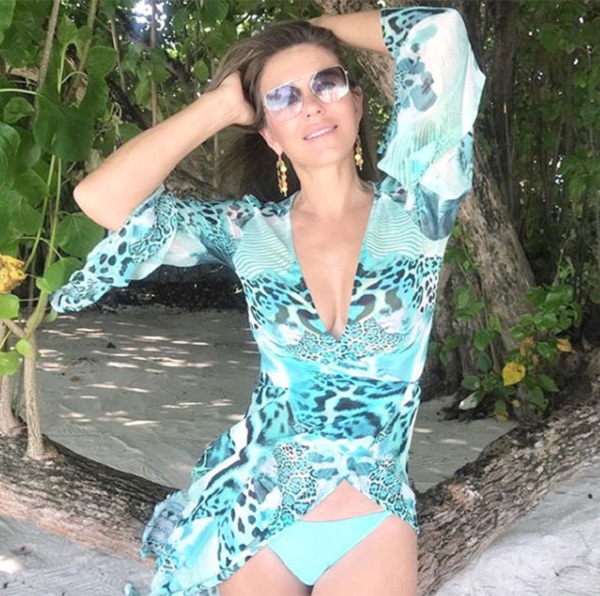 She was seen waving her arms in the air as she enjoyed the wonderful beach and the breeze of that isolated island. She had captioned this video thus:
"@elizabethhurleybeach #DavinaRobe @milaidhoo."
Yesterday she was in the same outfit and had seen against a leafy backdrop. She was perched on a low branch and running her hands through her hair. She was wearing gold dangling earrings. She wrote:
"All hail the Maldives @milaidhoo @elizabethhurleybeach #DavinaRobe,"
Before this post, she had also shown her fans what she had been eating in the Maldives. She had also shown the people the area around the place where she was dining which included a wonderful sea view. She had exclaimed:
"What a view for lunch," 
About Milaidhoo luxury resort in the Maldives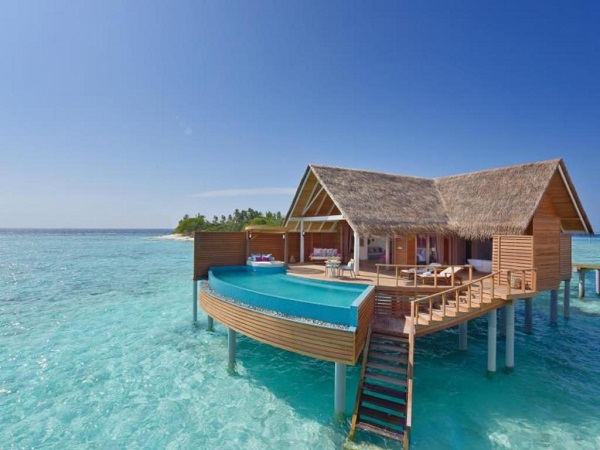 This scenic island of the South Asian country of Maldives is in the Baa Atoll and can be reached by 35 minutes duration seaplane ride from the Male international airport of Maldives. It is a luxurious resort which offers a spacious outdoor living. There is a glimpse of Maldivian culture in it and people can relish on the local cuisine. There are shops for shopping and the vibrant and blue waters around the whole area tend to refresh the guests.
Liz Hurley-Short Bio
Elizabeth Hurley is an English actress and model, known for appearing in the films like Austin Powers: International Man of Mystery (1997) and in Bedazzled (2000). She became famous after she was in a relationship with Hugh Grant, who is a British actor and producer. More bio…
Source: express UK