Isn't Diddy old enough for Lori Harvey to be called Daddy?
Sean Combs, popularly known as Diddy is an American rapper, singer, songwriter, record producer, record executive, actor, and entrepreneur.
Diddy marks half-century with his age in November of this year and turns 50. His age doesn't become a shocker until we find out he's dating a woman half his age.
"Dating a woman half your age may be common for some people unless the woman has dated your son!"
Whom is Diddy dating?
Diddy is dating the step-daughter of famous comedian Steve Harvey, named Lori Harvey. Lori Harvey is a new face in the fashion industry. She is well aware of the ways in the entertainment industry thanks to her father.
For a new face, she is already working with reputed agencies. It came out as much of an impossible deal when the two started throwing hints at us. Their stories had a lot in them that everyone could figure out just didn't want to believe.
Since the Miami festival in May 2019, Lori and Diddy were rumored to be dating. However, both of them neither officially accepted nor declined the rumors. This led to the public believing that the pair were indeed dating.
The rumors seemed to have turned around when Lori had recently broken up with Diddy's son Justin Comb. Lori indeed had a special relationship with Justin. Special enough to call his mother "momma."
The relationship between Lori and Diddy surely gets awkward with the post. It's interesting and rare to find out about a father-son duo who dated the same girl. Sure raises a lot of eyebrows.
Lori was also rumored to be engaged to Diddy leaving millions of mouth open on how they decided to get married so fast. However, Lori clearly declined the rumor in her Instagram story.
Even though the pair didn't confirm their relationship, in April this year, the couple took a vacation to Italy with father Steve. Lori and Diddy seemed to have had many happy moments as a couple.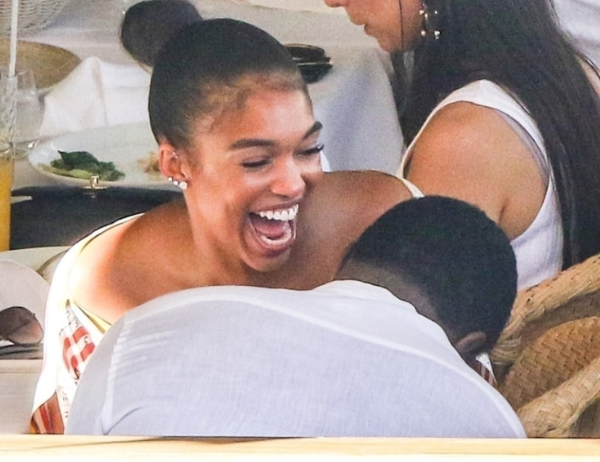 The Breakup
Diddy and Lori Harvey rumored to have started dating since May this year, however, the pair was rumored to have separated around August. The most commendable thing about this pair seems to be their secretive nature.
First the pair, never actually told the world that they were dating just had us live in illusion and now they haven't even confirmed if they've split up. But what if they never dated to start with? How would they even split up?
The world believed that the pair were dating solely based on pictures on the internet. For the world, their relationship started with pictures and now ended in pictures. The real reason behind their breakup wasn't out in the public. However, one of Harvey's close acquaintances disclosed that the pair didn't work out due to the huge age gap between them.
However, a friend of Lori came up revealing a different side of the story. The friend reported that the pair broke up because of Diddy's "controlling nature".
She said Diddy would always ask about her whereabouts and made her feel as if she's dating her father. "He still wants her back, but she's done," concluded the friend. After the breakup, fans' reactions were worth the read.
I really just think Lori Harvey is trash… it's like every time I read a story bout her dating Diddy I get repulsed. Like you really wrote a whole paragraph about how his ex wife was like a 2nd mom to you & how you loved her & NOW your fuckin him? One word: BIRD 🤮🤮🤮

— AB (@expLANAtions_) September 6, 2019
The streets are saying that Steve Harvey bought his daughter Lori a Ferrari for ending things with Diddy. pic.twitter.com/srg2kjA1SQ

— April (@ReignOfApril) September 1, 2019
Post Breakup: Pregnancy Rumors
Seems like Lori and Diddy have decided upon filling their lives with rumors. It's fascinating how people can have so much going on and yet not have a word spoken.
All the breakup-congratulation messages seemed to have been wasted when they were seen on another vacation at Coba. The pair seemed to have enjoyed their time sharing laughs, hugs, and walking hand-in-hand.
Well, it would've been better if the hands were only in another's hands. In the pictures, Diddy is seen to be supposedly rubbing Lori's belly under her blouse which she followed right after.
The pair must be loving how they're making fun of our curiosities. Lori and Diddy need to give our eyebrows some rest and speak up!
Short bio on P. Diddy
P. Diddy is a rapper, singer, songwriter, actor, record producer as well as an entrepreneur. He belongs to American society and his real name is Sean John Combs.
He had worked as a talent director at Uptown Record, labeled as Bad Boy Entertainment in 1993, had released album No Way Out in 1997, Forever in 1999, The Saga Continues… in 2001, and Press Play in 2006. More bio…
Source: Hot97, cheatsheet, Capital Xtra, Blackish Tea Online