IT's Ben Hanscom- Jeremy Ray Taylor, a child actor amazing world with his acting from young age of eight and still growing strong!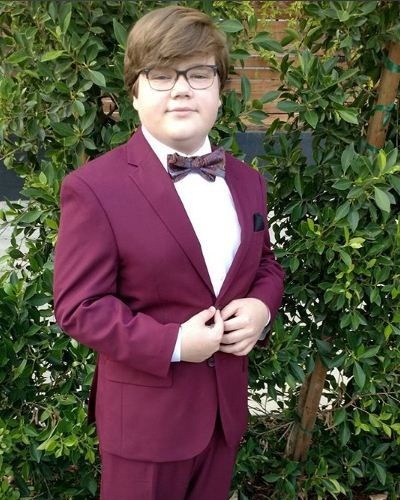 Jeremy Ray Taylor popularly known for his acting skills from a young age. He was born on June 2, 2003, makes him 15 years at present.
Beginning of acting career at a young age
This American actor was born in Bluff City, Tennessee, US, and his birth sign is Gemini. He is popular for her appearance in 'Reed Between the Lines', '42', 'Alvin and the Chipmunks: The Road Chip', 'The History of Us', 'Good Behavior', 'Movie Trivia Schmoe down'  and 'IT'.
Born to parents Tracy Taylor (mother) and Michael Taylor (father), Jeremy is the youngest among the six kids of his family. His mother is a band manager. We do not know about his father.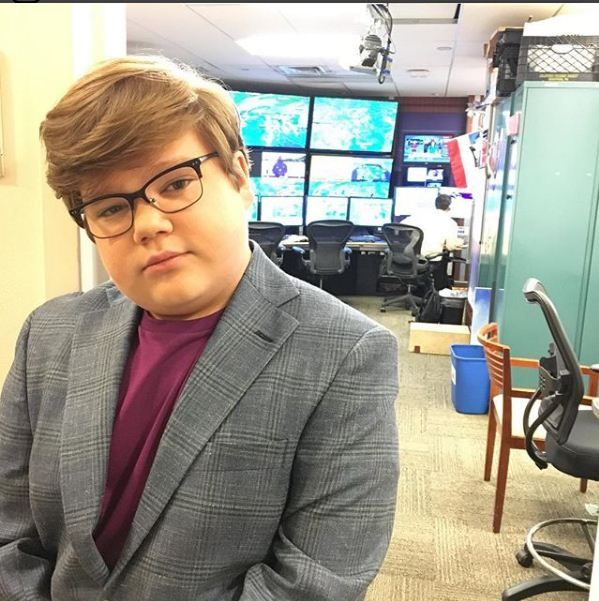 At the young age of eight, Jeremy was signed to a talent manager. And this was the beginning of his acting career. Talking about his educational background, We lack information about his school days and his graduation at present.
Some sources say he attended a local school in his hometown. Hope he is doing well with his studies also.
Jeremy Ray Taylor's filmography 
Grew up on a farm in East Tennessee, Jeremy Ray began acting at the age of 8. He landed his role in Sport and Drama based movie titled 42. Although, he had a minor role in this movie it was a good start for his acting career.
In 2015, Jeremy came up with three movies Ant-Man, Alvin and the Chipmunks: The Road Chip, and The History of Us. Again in  'Ant-Man', he was cast in a minor role of Bully. This animated movie was based on Thriller film and Science fiction film.
He also featured in Alvin and the Chipmunks: The Road Chip (Fantasy/Adventure). This movie did pretty well in the market earning  234.8 million USD at the box office with only 90 million USD budget.
Jeremy's acting skills were widely visualized in 2017's movie named It: Chapter One. In this Drama/Mystery based movie, he played the role of Ben Hanscom and earn 700.4 million USD at the box office.
On the same year, he landed his role in Geostorm (Fantasy/Science fiction film). In this 1 hour 49 minutes long movie, he portrayed the role of Emmett.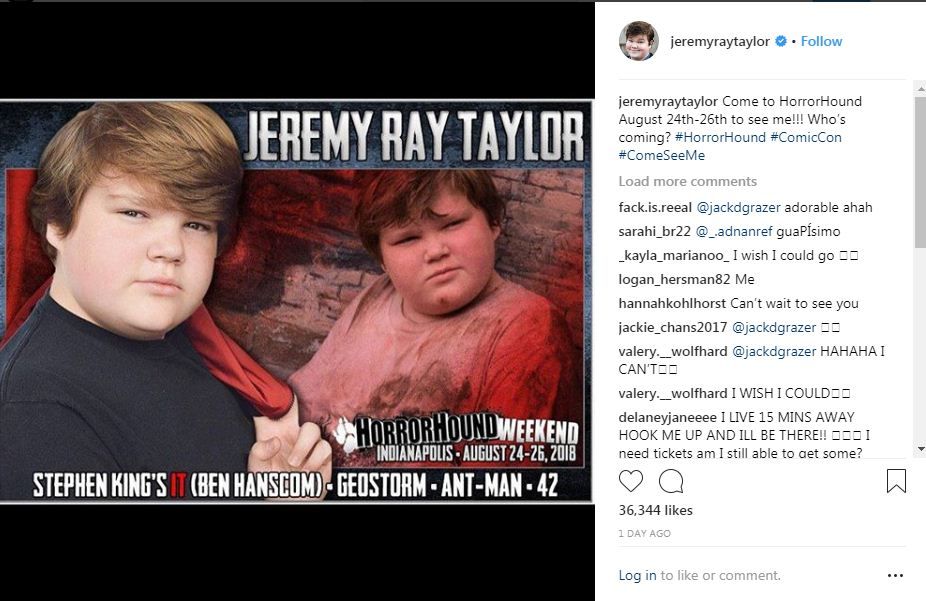 Jeremy Ray Taylor's television works and future projects
Standing 5 feet 2 inches tall, Jeremy Ray has also worked in television. He was seen in 2011's American sitcom titled Reed Between the Lines. He portrayed the role of Albert for Episode: "The 'C' Is Silent".
Furthermore, he landed his role in Good Behavior. Good Behavior is a 2016's American drama series where he acted for Episode:" We Pretend We're Stuck".
We will be seeing him in 2018's Goosebumps 2: Haunted Halloween which is said to be released on October 12, 2018. Jeremy will be performing the role of Sonny Quinn in the movie.
After the success of It: Chapter One, the team is coming with its second chapter. It: Chapter Two will be released on September 6, 2019.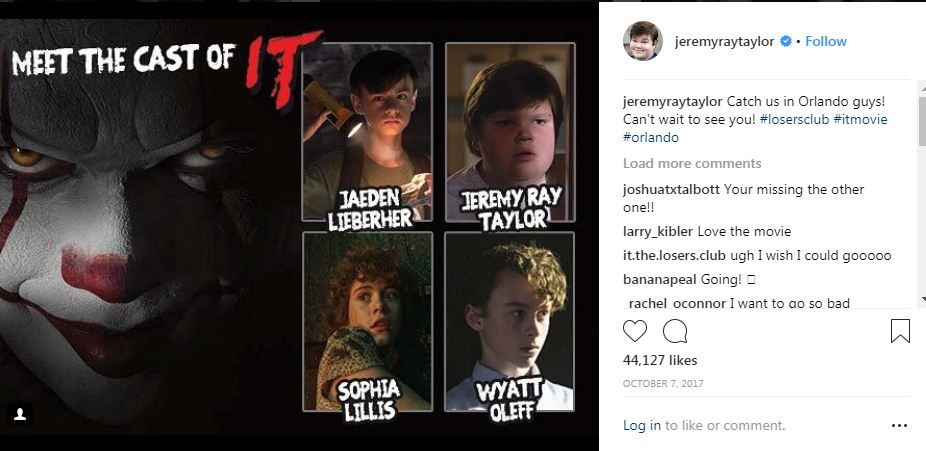 We hope to see his acting more in days to come!
Also read A self-taught drummer- Alex Tanas, a Canadian musician, singer, and songwriter amazing world with jazz-fusion and R&B
Jeremy Ray Taylor's personal life
Jeremy Ray is a young 15 years old boy, who is busy building his career as an actor. He is young to be in any relationship. Furthermore, we have no information about his past relationship.
We hope he finds someone special very fast!!
Jeremy Ray's fans can find him on social media. He seems to be active in his Instagram account as @jeremyraytaylor, a twitter account as @JeremyRayTaylor with 891k followers and 144k followers respectively.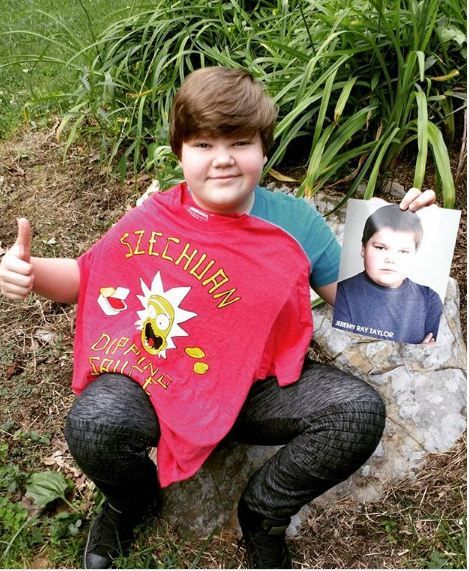 Short bio on Jeremy Ray Taylor
Jeremy is an American actor. Likewise, he is well known for his role as 'Reed Between the Lines' (2011), sport drama '42' (2013), Fox animated movie 'Alvin and the Chipmunks: The Road Chip' (2015), on the same year, 'The History of Us' (2015), TV series mystery 'Good Behavior' (2016), 'Movie Trivia Schmoe down' (2014), and 'IT' (2017). More bio…
You may like to read Modern Family's Raegan Revord- This American child Actress marvelous television appearance and filmography
Reference: (thefamouspeople, famousbirthdays, imdb)