Ivanka Trump: her claims of Washington's visciousness, her Indonesian factory controversy and more! Read on it here!
Ivanka Trump claims of been blindsided!
American businesswoman and former model Ivanka Trump gave a recent interview on Fox and Friends on 12th June 2017. She talked about how she was caught off-guard by the 'level of viciousness' that she and her family faced since her father, Donald Trump became the President of America. Ivanka Trump told in the interview:
"It is hard and there is a level of viciousness that I was not expecting.I was not expecting the intensity of this experience. But this isn't supposed to be easy. My father, and this administration, expects to be transformative."
Ivanka continued:
"I think some of the distraction and some of the ferocity I was a little blindsided by on a personal level. But for me, I'm trying to keep my head down, not listen to the noise and just work really hard to make a positive impact in the lives of many people."
When asked what her father felt when he watched former FBI Director James Comey's Senate Testimony, Ivanka said:
"My father felt very vindicated in all the statements that he has been making and feels incredibly optimistic,"
Talking about the work of the new government, Ivanka said:
"We are really focused on why the American people elected Donald Trump as their president,"
There were also some reports that her husband White House Senior adviser Jared Kushner was involved in palace intrigue. She slammed the rumors and said:
"There is a 24-hour news cycle that gets fed by and is encouraged by lots of salacious details. At the end of the day, we are all focused on the work, and that's very true for Jared. He is somebody who just likes to get things done. So, he doesn't get involved in all that."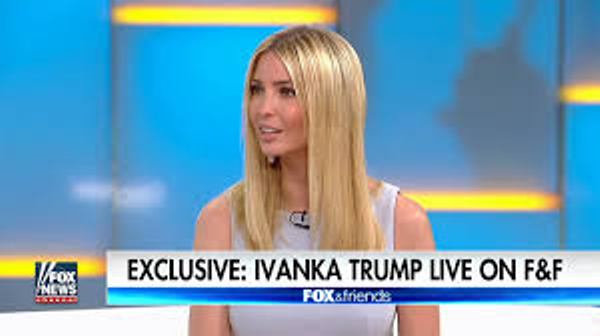 Her style evolution
It has been said that this eldest child of Donald Trump has a great influence on her father. However, there are times when Donald Trump totally disagrees with her and does differently from what she has said. Since her father's inauguration as the President of America, she is seen in feminine but professional attires. On 5th April 2017, during a news conference in the Rose Garden at the White House, Ivanka had adorned white lace separates. En route Florida on 3rd March 2017, Ivanka Trump wore a navy coat teamed with a loose ballerina bun. On 28th February 2017 for a joint session of the Congress, Ivanka was spotted in a magenta Roland Mouret peplum dress with a peekaboo. She had worn a black scoop-neck top and a button-accented, striped maxi skirt on her visit with her father to the Boeing assembly site in South Carolina on 17th February 2017. For the dinner with Japanese prime minister on 11th February 2017 at Mar-a-Lago in Palm Beach, Florida, she was looking beautiful in a bit daring off the shoulder black Dolce and Gabbana gown. She had on a silver metallic Carolina Herrera halter gown when she attended the annual Alfalfa Dinner on 29th January 2017. For the inaugural ball on 20th January 2017, she was at her best in a bedazzled Carolina Herrera design ball gown. At her father's inauguration, Ivanka was with her children and was dressed in white Oscar de la Renta suit with a long swing blazer. At the night before candlelight dinner, Ivanka had worn a bow-backed black-and-white dress by Oscar de la Renta. She landed in Washington on 19th January 2017 in an emerald green coat and dress by Oscar de la Renta.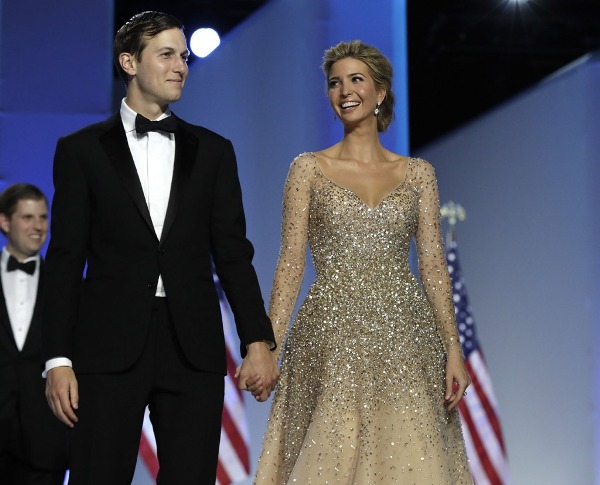 Her costume factory horrific working conditions revealed!
While Ivanka is having the best of the clothes and time and the world, her employees in Indonesia are finding it difficult to procure even one square meal per day. A Guardian reporter had visited Ivanka Trump's apparel factory in Subang, West Java, Indonesia and interviewed more than 12 workers. It came to light that the workers there were paid less than China's minimum wages, were subjected to verbal abuses and called 'moron', monkey' or 'animals',  and are intimidated often. Women are paid $ 10.5 bonus if they do not take one day off for menstruation. The PT Buma Apparel Industry factory has 2759 employees. The workers are unable to afford to keep their children with them since they do not have enough money. Hence the kids are taken care of in rural areas by their grandparents. Many of the employees are put on contract and deprived of overtime and severance. They are also fired after a few months. Most of these workers are Muslims and are not happy with Donald Trump's policies. They echo:
"We're not in a position to make employment decisions based on our principles."
The Muslim workers are fired just before Ramadan and re-hired one month later to avoid paying them the religious holiday bonus. Impossible targets are set and the cards are checked early so that they are not entitled to overtime money in spite of working overtime. The female workers laughed when they heard that Ivanka has profited from the idea of Women empowerment at the workplace.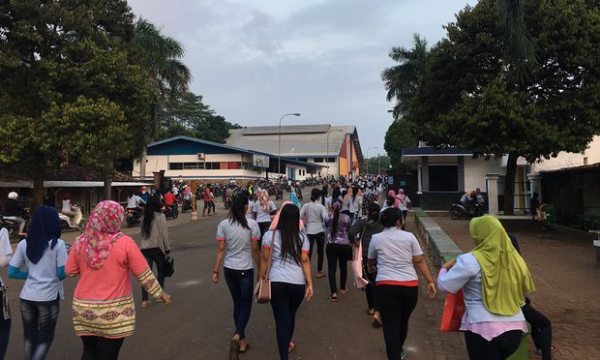 Short Bio on Ivanka Trump
Ivanka Trump is an American businesswoman, former reality TV personality, and socialite.  She has also established herself as a successful author and fashion model. She is the daughter of U.S. Presiden Donald Trump. Ivanka is the Executive Vice President of her father's company – The Trump Organization. More Bio…