Jaime Pressly, Pregnant (Twins Boys) with Boyfriend Hamzi Hijazi! Debuts Baby Bump With 'Mom' Costar Allison Janney in sweet Photo!!
Jaime Pressly pregnant again-times two! The Mom star, 42 is pregnant with twins, showed off her growing baby bump in a sweet Twitter pic with her costar Allison Janney.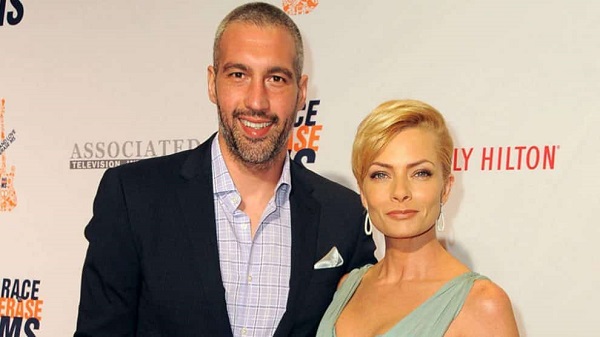 Jaime- Pregnant with Twins!
The actresses wrapped their arms around one another in the adorable image after Pressly, 42, watched her friend perform on Broadway in the play Six Degrees Of Separation.
The pregnant star wrote on Twitter,
"Saw @SixDegreesBway & the entire cast blew me away! @AllisonBJanney is 1 of the GREATS of all time! #TonyAwards2017 #SixDegreesofSeparation."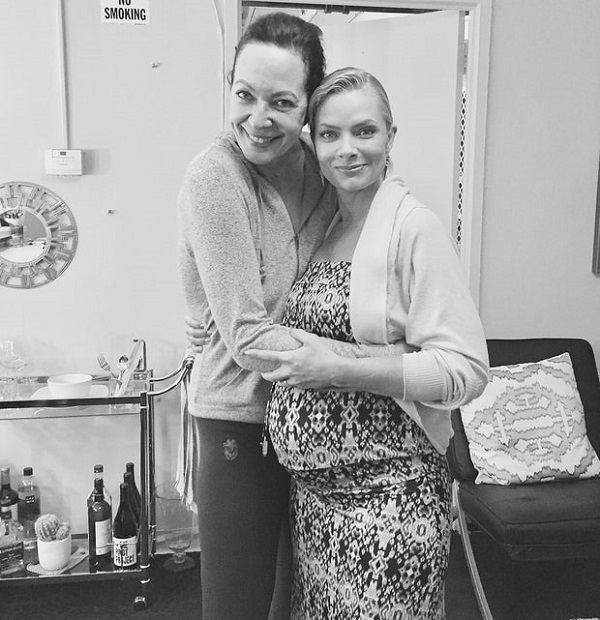 Both women were casually dressed for the snap, with Pressly wearing a patterned dress that hugged her growing belly. The shout-out came after Janney was not nominated at the 2017 Tony Awards for her performance in the play, despite getting rave reviews from critics.
Reveals pregnancy
Jaime Pressly announced Wednesday that she's pregnant with twin boys with boyfriend Hamzi Hijazi. She wrote on Instagram June 7, that she was having two babies.
"Big news for our family! Dezi's going to be a big brother, times 2."
Guess who's pregnant with twins?! Check out the article! @people #ClearblueConfirmed #ClearbluePartnerhttps://t.co/BVhRPe0xu6 pic.twitter.com/E7UHZBlBOO

— Jaime Pressly (@theJaimePressly) June 7, 2017
"Twins don't run on either side of our families so we were completely shocked," says the actress, who discovered she was pregnant after taking a Clearblue pregnancy test. "This wasn't IVF or anything like that. It was just a shock, and I'm like, 'Doctor, that's impossible!'"
Sharing that she and Hijazi have been trying "for quite a while" to get pregnant, Pressly jokes that expecting two babies is "God cutting me some slack."
"I've always wanted three kids and the older I'm getting, I'm like, 'Okay, maybe just one more would be nice,' " she says. "I was getting a little sad, but it was like, 'We'll give you two in one. You don't have to do another pregnancy.' "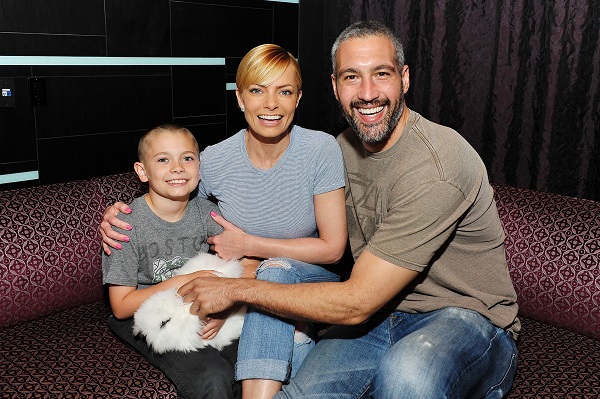 You may like to read:
LAPD to hold a news conference today to announce the names of the arrests made in connections with celebrity home burglaries in LA!
Break-in attempt at Demi Lovato's pad! Know about the string of burglaries at celebrity homes this year!
Family support
Her 10-year-old son Dezi James (with her ex Eric Calvo) is "beside himself," adds Pressly.
"He's been begging Hamzi and I to give him a sibling since he was in kindergarten. He's very patient and sweet and gentle and is going to be the best little babysitter ever and he's constantly kissing my belly."
Now out of her first trimester, Pressly has been craving In-N-Out cheeseburgers and is adjusting to having two growing babies in her belly.
"I'm 10 years older than I was the last time [I was pregnant], so the pregnancy is completely different," she says. "They've been doing like, river dance on my uterus! I'm excited to do this 10 years later when I'm older and wiser and more calm. It's going to be a totally different experience, but a great one. I'm so excited for it!"
The actress shares son Dezi, 10, with ex-fiancé Eric Calvo. Pressly and Hijazi, 38, have been dating since 2011. She was previously married to entertainment lawyer Simran Singh from 2009 to 2011.
Short Bio on Jaime Pressly:
Jaime Pressly is an American actress and model. She is famous for playing Joy Turner on the NBC sitcom My Name Is Earl, for which she was nominated for two Emmy Awards (winning one) as well as a Golden Globe Award and a Screen Actors Guild Award. Moreover, she has also appeared in films such as Poison Ivy: The New Seduction (1997), Joe Dirt (2001), The Oogieloves (2012), DOA: Dead or Alive (2006), and I Love You, Man (2009). She is currently in the cast of the CBS sitcom, Mom.