Jake Guentzel, pro ice hockey player proposes to girlfriend Natalie Johnson!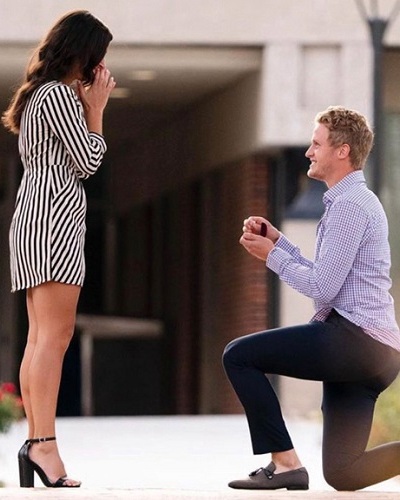 Jake Guentzel, the professional ice hockey player has decided to take his relationship one level up.
He proposed recently to his girlfriend, Natalie Johnson and she said yes.
Jake happily announced the news on his Instagram in the first week of October.
And his fans are thrilled for the couple.
---
Update: Jake Guentzel and Natalie Johnson married on 30th July 2021.
Jake Guentzel is engaged
In the first week of October 2020, professional ice hockey player Jake Guentzel, 26 announced to his Instagram fans that he and his girlfriend Natalie Johnson are engaged.
Jake Guentzel has some big news!

Congratulations! 🎊 pic.twitter.com/U6kTrYoV4M

— Pittsburgh Penguins (@penguins) October 4, 2020
Jake posted a photo of him going down on one knee with the engagement ring in hand and Natalie standing looking surprised at this sudden proposal. Jake's Instagram account with 117k followers is private but Pittsburg Penguins have tweeted the photo from their Twitter handle.
It is an adorable photo and the couple just looks adorable. Natalie is in a one-piece dress with stripes. She has left her hair open and is wearing high heels. While Jake is wearing a light blue full-sleeve shirt and dark blue-colored trousers.
About the couple's relationship
The couple is very private about their personal lives. It is not certain how the two met. But probably their meeting might have taken place at the University of Nebraska Omaha.
Jake used to study there from the year 2013 to 2016. And Natalie joined the same University in 2014. Therefore, the two had two years to become friends and start dating. Jake became a pro in his junior year and joined Pittsburg Penguins.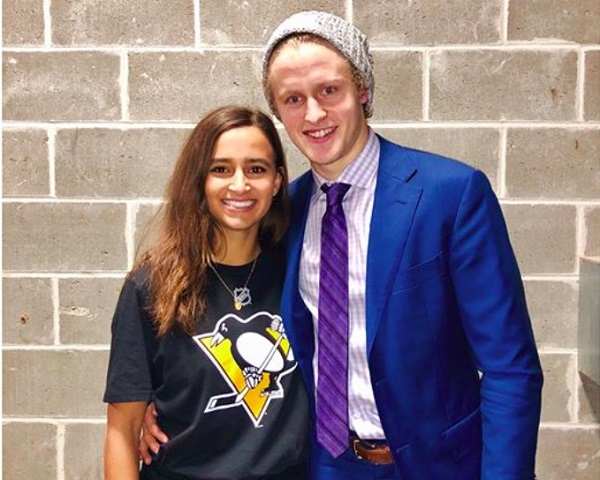 After Jake took up his career with Pittsburg, Natalie too shifted with him. She completed her graduation in 2018 and joined Jake. As per her Twitter account, she is now in Pennsylvania.
She has been on his side always and has his constant support. When he suffered a bad injury in December 2019, she drove him to the hospital. She also called in his friends for support. And now, she is working in Pittsburg itself.
Natalie and her early life
Natalie's current age is not known but she may be around 24 years of age. Since Jake is now 26 years of old and Natalie is two years his junior academically, her age might be 24 now.
As regards her parents, siblings, and ethnicity there is no information. She holds an American nationality.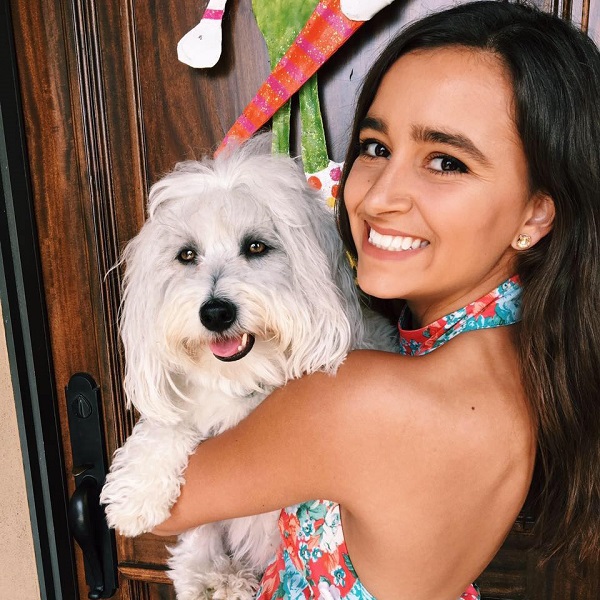 Natalie completed her Bachelor's degree in Communications, with an emphasis in Organizational Communication and Leadership from the University of Nebraska Omaha in 2018. After her graduation, she relocated to Pittsburg to be with her beau Jake.
And there, she got a job as a Human Resource Coordinator for ARMADA Supply Chain Solutions in the same year. She is continuing with this work.
Also, read Jasmine Tookes, Victoria's Secret Angel is engaged to boyfriend Juan David Borrero!
Now that Jake and Natalie are engaged, their fans are curious to know when their wedding is and what are their wedding plans. But the couple has yet not made any announcements on it. It might be after the coronavirus pandemic is over.
Besides, Jake comes from a hockey family. His father Mike, older brother Ryan, and another elder brother Gabe are all professional hockey players.
His father is now a coach at the University of Minnesota. So Jake would like to concentrate on his career before he decides to settle down with Natalie.