James Rhine welcomed his first child with wife Stephany Tornincasa! Know about his married life, Big Brother, social media, biography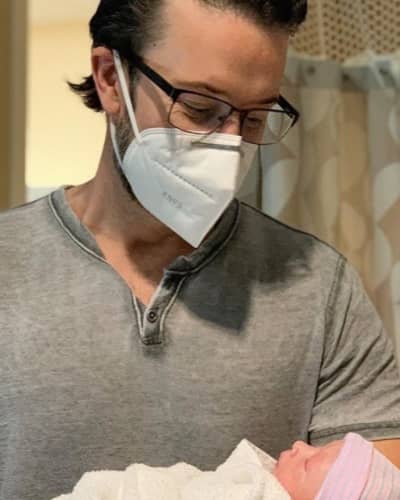 Guess who became a daddy! James Rhine became a father for the first time on 7th October 2010. His wife Stephany Tornincasa welcomed their son Tristan James Rhine at 7: 35 p.m. Tristan was 18 inches long and weighed in at 6 lbs., 10 oz. James shared the news of the birth of baby Tristan through Twitter.
He shared the picture of the little one and wrote,
"MY WIFE MADE THIS!!!"
MY WIFE MADE THIS!!! pic.twitter.com/S7zB4xMlmy

— James Rhine (@jamesrhine) October 8, 2020
James and Stephany announced that they are expecting their first child in March 2020. He wrote,
"We're excited to announce, Baby Rhine coming in October 2020! So please hold off on this apocalypse bullshit for a minute."
They revealed the baby's gender two months later. They kept their followers updated about the pregnancy.
Also real Sophie Turner And Joe Jonas Welcomed Their First Child Together; Find out the gender and name. The Couple Is Embracing Their First Parenthood!
James Rhine and Stephany Tornincasa married life
James Rhine and Stephany Tornincasa walked down the aisle in October 2018. Also, James proposed Stephany on 15th February 2018. They made their relationship official in October 2017.
Stephany was a bartender at Sapphire Las Vegas. She graduated with a Bachelor of Science in New Media Communications from the Oregon State University in Corvallis, Oregon.
James and Stephany celebrated their second wedding Anniversary in October 2020. Rhine shared a video of their wedding on Instagram and wrote,
"It's been 2 years since I let @stornincasa smash wedding cake in my face w zero retribution. In the next 24 hours she'll push out a watermelon, so I think revenge is a dish best served cold. Happy Anniversary!!!"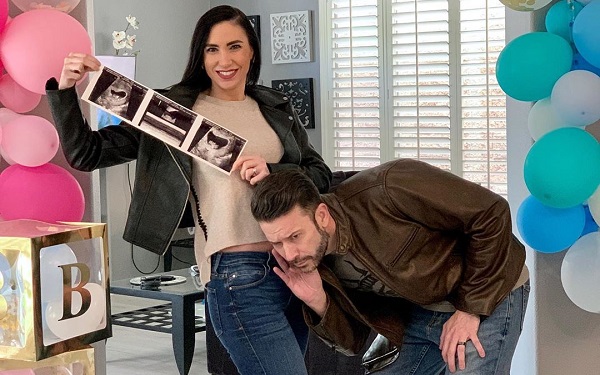 The couple has been living happily since their marriage. The couple is excited to raise their son together.
Rhine on Big Brother
James Rhine is the houseguest of Big Brother 6 and known for being the host, actor, producer, and model. James has worked as the lead host and associate producer of 3 Guys in a Booth. Similarly, he was featured in the Sexiest Men of Reality TV 2007 calendar in the month of June.
In the CBS reality show Big Brother, James came with his girlfriend Sarah Hrejsa who was his secret partner on Big Brother Season 6. He and his girlfriend decided to work together. Likewise, James also won the third Power of Veto during the A Lotta Pinata competition while Sarah was evicted. James came into the season 7 house with his former Big Brother 6 housemates. Similarly, he was the only contestant to have an eviction vote against them nullified after it had already been cast.
Likewise, James has appeared in Big Brother 6, Big Brother: All-Stars, Battle of the Bods, Best of College Football 2009, Stasis, and Project: Phoenix. After that, Rhine attended Big Brother 11 houseguest Laura Crosby's wedding on 8th April 2011. On 17th April 2020, Rhine competed in the Big Brother Canada versus Big Brother U.S. mini of Sequester hosted by Audrey Middleton.
Also read Insight on the happily married life of Paige O'Brien and Josh Peck! Know about her early life, children, net worth, social media, biography
James Rhine on social media
James Rhine has around 14k followers on her Instagram account. He has made more than 970 posts on his account. He shares pictures with his friends and family. Similarly, he likes hanging about with friends. James is a dog lover and shared the pictures of his dog on his account. He and his wife have traveled to many places. They celebrated their Wedding Anniversary on 6th October 2019. He wrote,
"A year ago today, we became one in front of family and friends. Words can't describe my happiness and what she means to me. X.VI.MMXVIII"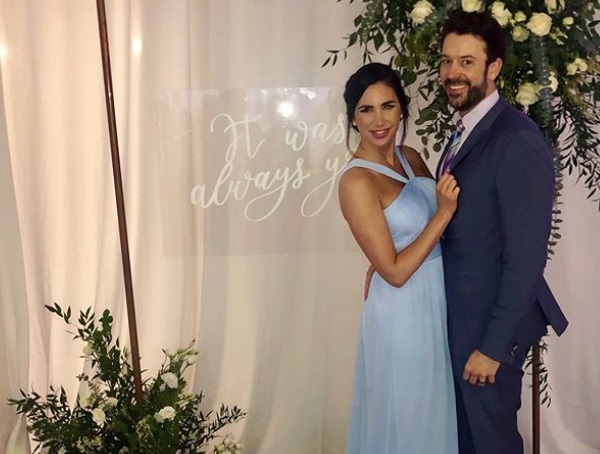 Likewise, his Twitter account has 40k followers. He joined Twitter in March 2009. Other than that, he is not on other social media Facebook, YouTube, and TikTok.