Japanese DJ Mayumi Kai arrives for her ex-husband, Keith Flint's funeral in Essex!
Mayumi Kai is a Japanese Disc Jockey. She is the estranged wife of the late frontman of the dance group Prodigy, Keith Flint. He died on 4 March 2019 at age 49.
Mayumi Kai arrives for Keith Flint's funeral
Mayumi Kai, Japanese DJ and the estranged wife of Keith Flint arrived to pay her last respects to her ex-husband. Keith is the vocalist and frontman of the group Prodigy. His friends found Keith dead at his Essex home on 4 March 2019. He was only 49 years of age and the police labeled his death an apparent suicide. His bandmate Liam Howlett revealed:
"The news is true, I can't believe I'm saying this but our brother Keith took his own life over the weekend, I'm shell shocked, f***** angry, confused and heartbroken ….. r.i.p brother Liam."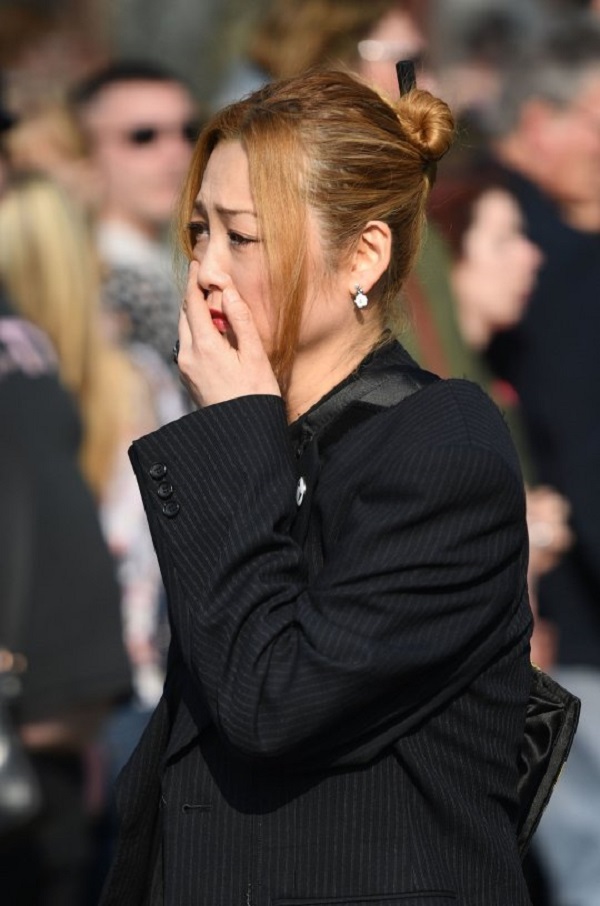 Now,  his widow Mayumi arrived at St. Mary's Church in Essex to pay her last homage to the departed soul.
Mayumi looked emotional as she made her way through the mourners. She was covering her face with clasped hands.
During the funeral, a hearse with his coffin came into the church. The 'keef' was in bright orange flowers with a yellow-colored smiley-face. His bandmates Maxim and Liam Howlett were the pallbearers and carried his coffin inside the church.
Invitation to the music fans
The Friends and relatives of Keith Flint invited his music fans to attend the funeral. They were asked to line the street leading to the church and also raise the roof along the procession route. The invitation read on the Twitter handle read:
"Fans are invited to line the procession route, starting at 3pm in Braintree, Essex on Fri 29th March, to pay their final respects & 'raise the roof' for Keef!"
"If anyone wishes to lay flowers or tributes these should be sent to St Mary's church in Bocking, no later than 2pm Friday.

'The church service will just be for family and close friends, but there will be speakers relaying the ceremony outside the church for everyone to hear.'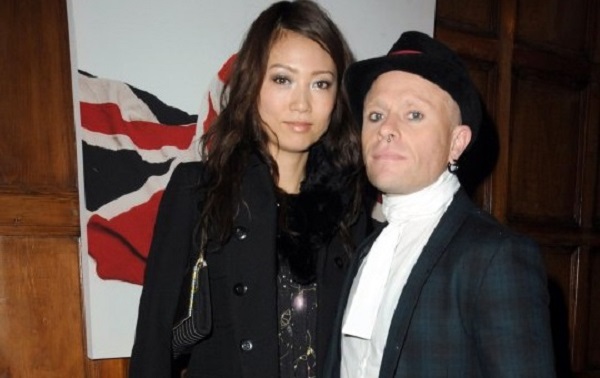 Mayumi Kai and her relationship with Keith Flint
The couple dated for a while and married in December 2006 in a star-studded ceremony. She was 32 at that time. Liam Gallagher, David Gest, Natalie Appleton, and his bandmates attended the wedding. Keith has said that he was overwhelmed by Mayumi and credited her for saving him for illegal drugs. He had told The Times:
"We were talking and she just walked into this room we were in and you know how it is, I just couldn't talk, I was overwhelmed."
Keith continued:
'I'd done my fair share of drugs and shagging around.

'Look, we all like to get busy, but in truth I was a bit worn through with it."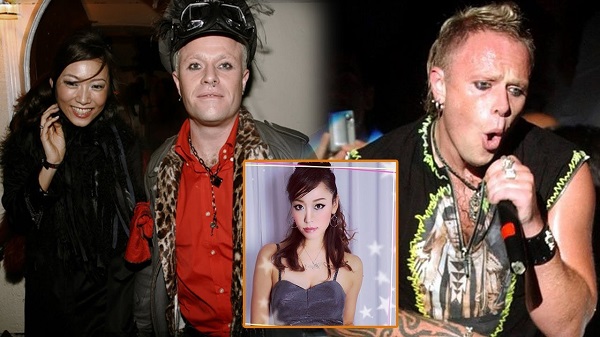 Additionally, in 2015, he had said:
"We take one of the Range Rovers, and plan our route, and stay in hotels along the way, nothing lah-di-dah… We like to take picnics and sandwiches, driving through the green lanes. My wife loves the house, the dogs, and the animals we have around us, the deer and the fox that comes and pokes his head through the hedge."
She used to accompany him for the motorbike Grand Prix events in Europe. They owned a pub in the English countryside and had 9 dogs
They have no children together. In 2009, he said:
"We're not exactly planning to have children, but we're not planning not to either."
The couple probably split last year but a peep into their social media shows that there is no picture of the two for the past two years.
About Mayumi Kai
Mayumi is a DJ in Japan. She uses the moniker Super Megabitch for her career in music. Her Instagram page describes her as "DJ/Music producer/fashion love/traveler/JAPANESE."
After Keith's death, she retweeted a Japanese article about his death. At the time of his death, she was in Japan at Atom Tokyo DJing. Her post related to it said:
"Every Wednesday Atom Tokyo. 1F DJ so please come and visit the floor."
In 2012, she had done the opening act for the tour of Prodigy.
Source: Metro, heavy