Jennifer Aniston's secret to her healthy and beautiful body. Know her diet regimes!
There always exists a curiosity in the minds of the fans of celebrities about their diet, family life, daily routine and the like. Jennifer Aniston's are also similar and want to know about her food habits and her relationships. They want to embrace those diet regimes and hence want to know all about it. Her cool California look and appearance make people like her. Jennifer Aniston also has always been open whether it is about her life or diet.
Jennifer Aniston's diet regimes
The Friends star has often spoken on what she prefers for breakfast or when she is on the go. She has also reasoned out her likings and preferences when it comes to food.
In 2016, in an interview given to Yahoo! Food, Jennifer had said:
"It's pretty clear: eat as much organic fruits and veggies as you can, keep sugar [intake] low, drink tons and tons of water, and get good sleep."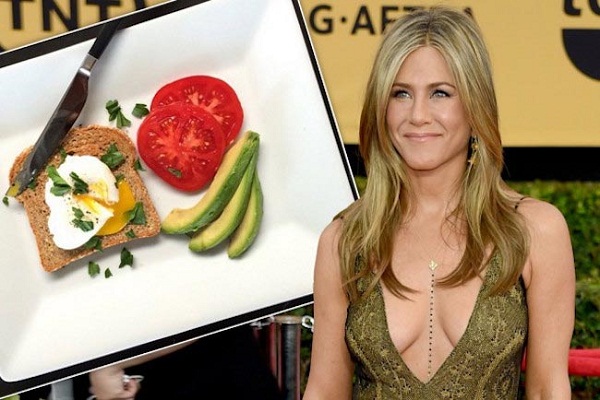 She gave a general overview on what is healthy in eating. She has fame and fortune and hence the facility of having a personal chef who checks and decides on her eating habits.
Home chefs Jewels and Jill Elmore used to be her personal chefs and they had revealed on how they managed her eating habits. They told Glamour magazine that they told Jennifer to restrict her prepackaged Zone meals overcooked takeouts and instead switch to real food which naturally and truly sustains and is, also delicious. Her fridge used to be full of the Zone meals and some cheese which was overhauled.
More on Jennifer's diet -breakfast
Jennifer also told Yahoo! Food that she is no longer curious for fad diets and is done with it. She had tried several such foods in the past when she was younger but has stopped it now. She said:
"I don't give myself any rules anymore."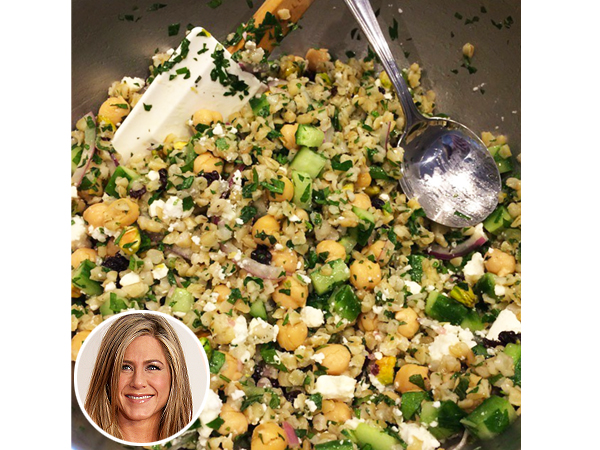 She tries to have a hearty and filling breakfast. She starts her day with warm lemon juice. She said:
"When I wake up, I have warm lemon water and then I have a shake or avocado and eggs, which is one of my favorites."
The eggs she prepares thus :
"I crack them into a bowl and I'll add a white or two into that and pour it all into the pan to get more protein sans too much yolkage."
She also likes oatmeal with white of egg whipped in it at the end. Some she has a breakfast smoothie with fruits and some cacao powder. She added:
"I usually have just one cup of coffee a day. That's it."
Jennifer Aniston's lunch and dinner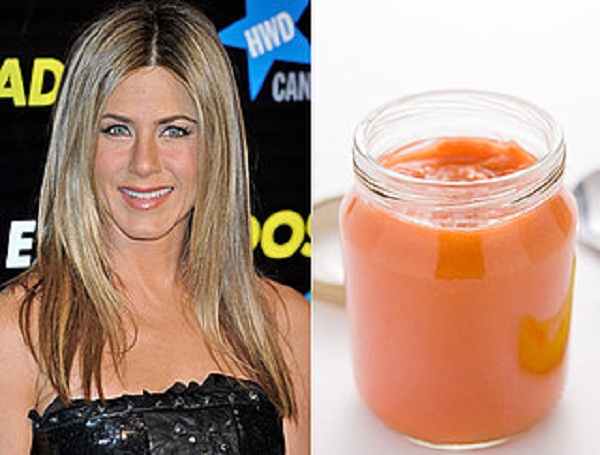 She has lots of salad for her main meals. Her good salad is Cobb salad with turkey bacon and garbanzo beans added. Her lunch has to have some vegetable with a protein. In 2015 she used to have hearty bulgur salad with cucumbers, parsley, mint, red onion, garbanzo beans, feta cheese, and pistachios.
The contents of her fridge
Her fridge invariably has cut raw vegetables placed in a Tupperware container, hard-boiled eggs, and butter lettuce. She also likes frozen red grapes. For in-between meal hunger, she takes soup or cheese stick.
She has her days out when she indulges herself in Mexican food or lately pasta. She also likes vegetable lasagna. She said:
"You have zucchini, eggplant that acts as a paste, and you layer it with different cheeses and put it in the oven,"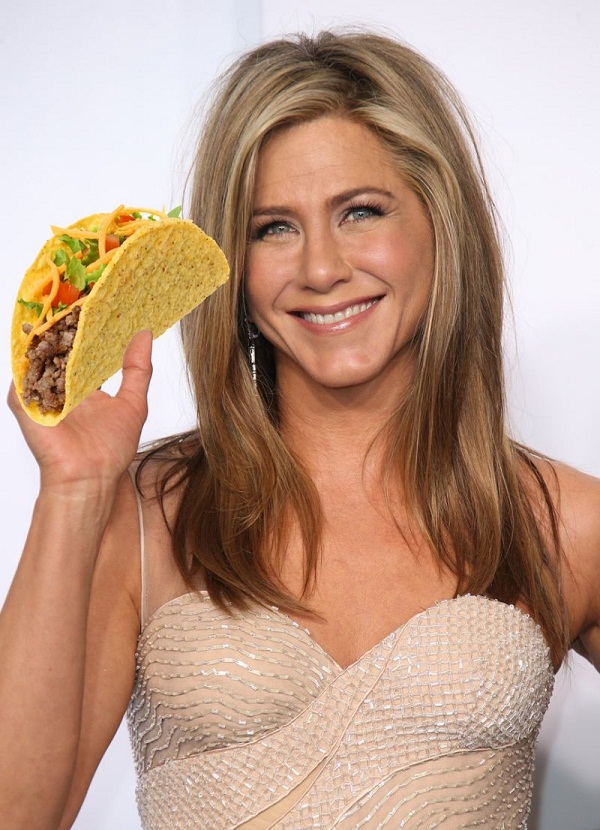 The two foods she detests are beets and caviar.
Short Bio on Jennifer Aniston
Beautiful Jennifer Aniston actress, producer, and businesswoman who hails from America. She gained a lot of fame and popularity for her portrayal as Rachel Green on the hit NBC sitcom Friends.
Moreover, she garnered herself a Primetime Emmy Award, a Golden Globe Award, and a Screen Actors Guild Award for her role in the series. More Bio…
Source: thisisinsider.com