Jenny McCarthy and her Husband Donnie Wahlberg pose Nude for Formless Beauty!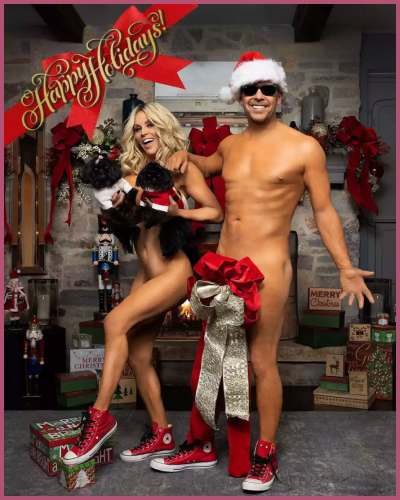 Donnie Wahlberg and Jenny McCarthy placed ribbons and puppies over their body parts for their beauty campaign.
The husband and wife duo seem to enjoy baring their body for their latest nude collections photoshoot.
Learn about the new releases of Formless beauty.
---
McCarthy and her husband Wahlberg go nude for the Beauty Campaign
The '90s icons Jenny McCarthy, 50, and her husband Donnie Wahlberg, 53, are enjoying themselves in their nude beauty campaign.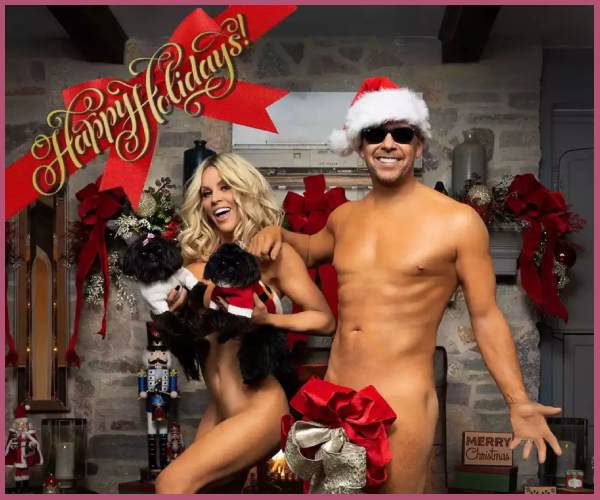 The married couple stripped down for a holiday-themed ad promoting Formless Beauty's Nude Collection of lip glosses on Instagram on December 7, 2022.
The former Playmate Jenny announce her latest nude collection of cosmetics, Formless Beauty on Instagram with a holiday-themed nude photo writing,
The Nude Collection has finally arrived! When you buy a bundle, you will receive our holiday card autographed by me and @donniewahlberg Plus, you automatically get entered to possibly win a FaceTime call from me and Donnie on Christmas Day. Limited cards, so buy now. #Christmas #Surprise #lipgloss #makeuplooks #Vegan #crueltyfreebeauty
The former View co-host, McCarthy, who is the owner of the vegan cosmetics company Formless beauty continued. She has been having crazy campaign ideas since its official launch last year in 2021. About her latest nude photoshoot experience, she added,
"It was fun to bare it all with my husband for this shoot. I definitely have a thing for chestnuts roasting and large packages adorned with red ribbons."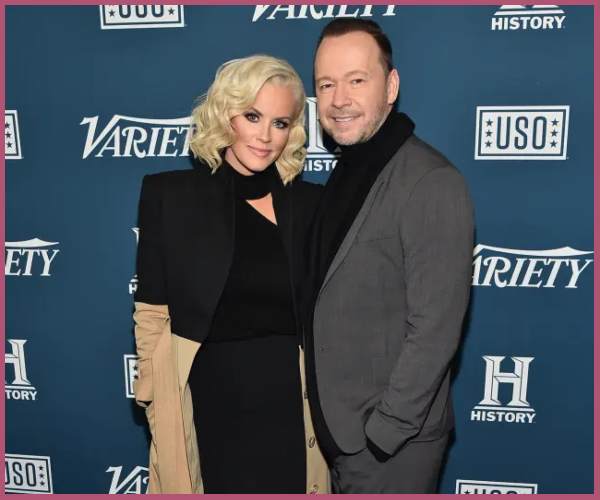 Wahlberg and his wife Mccarthy appear completely nude in the beauty campaign. They wore matching red Converse high-tops on behalf of their appealing nude looks.
Meanwhile, the duo strategically placed a holiday bow covering Wahlberg's bottom half and the duo's dog shielding McCarthy's bare bust.
The former New Kids on the Block member wore nothing but a Santa hat and sunglasses while promoting his wife's beauty products going nude.
Also, Read Olivia Wilde Enjoys Baring her Bust in her 2022 Latest Fashion Choices
Relationship Timeline of Donnie Wahlberg and Jenny McCarthy
Donnie Wahlberg and Jenny McCarthy have been dating each other since 2013. They had a short engagement in April 2014, followed by a traditional marriage ceremony on August 31, 2014.
These married couple of over 8 years have renewed their marital vows after seven years together last year. Jenny shares a son Evan, 20, with ex-John Asher. Her son born in May 2002 was diagnosed with autism in May 2005.
Exes and dating history of McCarthy
McCarthy dated manager Ray Manzella, a four-year relationship from 1994 until 1998. She then began dating actor/director John Mallory Asher late in 1998, got engaged in January 1999, and married on September 11, 1999, only to divorce in September 2005. Talking about the kids and Christmas as a unified family, Jenny disclosed,
"Probably the best gift I think we can think of, and this might sound sappy, is that we each have given an additional parent to our kids … giving them a unified family Christmas after years of being single parents, I think that's really the best gift we can give each other."
After that, McCarthy had a five-year relationship with Jim Carrey. She also had a brief romance with former Chicago Bears linebacker Brian Urlacher that ended in 2012.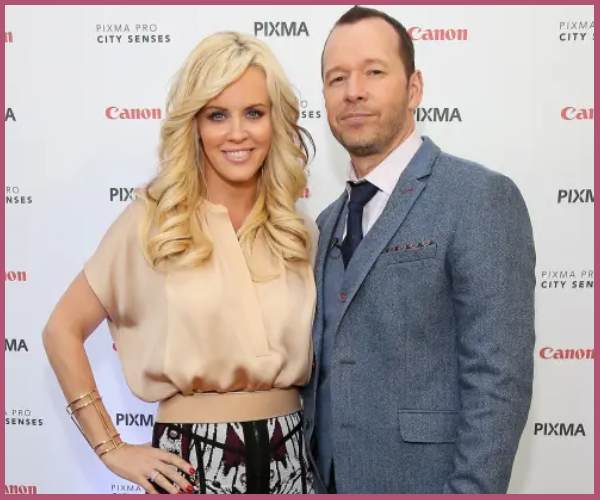 Who is Jenny McCarthy?
Jenny McCarthy is an American actress, model, and television personality who rose to fame as the nude model for Playboy magazine in 1993. She also became their Playmate of the Year before entering into a television career.
McCarthy was a co-host on the MTV game show Singled Out (1995–1997) and lead actress in the sitcom Jenny (1997–1998). McCarthy is the judge on the Fox musical competition show The Masked Singer since 2019.
Also, Read Sydney Sweeney is Sad that Some Trollers Took Screenshots of her Nude Scenes from Euphoria and Tagged her Family Members!