Wait What? Jhene Aiko's 77 Year old Dad Karamo Chilombo is Expecting a Baby Boy!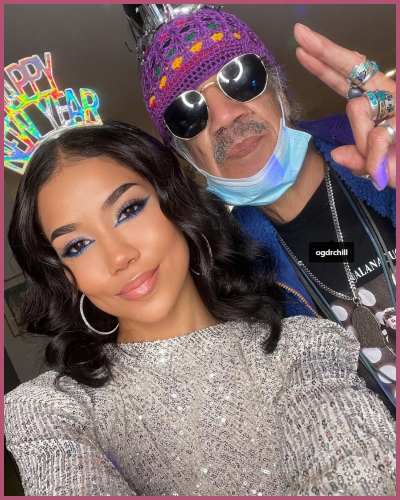 Jhene Aiko, the youngest daughter of Karamo Chilombo is now welcoming a baby brother.
The Father of Chilombo's singer is going to be a dad at 77 with his secret girlfriend.
Meet the father-daughter duo who are welcoming their kids together.
---
The celebrity father of Jhene Aiko, Karamo Chilombo, 77 is welcoming a baby boy anytime soon with his mysterious partner.
Meet Jhene Aiko and father Karamo Chilombo who are pregnant at the same time
Jhene Aiko's father Karamo Chilombo is going to be a father and grandfather together.  The singer is amused as she is going to welcome a child as well as a brother soon.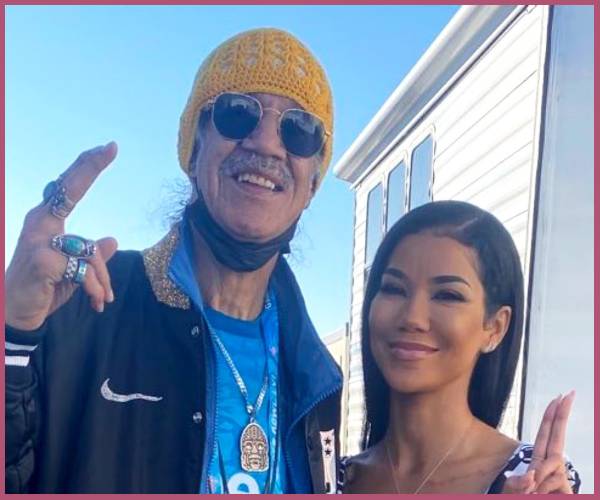 The 77-year-old singer's father posted his upcoming baby boy gender revelation party on Instagram on Saturday, July 9, 2022. The pediatrician and his age gap girlfriend pulled pink and blue papers from a box before symbolizing the baby's male sex.
Pregnant Jhene Aiko congratulates her father as he is going to welcome her a baby brother at 77. Aiko congratulated her father writing,
 "Congratulations with a blue heart emoji. "
View this post on Instagram
Jhene Aiko who lost her brother in 2012 due to a brain tumor is expecting a baby brother in 2022.
Jhene Aiko's father Karamo Chilombo is father to 6
Karamo Chilombo recently announced the upcoming arrival of his baby boy at 77. He is already father to 5 kids, daughters Miyoko and Mila J (R&B singer) and sons Jahi and Miyagi.
He is trending as a father to Jhene Aiko and sharing the pregnancy journey of his daughter and partner together.
Chilombo was married to Jhene's mother Christina Yamamoto from 1980 to 2000. Years after divorce and separation they lost their son Miyagi in 2012.
Also, Read Megan Fox's Ex-husband Brian Austin Green Welcomes 1st Baby with Sharna Burgess!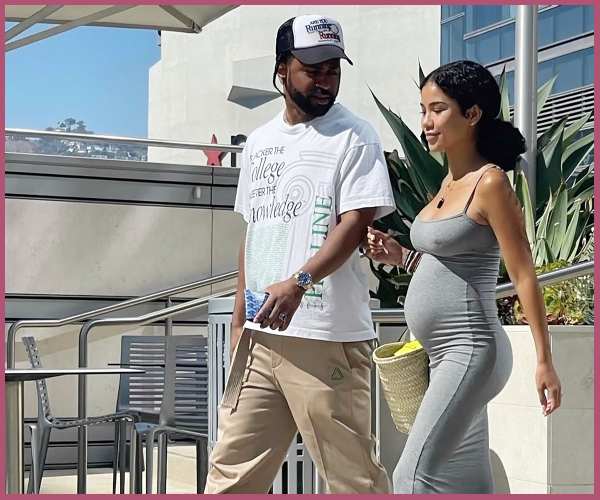 Jhene Aiko is pregnant at the same time as his father's new beau
Chilombo singer Jhene Aiko is pregnant with the baby of her boyfriend Big Sean whom she started dating in 2016. Baby Sean, who is welcoming his feelings about becoming a dad to Aiko's baby soon on his Instagram Stories shares,
"Whole new motivation foreal [sic]! Very grateful God continues to bless us, Thank You. Can't wait to be a Dad."
Jhene already has a 13-year-old daughter named Namiko Love Browner, with her ex, R&B singer O'Ryan. She also had become pregnant with Sean's child, which could not deliver due to her unfortunate miscarriage.