All about Joe Biden's Family History/Family Tree! Know about his married life with Jill Biden and net worth
Joe Biden is an American politician who is running against Donald Trump in the 2020 election from the Democratic party. Previously, Joe served as the 47th vice president of the United States in the Obama administration from 2009 to 2017.
Update: Joe won the 2020 presidential election against Trump.
Joe Biden's Family Tree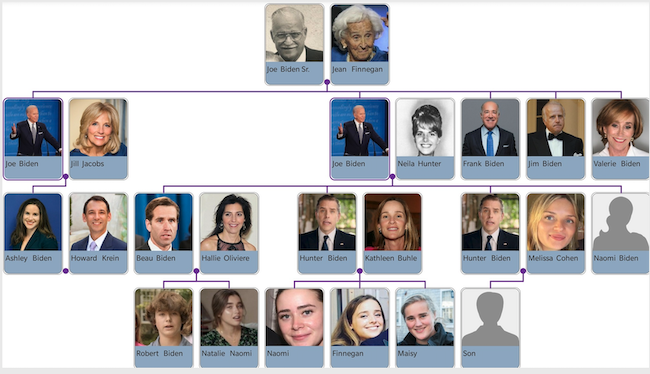 Great-great-great-grandfather
His great-great-great-grandfather William Biden was said to be born in Sussex. William was the son of Joe and Anne Biden born in 1787.
From a distant relative, it is suggested that his family had roots in Westbourne, near Chichester. In the year 1822, William married Mary Elkins after emigrating to Baltimore in Maryland, United States of America.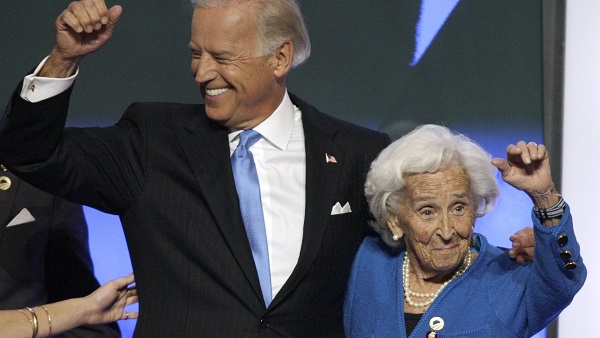 Maternal great-grandfather
Similarly, his maternal great-grandfather, Edward Francis Blewitt, the child of Irish immigrants, was a member of the Pennsylvania state senate.
His family later migrated to Pennsylvania where he was born on 20th November 1942 to Joseph Robinette Biden Sr. and Catherine Eugenia "Jean" Biden. His mother was of Irish ancestry with roots in County Louth and County Londonderry.
Also read Lorenzo Lamas on his Fifth marriage!! His Wife Shawna Craig: pregnant with her stepdaughter's child via surrogacy!! All the Family history here!
USA's 46th President's father Joseph Robinette Biden Sr.
Joe Biden's father, Joseph Robinette Biden Sr. was a sailor. He used to sell off the New England coast. Also, he drove cars and flew planes. He was married to Jean, a maiden name Finnegan in 1944.
Later, after World War II they moved to a suburb of Wilmington. They had a hard time after migration, yet they maintained the lifestyle of their children and family.
He switched his car sales job to real estate. Furthermore, he became the advocate of his son Joe Biden and appeared onstage at rallies as well.
Joe Biden Sr. died in 2002. Still, his son remembers him and in 2020, the 46th president tweeted remembering his father on the father's day,
"As my father believed, there's no higher calling for a woman or a man than to be a good mother or a good father."
Joe Biden and Jill Biden's married life
Joe Biden and Jill Biden met each other in the year 1975 when his brother introduced them. Jill said,
"He was nine years older than I am! But we went out to see 'A Man and a Woman' at the movie theater in Philadelphia, and we really hit it off. When we came home … he shook my hand good night … I went upstairs and called my mother at 1:00 a.m. and said, 'Mom, I finally met a gentleman.'"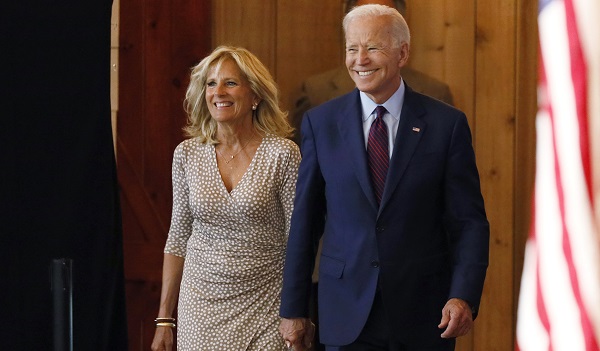 They walked down the aisle on 17th June 1977 after Joe proposed to her five times. Their wedding ceremony was held at the United Nations chapel and a reception lunch at Sign of the Dove in New York City. In the year 1981, the couple welcomed their daughter.
On 14th February 2010, Joe surprised Jill with a tree swing marked with a commemorative plaque that read "Joe loves Jill. Valentine's Day 2010". Likewise, the couple took diplomatic trips together.
In Jill's book Where The Light Enters, she wrote,
"After the disappointment of my divorce, I never wanted to feel so out of control of my heart again. But in the months that Joe and I were dating, that desire ran up against a new reality: I was falling in love."
Joe Biden's children
Joe has four children: Joseph R." Beau" Biden III, Robert Hunter, Naomi Christina Biden, and Ashley Biden.
From his first wife Neilia Hunter, he has three children: Naomi Christina Biden, Beau Biden, Hunter Biden.
Joe lost her wife and daughter, Naomi Biden in a car accident on December 18, 1972. His son Joseph was a lawyer who died on May 30, 2015, due to brain cancer.
He has one daughter, Ashley Biden from his current wife, Jill Biden.
Joe Biden's grandchildren
Joe has five grandchildren: Naomi, Finnegan, Maisy Biden, Robert Biden II, Natalie Biden, and Finnegan Biden.
How much is the net worth of Joe Biden?
Joe Biden has an estimated net worth of $9 million. After leaving the White House his net worth was raised to $11 million in 2017. Biden was considered one of the poorest members of the Senate and had a net worth of $1.5 million when he left the White House.
He and Jill Biden made $15 million from speaking engagements and book deals. From his speech at Drew University in New Jersey in the year 2018, he made $190,000.
Joe and Jill signed a $10 million three-book deal. They make $2,200 per month by renting their guest house. During his vice presidency, he made $170,000 from renting the guest house.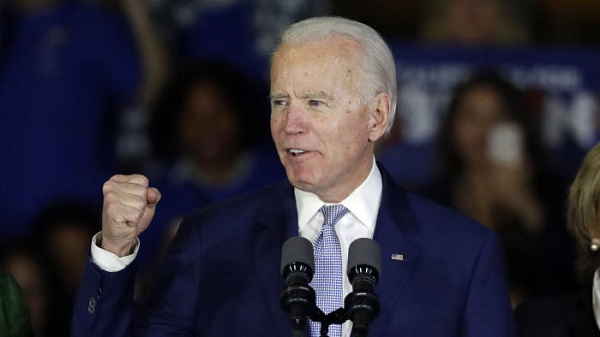 In the year 1997, Joe and Jill bought a house in the neighborhood of Greenville in Wilmington, Delaware for $350,000. Likewise, they bought the six-bedroom vacation home in Rehoboth Beach, Delaware for $2.74 million.
Also read Gloria Riviera and Jim Sciutto completed 14 years of marriage! Know about Gloria's family, parents, education, siblings, previous marriage, net worth, biography
Short bio on Joe Biden
Joe Biden was the Vice President of America who worked with President Barack Obama. Joe Biden was selected as Vice President twice when Barack Obama was re-elected in 2012. He became the fifth-youngest U.S. senator in history as well as Delaware's longest-serving senator.
Joe was also famous for his work on Criminal Justice Issues. Joe also had a major role in rebuilding the U.S. Economy. Read more bio…