Joey Armstrong Gives His Respond After The Lydia Night's Accusation Of Sexual Misconduct
Joey Armstrong, the son of Green Day frontman Billie Joe Armstrong is the drummer of punk act SWMRS. He is all over the headlines after Lydia Night accused him of sexual misconduct.
She accused the drummer through a post on her official Instagram account. However, the drummer came up with his response to the accusation on the official SWMRS Instag-page.
Lydia Night's accusation of sexual misconduct
The Regrette's Lydia Light made a post on her official Instagram account accusing Armstrong of sexual misconduct.
She made a post where she explained her relationship with him from the age of 16 and ended during her 18th birthday.
Furthermore, she explained though she saw as a toxic relationship for a long time, she faced emotional abuse and sexual coercion.
Additionally, she stated:
"I know that what I actually experienced was emotional abuse and sexual coercion. From someone in a position of power over me. It's important to me that Joey and his entire band are held accountable to fully understand that even though they may view themselves as 'good guys' they are continuing to perpetuate the exact toxic culture they are trying to call out."
On her lengthy post, she mentioned all the traumatic events while she in her 16 was in a relationship with a 22-years-old drummer. Furthermore, she added the drummer wanted to keep their relationship because of their age difference.
She further added:
"We had multiple conversations where he would say something along the lines of, 'I want to move at your pace' and 'I don't want to have sex until you're 18,' but then would act in a completely contradicting way."
Furthermore, she also accused him that he would pressurize her for an intimate relationship. Whenever the couple had any intimate encounters, it was because of his pressure and Night felt uncomfortable.
She mentioned he confronted the drummer last December and he took some things and apologized during their conversation.
You may also read- Neil deGrasse Tyson who was accused of sexual misconduct in November 2018!
Joey Armstrong gave his response regarding the matter
After Night made the post making the accusation, it caught a huge audience's eyes. As both of them are public figures, it was all over the internet in just a blink of an eye.
After getting a huge backlash, the drummer came with the response of the official SWMR's Instagram page. He apologized to Night in the post and mentioned he has apologized to her personally in the past.
However, he did not deny their age difference relationship and him not treating her the right way. The drummer wrote: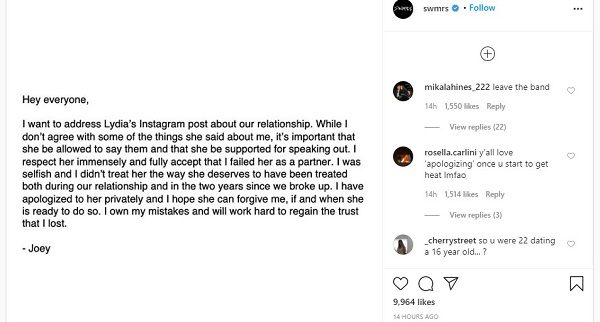 "I have apologized to her privately and I hope she can forgive me, if and when she is ready to do so. I own my mistakes and will work hard to regain the trust that I lost."
People were not happy with the response as he was in a relationship with a 16-years-old while he was 22. Many people backlashed him for their relationship in the comment section.
You may also read- Louis CK begins joking about his sexual misconduct during his comeback stand-up comedy!