John Bessler's wife Amy Klobuchar revealed, her husband is diagnosed with Covid 19!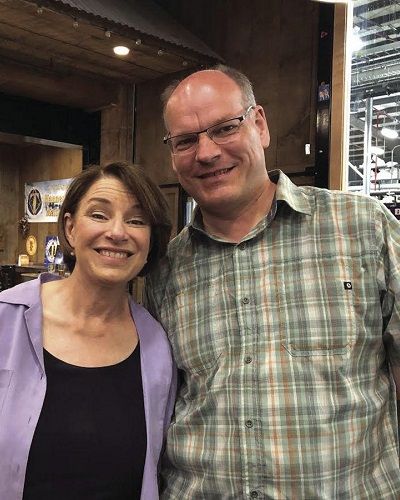 On 23rd March 2020, there came another Coronavirus news.
This time the politician serving as the senior United States senator from Minnesota Amy Klobuchar's husband John Bessler is the one who got diagnosed with Covid-19.
---
Amy Klobuchar revealed through Twitter
Amy Klobuchar made it official on Twitter that her husband John Bessler has coronavirus. She shared a family picture and wrote,
"My husband has coronavirus. I love him & not being able to be by his side is one of the hardest things about this disease. So many are going through this & much worse. I pray for him & you & meanwhile I will do all I can to get help to the American people."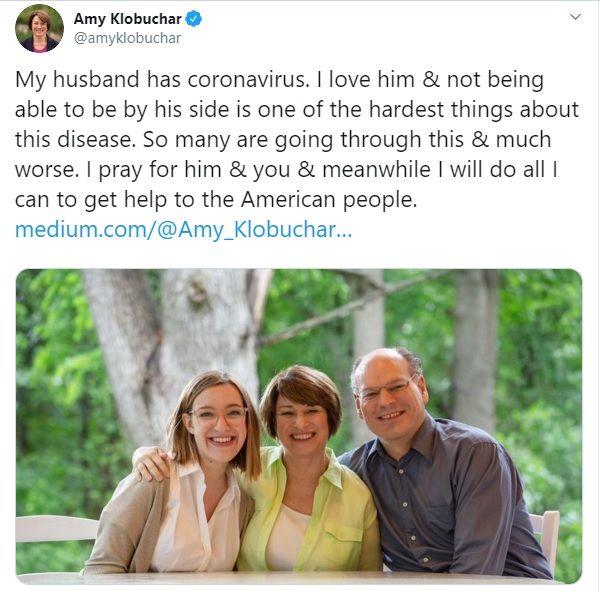 She revealed that he is not allowed to have visitors. She and her daughter Abigail are constantly calling and texting him. Likewise, her husband has quarantines himself and has stopped going to work after he had cold symptoms.
He even had a fever and coughed up blood, so he decided to take medical care and was hospitalized in Virginia. He had very low oxygen levels. On 23rd March it was confirmed that he had coronavirus on Monday.
As Amy has not seen her husband for two weeks doctors suggested her not take a test at this time. Amy said,
"As everyone is aware, there are test shortages for people who need them everywhere and I don't qualify to get one under any standard,"
Likewise, she said that she will continue to work from her office. She is devoting her time to getting the funding Americans need during this time of economic emergency.
Also read Andy Cohen's friends Savannah and Hoda checked in after Andy tested positive for Coronavirus! Details on his children, sexuality, net worth
Married life of John Bessler and Amy Klobuchar
Amy and John met each other at the Coyote Cafe in Minneapolis in 1992. They got married a year later in 1993. They celebrated their 25th wedding anniversary last July.
Similarly, in 2013, they celebrated their 20th anniversary by sharing their wedding picture on Facebook. Amy captioned the photo,
"Happy 20th anniversary to my husband John!"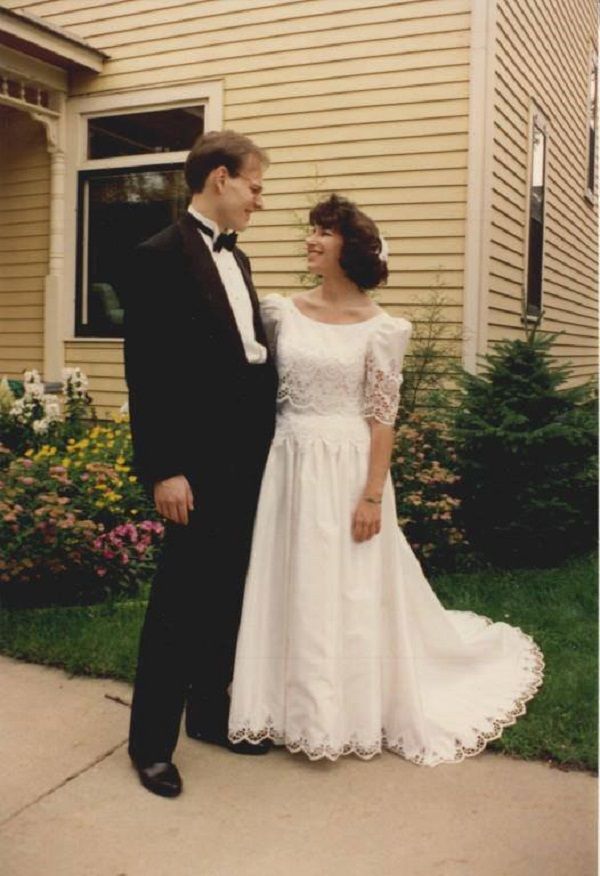 Likewise, she added,
"You're supposed to give china for the 20th, but I went with bookends in honor of his marriage proposal in the non-fiction aisle of the former Hungry Mind bookstore. Our wedding included a canoe trip for guests and a discounted cake from a bakery in the St. Paul bus depot (I said no to the plastic swans). Two decades later I still say no to the swans & yes to the guy."
This married couple has a daughter Abigail Bessler who graduated from Yale in 2017. Their daughter currently works for a New York City councilman.
Also read Ewan McGregor Is In A Happy Relationship With Mary Elizabeth Winstead After The End Of His 22 Years Long Marriage!
Who is John Bessler?
John Bessler is an American attorney and professor of law at the University of Baltimore School of Law. He is an adjunct professor at the Georgetown University Law Center.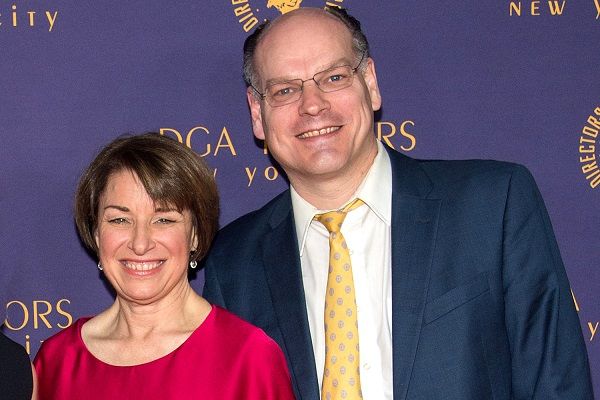 Similarly, he clerked for U.S. Magistrate Judge John M. Mason of the District of Minnesota. He also practiced law as a partner at Kelly & Berens, P.A. Currently, he is a tenured associate professor at the University of Baltimore School of Law. He teaches civil procedure, contracts, capital punishment, international human rights law, and lawyering skills.
Source: Town&Country, Twitter