How did John Legend and Chrissy Teigen celebrate their daughter Luna Simone's 4th birthday during quarantine?
John Legend's daughter Luna Simone is four years old! On 14th April 2020, John Legend and his wife Chrissy Teigen managed to celebrate her birthday during this quarantine. As we all know the American model Chrissy Teigen is known for her delicious recipes.
They celebrated Luna's birthday with breakfast in bed and three different cakes. It was a family celebration and Chrissy posted a picture of Luna wearing a large gold crown. She captioned it,
"happy 4th birthday to the queen of our household. I could have never prayed for a better little being."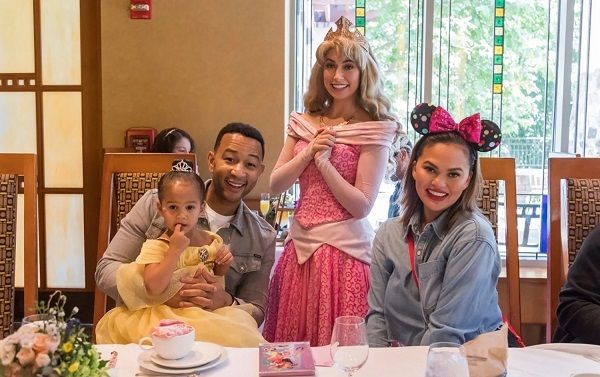 Similarly, John posted a slideshow of his daughter on his own Instagram and wrote,
"Happy 4th birthday to our beautiful Luna! I'm so happy I get to be your father, teacher, friend. ????????????????????????"
Also, Luna woke up to breakfast in bed which included waffle, blueberries, raspberries and fruit juice in a champagne glass. In one of the video clips, Chrissy revealed that it was Luna's first breakfast in bed.
Likewise, Luna celebrated her 4th birthday with three different birthday cakes. One of the cake was sent from hairstylist Jen Atkin and her husband Mike Rosenthal.
Also read Kim Kardashian gives her mother Kris Jenner an emotional birthday gift for her 64th birthday!
Can Chrissy Teigen rap?
The multi-talented Chrissy Teigen has shown us all her other talent. She is a  one-time wannabe rapper who has some very interesting flow. Likewise, she posted an Instagram post where she rapped Eminem's iconic Lose Yourself into hubby John Legend's face while grabbing the singer's neck and shaking his dome around.
She wrote,
"What was merely a source of entertainment for me growing up became more than just something I could listen to others do. I needed to spit for myself. The first time I got in the studio, my fingers and voice shook like a dog straight out of the bath, a sputtering car engine in a cold winter's night."
John Legend on coronavirus pandemic
With the increasing number of people getting infected by the coronavirus, John Legend requested Gov. Andrew Cuomo to release some inmates amidst the raging coronavirus pandemic.
On Twitter Legend wrote that the increase of coronavirus in jails and prisons threatened the health and saftey of New Yorkers. Similarly, it is not possible to maintain social distancing and hygiene in jail. He added,
"Leaders must do everything possible to prevent incarcerated people, and those who work in prisons, from becoming ill and spending the virus."
Leaders must do everything possible to prevent incarcerated people and those who work in prisons from becoming ill and spreading #COVID19. @NYGovCuomo, it's time for action. pic.twitter.com/xg0UBLYWrQ

— John Legend (@johnlegend) April 14, 2020
He asked Cuomo to take action to prevent the spread of the virus in prison. Likewise, Legend suggested release people who are near to their release date.
Also read Chrissy Teigen and John Legend hold a beachside wedding of two stuffed animals of Luna amidst the coronavirus lockdown!
Short bio on Chrissy Teigen
Chrissy Teigen is an American model. She appeared in the Sports Illustrated Swimsuit issue in 2010 and was named Rookie of the Year. She is the wife of famous American singer John Legend. Read more bio…
Short bio on John Legend
John Legend is a Grammy and Golden Globe-winning American singer-songwriter. He first became popular with the 2005 single "Ordinary People". Read more bio…
Source: NY Post, Daily Mail, People, Bill Board