'He sleeps with me', Joie Henney is Super Comfortable with his Pet alligator Wally!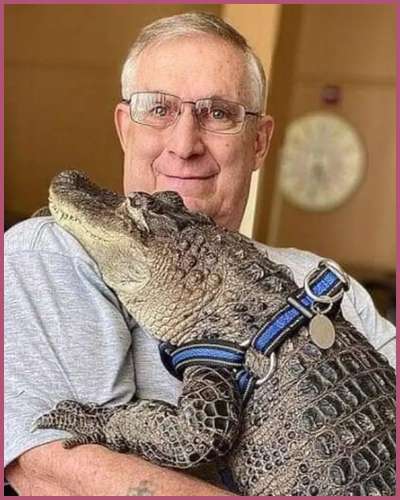 Meet Joie Henney who has an Emotional support alligator, Wally. Know Interesting facts about the owner and the alligator.
The WallyGator sleeps with the owner while his favorite food is cheesy popcorn.
How did Henney find out such a cool and friendly alligator who turned 7?
---
Joie Henney, 65 is an animal rescuer who is trending for the past few3 years for his crocodile bestie Wally.
Joie Henney's emotional support comes from his pet alligator Wally
You might be amused to listen to this but yes alligators can sleep in bed with humans too. Wally is not an ordinary alligator who would probably be in a swamp or zoo, he lives with his owner in York Haven, Pennsylvania.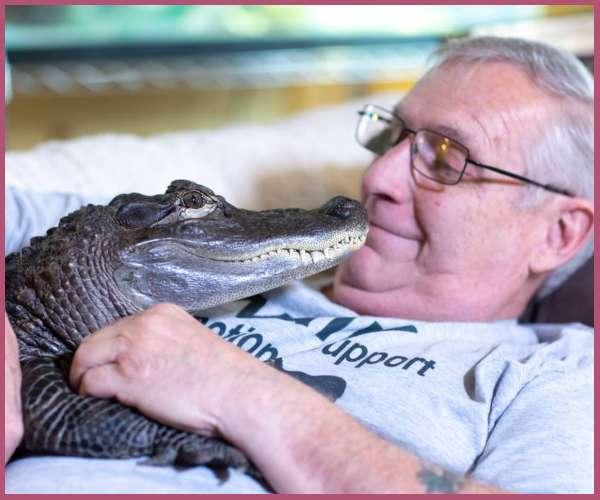 As the owner Hennery confirmed, he sleeps in bed with Joie his owner, who initially rescued it from a lagoon in Florida. It's been 6 years since the two besties, whom you might love to call, are living together.
Wally is indeed an interesting alligator as he gives emotional support to his master. His owner Joie, who has worked for three decades capturing and relocating wild animals to wildlife sanctuaries and zoos, is surprised by its nature.
"Wally is quite different than any alligator I've ever dealt with in the past 30 years."
Also, Read 7 Celebrities Love For Pets Including Tigers and Lions! How Much Did It Cost Them?
What does Joie Henney have to say about Wally?
Joie Henney has never seen any alligator who does not bite him while he held him. Talking about how super comfortable Wally is with him Joie Henney expressed,
"He doesn't show anger. He doesn't show aggression. He hasn't since the day he was caught. We never could understand why."
Continuing in detail about the nature of the seven-year-old 1.6 meters long alligator Wally, the owner added,
"He's just loveable. He sleeps with me, steals my pillows, steals my blankets. He's just awesome. During a hot summer, he's nice and cool to sleep with."
Further commenting on how he brings emotional support to Joie when he is depressed, he continued,
"I was depressed and WallyGator started to do silly things to cheer me up. When I was on the couch, he'd pull my blanket to the floor."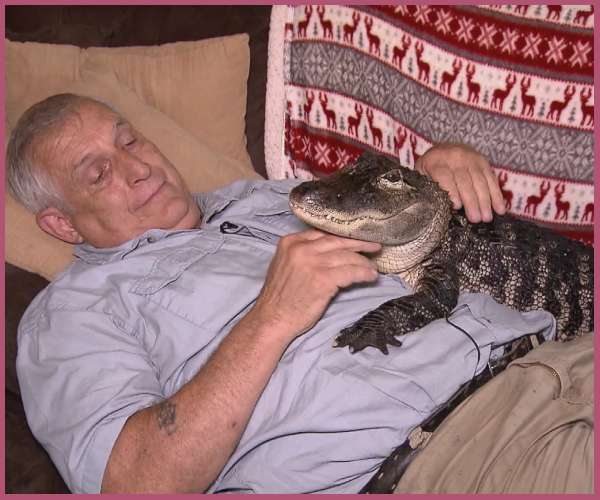 Also, Read Dogs played cupid for Carrie Ann Inaba and Fabien Viteri! Know about every guy Carrie dated and her net worth
How can the owner feel safe around a reptile at his home?
Joie Henney the animal rescuer had a tragedy after his family collapsed in 2017. Several family members left him forever, it was when the bond of the alligator-owner duo got more interesting. The owner of the very first idea of Wally revealed,
"He enjoyed being held, and I thought, 'Wow, this is a super nice, friendly alligator.'"
Meanwhile, Joie feels really safe with this Wally that he did not choose to send him to a wildlife sanctuary or zoo. The pair thereafter the pair were cuddled up on the couch watching TV or swimming. They are also delighted to snack on cheesy popcorn together or have fun in a friend's pool.
Wally for his super friendly nature became the officially registered emotional support animal of Joie Henney in 2018. The pair remarkably stood out despite every odds. You might find them grocery shopping and attending football games in Pennsylvania.
Also, Read English actor Jake Wood recalled his wife's near-fatal attack by an alligator during a family vacation in Florida!