"Very Much So in Love?" Jon Hamm is engaged to Anna Osceola after Two Years of Dating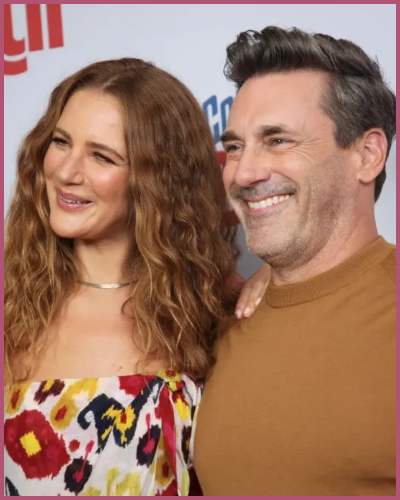 The Fletch costars Jon Hamm and Anna Osceola are engaged after dating for two long years.
The couple who preferred on having a low-key romance is set to get married as per TV Biz.
Here's inside the relationship timeline of Jon Hamm and Anna Osceola you should not miss.
---
Jon Hamm and Anna Osceola are engaged after 7 years of their first meeting
Mad Men's Jon Hamm and his girlfriend of 2 years Anna Osceola are officially engaged! The pair who always loved the idea of keeping their relationship private is planning a marriage after 7 years into their chance meeting.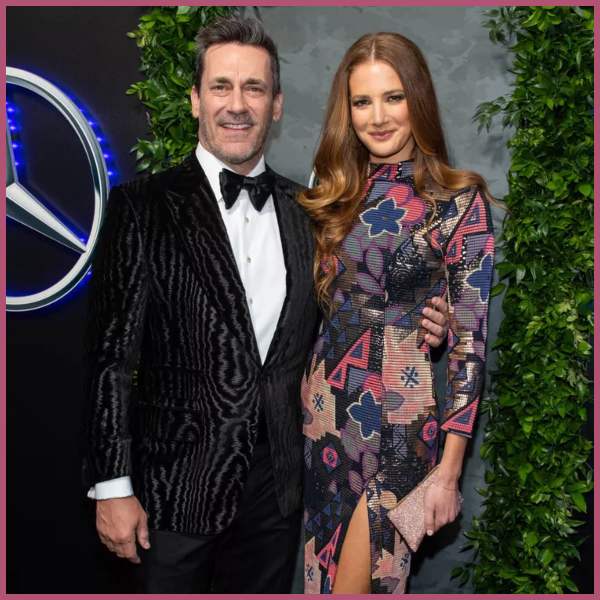 Jon Hamm who played Don Draper in the AMC drama series Mad Men from 2007 to 2015, first met his fiancee Anna Osceola on the set of the AMC series's final episode. She played a small role as the receptionist at Esalen, a spiritual California retreat that Hamm's character (Don Draper) attended.
Things could not spark into a relationship at the moment, as Hamm, 51, was in a long-term relationship with Jennifer Westfeldt at that time. He broke his 18 years of long-term romance with Jennifer in 2015 and was ready to date again, it was when Osceola could have come into his mind.
Is Jon Hamm planning to marry Anna Osceola?
Jon Hamm had earlier in September 2022 interview with Howard Stern on his SiriusXM show alongside partner Anna Osceola made it very clear that he sees himself getting married one day. He added,
"This is all part of what I'm saying. This is another place in my life that I feel very settled and comfortable. I'm in a relationship right now and it's comfortable."
He continued by saying that his idea of a relationship is getting more meaningful while he is comfortable with getting married and having kids to unveil a new version of happiness,
"really thinking about all that stuff, that's made the relationship that I'm in now even more meaningful and opened up the possibility of things like being married, having kids, defining a new version of happiness, life, wellness."
2011 Emmy Award winner for Outstanding Drama Series, Ham then continued that he is "very much so" in love saying,
"It sounds hokey and whatever, but it's real and for one of a better word, it's what I'm working for. What else is there other than that?"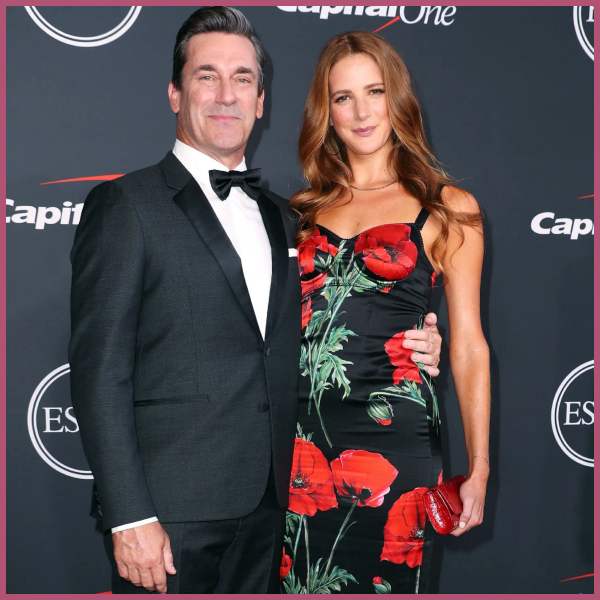 Also, Read Did Jon Hamm Indicate He Might Marry His Girlfriend Anna Osceola in the Near Future?
Relationship Timeline of Hamm and Osceola
John Hamm, 51, and his girlfriend Anna Osceola, 34 are now engaged, as per sources, reported on 27 February 2023. The couple who preferred to start away from social media and keep a low-key bond are planning for marriage.
Hamm and Osceola who met in the final episode of Mad Men in 2015 were rumored to be dating. The paparazzi caught them stepping out for meals, playing tennis, and enjoying a day at the beach. Earlier, they were photographed together once in 2017 but no speculation was made.
Hamm and Osceola also took a vacation to Italy together in September 2021 before making their romance red carpet official. They made their couple's red carpet debut at an Oscars afterparty in March 2022. After they attain the A-listers event together, at the Sarah Silverman musical Bedwetter in May 2022.
The couple was also screening for their movie Confess, Fletch as costars in September 2022 for the third installment of the Fletch series.
Also, Read Adele and Rich Paul are rumored to be engaged and planning to marry this summer