All about the Wedding of Gay Couple Jonathan Bennett and Jaymes Vaughan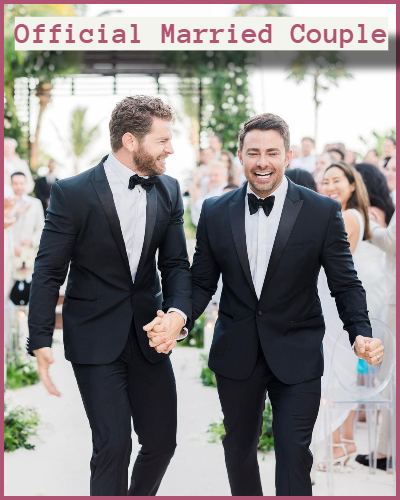 Jonathan Bennett and Jaymes Vaughan started dating in the year 2017
Jaymes got down on one knee to propose to Jonathan in November 2020
The two officially tied the knot in March this year
---
Jonathan Bennett, 40, and Jaymes Vaughan, 38 are officially a married couple. 
The gay couple has been dating since 2017 and got engaged in November 2020. "Mean Girls" star Jonathan Bennett tied the knot with TV host Jaymes Vaughan at a destination wedding last month.
The couple's wedding took place at the Unico Riviera Maya Hotel in Mexico in front of 104 family members and friends.
Bennett exclusively told TODAY,
"It was honestly a dream wedding! We kept having to stop and remind ourselves that we weren't on a movie set, but this was actually our real life. If you had told me this was one of my Hallmark movie sets, I would have believed it. It was that perfect."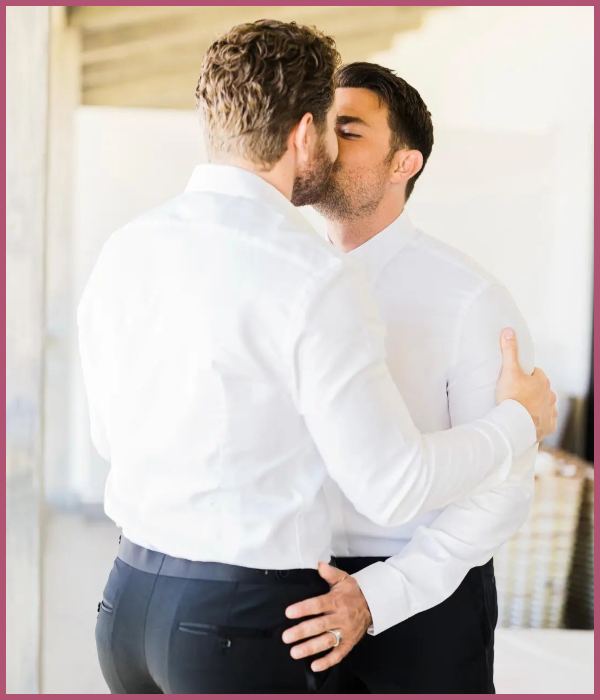 The couple hired Los Angeles-based Todd Danforth Photography to capture all of their magical moments. Similarly, their friend YouTuber Brian Tyler Cohen officiated their nuptials.
Instead of a typical wedding, the two grooms chose to walk down the aisle in from the beach and meet one another at the altar. A song played in the background that Vaughan wrote for Bennett which he debuted when he proposed in November 2020.
After that, the couple exchange a diamond-encrusted ring in the other's hand.
Vaughan told PEOPLE,
"When you're part of the LGBTQ+ fam, not everything in the wedding space is for you yet. The whole purpose of our wedding is to come together and join the two of us together, join our families together and start a new family."
Also read "Inside Glenn Maxwell and Vini Raman's luxurious wedding ceremony at sprawling Yarra Valley winery"
Wedding party
Jaymes and Jonathan had the wedding party's attire theme. The couple paid tribute to Bennett's late mother by filling the floral arrangements with white roses. The guests of their wedding party wore black tuxedos by Express and white tuxedos by Robert Stanley.
Bennett said,
"It's gender-neutral but everyone looks represented and feels sexy in their own way. So it's like a new tradition for the community. You don't have to do dresses and tuxes. Anyone who wants to wear a tux, wear a tux, go for it."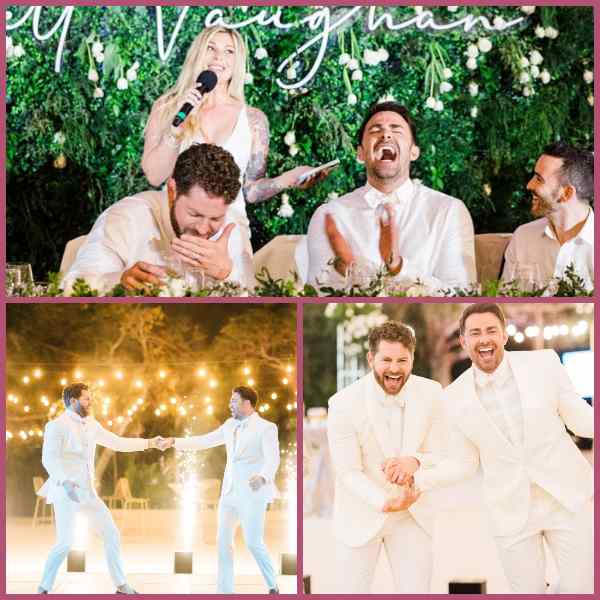 Their wedding guests including former "Wonder Years" star Danica McKellar and Bennett's "The Christmas House" and "The Christmas House 2: Deck Those Halls" co-star Sharon Lawrence wore only white in honor of Bennett's late mother's memory.
Also read "Wedding Bells! Patrick Mahomes II Marries High School Sweetheart Brittany Mahomes"
Brief about Jaymes Vaughan
American Jaymes Vaughan is a TV Personality. He is popular as a co-host of the TV Program, Celebrity Page.
Next, he will make his appearance in the TV series, Blue Call as a Bartender. Currently, the movie is in post-production. See more…
Short bio on
Jonathan Bennett
Jonathan Bennett is an American actor in both films and TV. He is mainly known for being in the TV show Mean Girls.
His other projects are Dancing with the Stars, Pawn, Submerged, and Memorial Day. Recently in 2020, he was seen playing the character of Brandon in the TV film The Christmas House. See more…