Queer Eye's Jonathan Van Ness And Husband Mark Peacock Celebrate Their 1 Year Anniversary Together!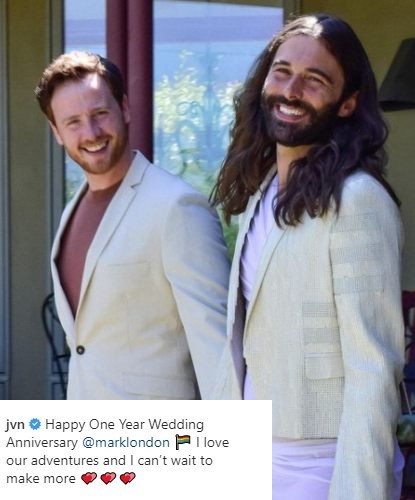 Jonathan Van and their husband celebrate their one-year marriage anniversary. 
The hairdresser is nonbinary and uses the he/she/they pronoun.
They tied the knot in an intimate ceremony keeping it all private. 
---
The American hairdresser Jonathan Van secretly tied the knot with Mark Peacock just a year before. They recently celebrated their one year of togetherness. The hairdresser shared a picture of them on their Instagram account. The couple kept their married life under the carpet for a while. They finally flashed the news in December 2020 after months of their secret wedding.
Jonathan celebrates 1-year anniversary with Mark
It's been a whole year since the American hairdresser secretly tied the knot with their husband Mark Peacock. Jonathan took Instagram to wish Mark a wedding anniversary with a sweet message on June 5. They shared a series of pictures of them along with their pets with the adorable message which reads:
 "Happy One Year Wedding Anniversary @marklondon. I love our adventures and I can't wait to make more."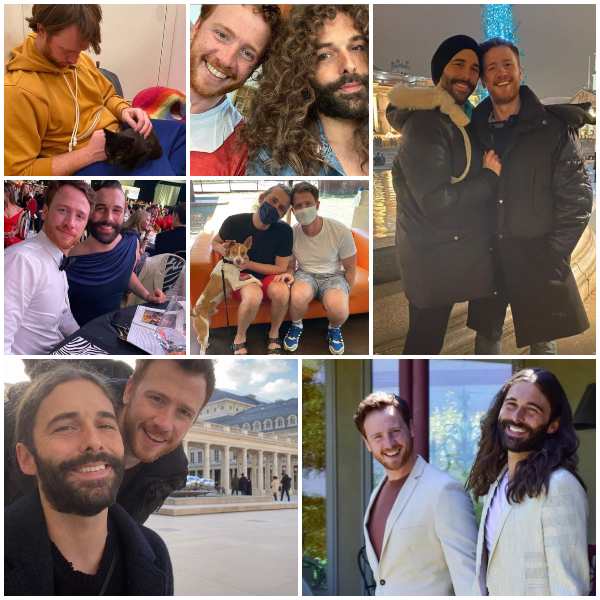 Mark also wished his husband on Instagram sharing some pictures of them together. Many of the celebrity friends like Heidi Klum, Bobby Berk, Tess Holiday, and many others wished them. Moreover, all of their fans wished them with sweet messages on the comment.
A secret marriage and their relationship
Unlike many public figures, Jonathan and Mark kept their marriage secret for a long time. They tied the knot in an intimate ceremony last summer. The couple finally revealed the news to their fans and followers in December 2020 in a lengthy Instagram post. The hairdresser called 2020 a challenging and rewarding year after saying 'I DO' to a loving partner, Mark Peacock. At the time, he was campaigning for then hopeful president Elizabeth Warren.
A month earlier Mark who is from London got a green card to stay in the United States. The excited Jonathan shared a picture of them standing in front of an immigration building. The caption said: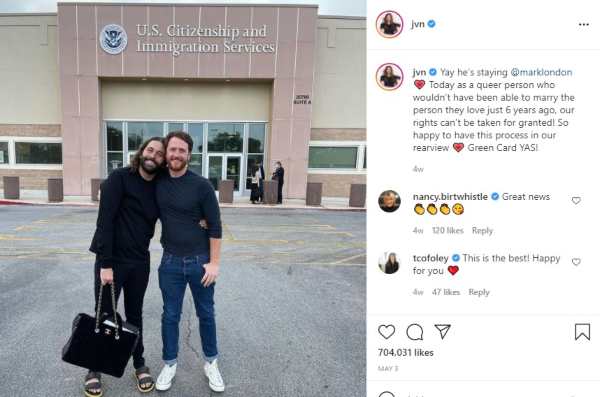 "Today as a queer person who wouldn't have been able to marry the person they love just 6 years ago, our rights can't be taken for granted! So happy to have this process in our rearview. Green Card YAS!"
Though they are known to keep their relationship private, his Instagram posts recently are saying different things. Jonathan shares many pictures of them together with ongoing details of their life. They said they need time to learn to date and kept their relationship out in the public. As dating is hard in itself and keeping out there in the world makes it more difficult to cope with.
More About Jonathan Van Ness
Jonathan Van Ness is an American hairdresser and TV personality. He is best known for his appearances in the Netflix series, 'Queer Eye', and for his work on the web series parody 'Gay of Thrones. After his graduation, he worked in Arizona for five years before moving to Los Angeles in 2009 where he found a job as a personal assistant at Sally Hershberger Salon. Currently, he works at MoJoHair and Stile Salon which he co-founded. See more bio…