Journey Of Canadian YouTuber Lilly Singh From Coming Out As A Bisexual To Celebrating Her First Pride Parade!
Lilly Singh, the famous Canadian Youtuber has built an empire of the audience in all these years with her youtube videos. She is also a host of a show 'A Little Late Lilly Singh' which airs on NBC.
Starting her career from Youtube, Singh is now an actress, TV host, and comedian. Alongside her successful career, back in 2019, she came out as a Bisexual through her Twitter post.
Lilly Singh came out as Bisexual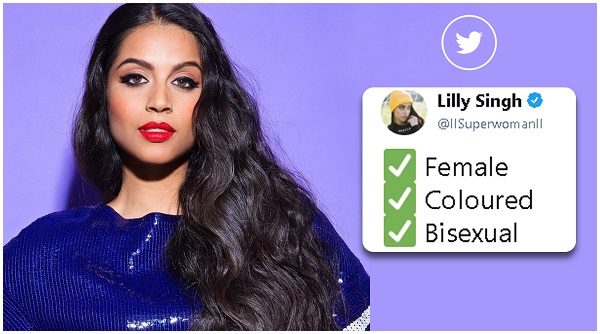 The YouTuber got all the love and support from fellow YouTubers and her audience. After the overwhelming response, she talked about her sexuality on national television. She also opened up about how difficult it is for her to talk about her sexuality as a Brown woman. Back in March 2019, she released her new single hit where she opened up about her sexuality and mental health with strong lyrics.
She broke the internet with the powerful lyrics she had in the song with the beats of Indian song which includes Choli Ke Peeche Kya Hai from Khalnayak, All Izz Well from 3 Idiots, and Aankh Marey. Lilly also performed in the song during the YouTube fan fest in Mumbai in 2019 alongside Amanda Cerny on the stage.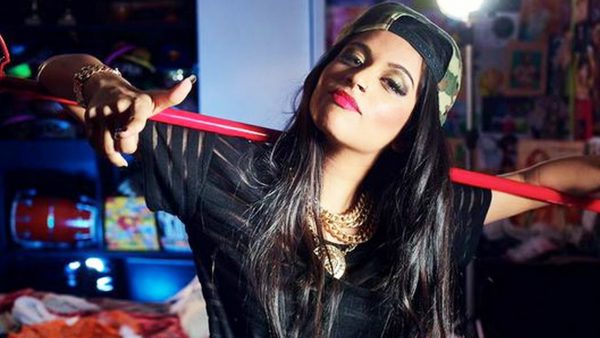 On her show, she talked about how scared she was to talk about her sexuality on the internet. Singh also mentioned she felt very welcomed in the community after her announcement. With her announcement, she shared positivity and spread love beyond the gender with all her fans.
First Pride Parade of Singh
After coming out as a bisexual, the YouTuber celebrated her first pride parade going to the streets. She shared a picture of herself with the first pride parade. Singh posed sitting on the road wearing a rainbow t-shirt with blue denim shorts. She also held a rainbow flag on her hand with a big smile on her face. Singh completed her looks with the yellow sunglasses and white shoes. The YouTuber captioned the picture saying:
"Celebrate yourself. Be proud #MyFirstPride"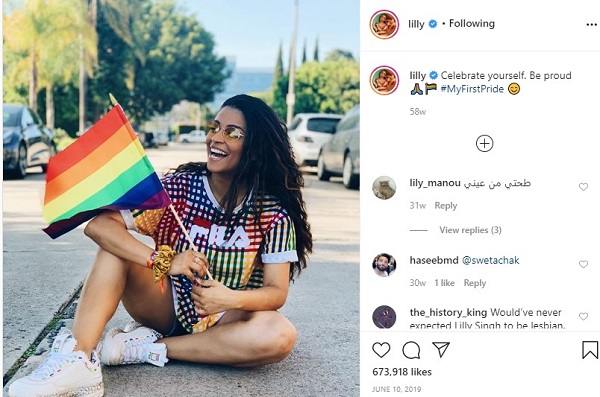 On her Los Angeles Pride Parade she joined the thousands of people on the streets. Everyone announced to the world that their kind of love deserves a moment in the sun. The YouTuber is continuing to raise the voice about the LGBT community on all of her platform. The 'Bawse' author also talked about her sexuality and the difficulties she faced in this journey on her show 'A Little Late Lilly Singh'.
You may also read- Rachel Slawson; Know About The First Openly Bisexual Contestant Of Miss USA Pageant!
More About Lilly Singh
Lilly Singh is a Canadian actress, YouTuber personality, vlogger, and a comedian. She is mostly known through her YouTube name 'Superwoman'. She is involved in numerous movies and television series in her career apart from her YouTube work. See more bio…
You may also read- Bisexual Bella Thorne opens up about her abrupt breakup with boyfriend rapper Mod Sun!