Julia Fox Wears Bikini and Denims to Grocery Shopping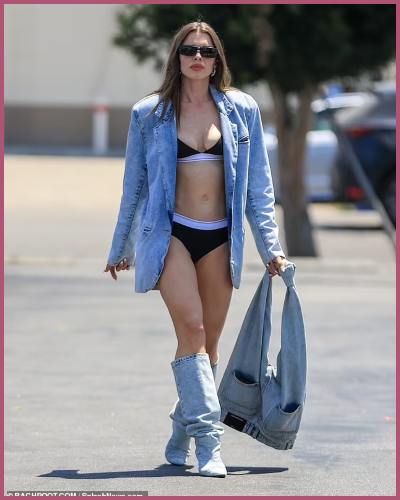 Who knows to seek attention better than Julia Fox?
Julia Fox went grocery shopping in bras and panties and denim jackets, boots, and bags.
Let's analyze the grocery fashion of the Italian-American actress Fox.
---
Julia Fox went grocery shopping wearing a black bra and matching underwear at a Pavilions grocery store in Hollywood on May 15, 2022.
The multi-award nominee Uncut Gems actress carried an Alexander Wang denim jacket over her black bikini two-piece set.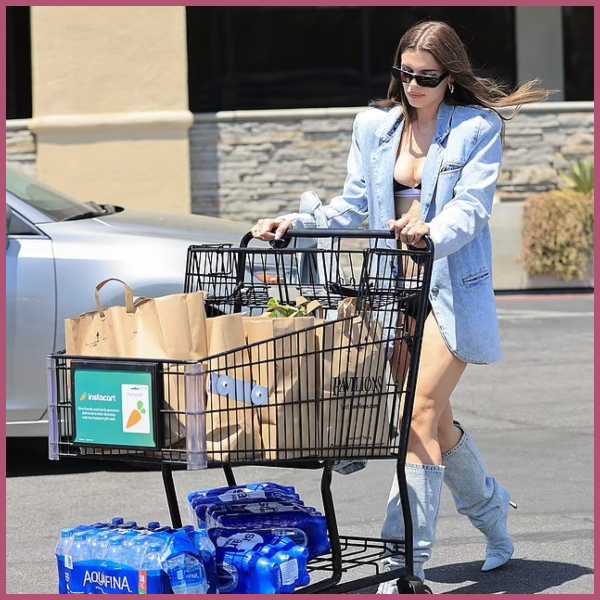 The picture of No Sudden Move actress Fox going food shopping in Denim and a bikini went viral on the Internet. She was carrying a trolly full of fruits, nuts, and vegan food items. Also, she drinks Aquafina water.
Grocery shopping Fashion in Hollywood
The actress Julia Fox kept the Denim theme with the similar jean bag by the designer and light wash denim boots.
Her accessories include a pair of rectangular-shaped black sunglasses and hoop earrings. She wore black sporty undergarments which had white trimming along the waistband of panties and underwire of bras.
Julia Fox has shown her skinny legs while wearing knee-high boots with kitten heels. She also showcased her ripped abs and well-built figure. Well, she turned her jeans into a handbag for the shopping trip.
Also, Read Pregnant Katherine Schwarzenegger Show Off Her Baby Bump While Shopping In Los Angeles
What does Julia Fox eat?
Julia Fox lives a vegan lifestyle. Moreover, she has lost 110 pounds by adopting the lifestyle. Two months back in 2022, it came out Fox has lost 15 pounds.
The Italian origin actress went from a size 24 to two sizes down with the four-month support of a personal trainer at absolution360. Her grocery shopping is packed with vegetables, fruits, and berries packed with nutrition.
Know more about her diet, weight loss, and physical training, while we keep track of her next update.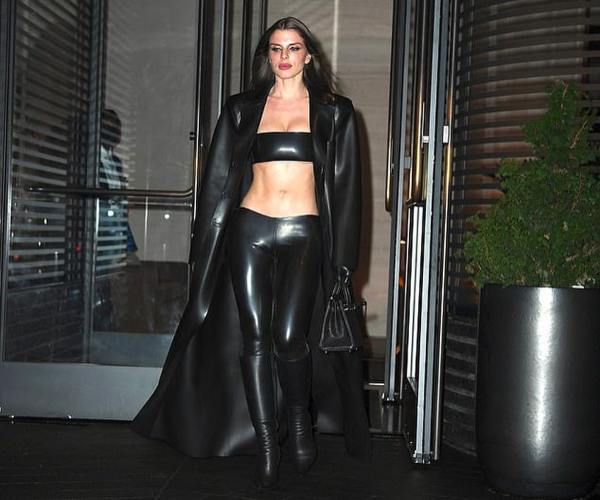 Who is Julia Fox?
Julia Fox is an Italian-American actress from Milan, Italy who is best known for her film Uncut Gems. The 32-year-old actress, writer, and filmmaker rose to fame for her fashion sense, acting, and film development skills.
Likewise, Fox is a 2019 nominee for Chicago Film Critics Association for Uncut Gems. The latter also became nominated for Georgia Film Critics Association, Gotham Awards, and Toronto Film Critics Association the same year. Read more bio…
Also, Read Fox went to New York to celebrate her 32nd birthday! What did Kanye West give a birthday gift to Fox?