Insight on the married life of Julia Lemigova and Martina Navratilova! How are they holding as a married couple?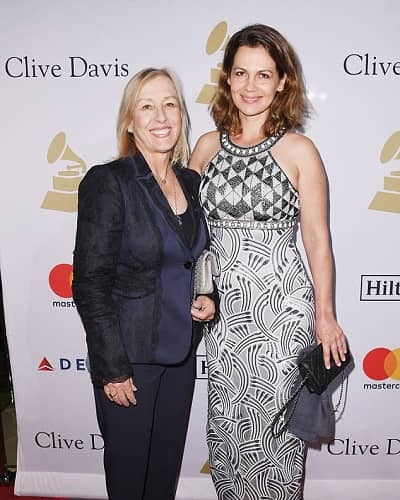 Julia Lemigova is a Russian businesswoman who is married to a retired Tennis player Martina Navratilova. They first met each other almost two decades ago at a Parisian dinner party. Their second meeting was in Paris. They have been together since the year 2006.
Julia recalled,
"I was modelling, living in Paris and meeting all these amazing people — famous people, royals, and then we were introduced. I'm not a tennis fan but, of course, I knew who she was and we just got chatting. I suppose our similar Eastern European backgrounds provided the connection at first. There was a lot in common. I remember her being very funny, and us just laughing a lot."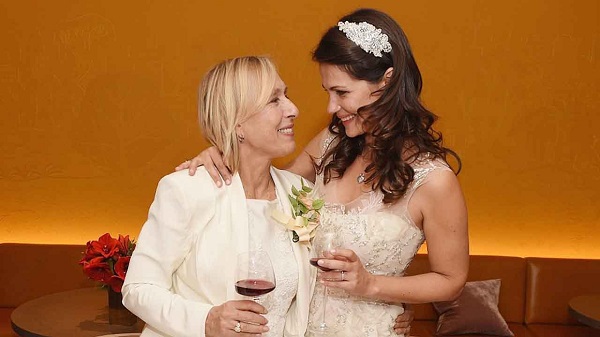 On 6th September 2014, Martina proposed to her on the big screen of Arthur Ashe Stadium between the US Open men's semifinals. It is one of the cutest proposals of sporting history. They were cheered by the crowd and was one of the happiest moment of Julia's life. Navratilova said,
"It came off. She said yes. It was kind of an out-of-body experience. You've seen people propose at sporting events before, in movies, in real life. Here it was happening to me. It was like I was watching myself do it."
They walked down the aisle on 15th December 2014. They celebrated their 6th wedding anniversary in 2020.
Also read Who is Tye Strickland? Insight on the happily married life of Tye and Melissa Rycroft, children, net worth
How are they holding as married couples?
Julia Lemigova talked about how they are holding up as a married couple and what it's like to be married to a tennis player. Julia pointed out the off-court behavior of Martina.
Lemigova does not adore Martina's social media obsessions. Likewise, Martina also dislikes Julia's lack of romance in a new Channel 4 show.
Julia said,
"It annoys me that Martina has pretty blonde hair but she wears her baseball cap way too much"
Martina confronted her saying that her hat is to keep hair out of her face and to go incognito. Martina had promised Julia that she would cut down her time she spends on Twitter but Martina is not quite doing as she promised. Lemigova accepted to make more effort on being romantic. They might have worked on their relationship.
Age difference of Julia Lemigova and Martina Navratilova
Julia Lemigova was born on 26th June 1972 in Moscow, Soviet Union. She is 48 years old at present. Martina Navratilova was born on 18th October 1956 in Prague, Czechoslovakia. She is 64 years old. They have an age difference of 16 years but it did not matter to them.
Their age difference did not stop them from getting married.
Also read Is Chrishell Stause responsible for Gleb Savchenko and Elena Samodanova's marriage problems? Also, know about Chrishell's failed marriage with Justin Hartley, net worth
How much is the net worth of Martina Navratilova?
Martina Navratilova has an estimated net worth of $25 million. She made around $20 million as prize money from tournaments. Likewise, she made tens of millions from endorsing many brands. She has a house in Miami Beach, Florida where she lives at present. Navratilova is one of the best female tennis players of all time.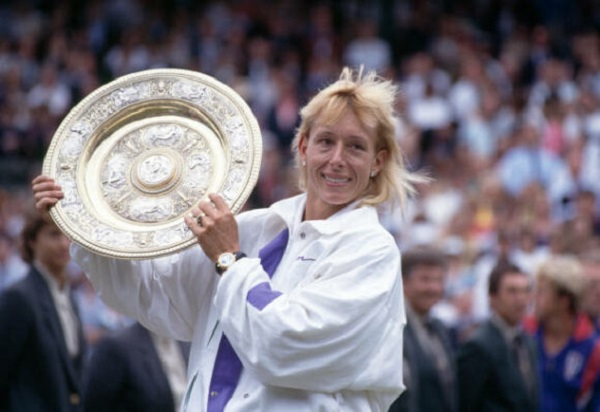 Short bio on Martina Navratilova
Czechoslovak-American Martina Navratilova is a six-time Wimbledon champion. She is an eminent tennis player and coach.
Martina has also authored a series of fictions and is active in the gay rights movement. Read more bio…