Julia Roberts has a new look now! She dyes her hair a rose gold color!
American actress Julia Roberts has a new look now! She has dyed her hair rose pink. This is the first time that the famed actress has changed her hair color drastically!
Julia Roberts and her millennial pink hair color!
Julia Roberts and her hairstylist Serge Normant both had uploaded videos for 'faux boom Friday' which is a new popular game in which Julia puts up a fake boomerang-style hair flip.  The surprising part of the video is Julia's fishtail braid which she has dyed with a tinge of trendy pink shade. The color is seen to be increasing in intensity as it reaches the tip of her hair braid. The color begins with a blonde shade near her scalp and roots of her hair and slowly gets pinker as it runs down her hair to the tip of it.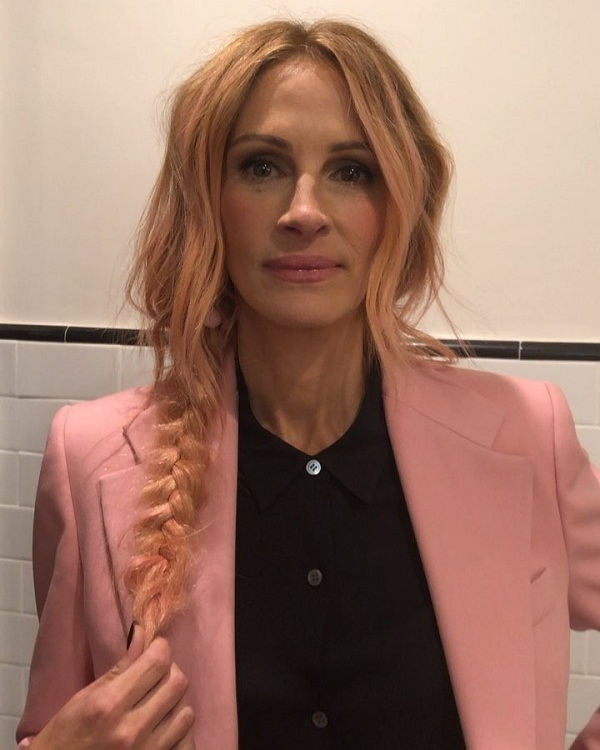 The pink shade is light and her blonde shade underneath can be seen. But the hue is also dark enough to be not mistaken and can be seen easily. Julia was in her Avril Lavigne-style purple hair color last year.
In the Instagram post that she has uploaded, her conventional head of cool blonde highlights is not seen now. The new pink gold hue to her hair matches perfectly with her pink blazer. It is not known whether the pink hue is permanent or only temporary. But it is a good way to draw the attention of people to her and her Instagram account. She has captioned the post:
"Faux Boom Friday! Hey, watch Homecoming tonight on Amazon."
She wants to remind her fans that she has a new show coming up called Homecoming and requesting them to watch it.
Julia Roberts and her new show on Amazon
Julia Roberts has ultimately come to the world of TV. She will be seen in Homecoming which is a mysterious show from Sam Esmail. It is streaming on Amazon Prime. Until now, Julia has not done any TV shows except guest starring in Friends and Murphy Brown. This is her first series regular role on TV. She has a role of a woman who is involved with a mysterious government program which helps soldiers to return into the civilian life after they leave the national service. This government's program called Homecoming is later shown to be an unsuccessful one and Julia then becomes a waitress. The program delves into the reason for her leaving the job with Homecoming and the mystery that surrounds it.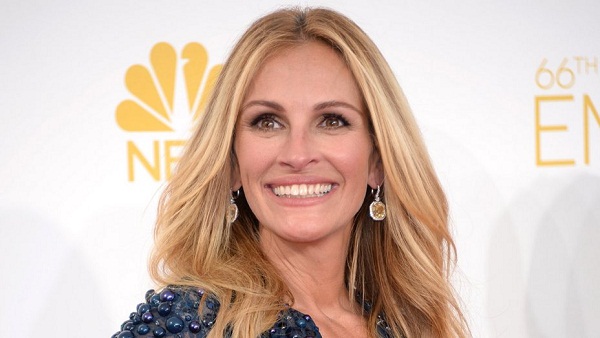 Julia Roberts and the new show-How it started?
Julia had not decided intentionally to do TV roles. She had looked at the script and liked it. But then it turned out that the script would be made into a TV show and hence she was into it. Explaining, she said:
"I just went with the good story, that it was ultimately going to put ultimately on television is the last thing that I really consider, I only just found out it was going to be on TV, just a couple weeks ago. I was like wait, what?"
The filming is said to be excellent and comforting. She is reuniting with Dermont Mulroney after 21 years since they first did My Best Friend's Wedding. The cast of the new show is fantastic and the episodes are shorter compared to the routine ones.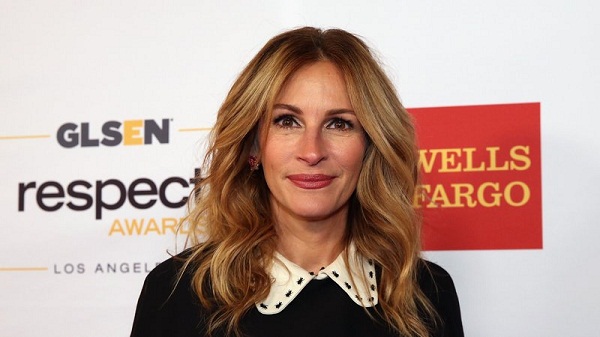 Julia Roberts-Short Bio
Julia Roberts is an American actress and producer who is notable in the films include Hook, Mirror Mirror, and August Osage County. She is mainly known for a film titled "Pretty Woman" for which she has already won an Oscar Award. More Bio…
Credit: allure, eonline, people