Justin Bieber and Hailey Bieber officially tie knots for the second time in extravagant wedding ceremony!!
Fans were filled with disappointment when they heard the news of Justin Bieber and Hailey Baldwin secretly exchanging vows back in 2018. Obviously, we were sad we couldn't even get a tiny glimpse of their long-awaited wedding. I mean, It's 'Justin Bieber', the guy who stole the hearts of millions of young girls with his debut 'Baby' and he still does though.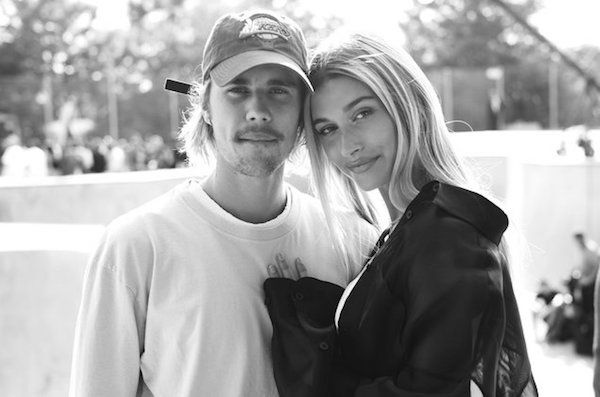 And not to mention, it was the supermodel, Hailey Baldwin (now Bieber) who owns the heart of this pop icon. But Justin and Hailey blessed us with another wedding ceremony!!! This time though we could at least witness them in their wedding attires. If you're as excited as me to get an insight into this 'Lavish' wedding ceremony, keep scrolling.
Also, read about Vogue Williams and Spencer Matthews have a lavish second wedding for friends who could not make it to their first wedding!
Justin Bieber and Hailey Baldwin's 'Lavish' second wedding ceremony
Justin Bieber and Hailey Baldwin walked down the aisle for the secondly time on Monday, September 30. The couple who secretly wed last year in an MYC courthouse exchanged "I dos" yet again but this time with a lavish ceremony.
Their extravagant wedding ceremony took place at the Montage Palmetto Bluff in South Carolina by the May River, accompanied by their loved ones. According to reports, Bieber and Baldwin exchanged vows accompanied by 154 guests which included some famous names such as Kendall Jenner, Camilla Morrone, and Joan Smalls, as well as Bieber's manager Scooter Braun.
The report tells us that the couple had flown down south in a private plane during the weekend for their second wedding. Hailey's sister Alaia Baldwin and cousin Ireland Baldwin both served as bridesmaids during the ceremony.
But let's talk about Hailey Baldwin though. She looked stunning in an ethereal white gown with a sheer white dreamy veil. I mean she's already gorgeous enough that even a plain white gown would've looked stunning on the supermodel. Justin didn't disappoint us either, he looked just as good a Hailey in a chic black tuxedo.
Also, read about Ben Higgins and girlfriend Jessica Clarke ' Moving and Grooving' to engagement!!
Justin and Hailey throws a pre-wedding cocktail  party
Just before their grand wedding ceremony, the couple also held a cocktail party on Sunday night at Moreland Landing, a small banqueting hall nearby. According to reports, after the couple arrived at the venue, they took a wooden jetty on the May River, which runs alongside their wedding venue and headed for their rehearsal dinner.
Hailey as always stunned us with a short ivory off-shoulder dress accessorized with pearl earrings and a bow in her head. Bieber wore a simple white polo shirt and black pants and honestly he doesn't need much dressing either.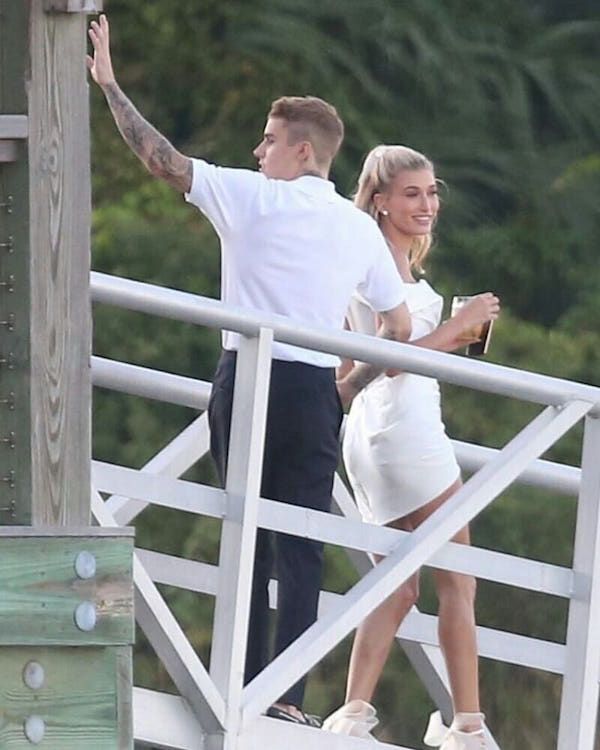 The rehearsal dinner was accompanied by 36 close friends of the couple. An Insider gave a glimpse of the dinner event. The Insider stated that "They enjoyed local food, including an oyster roast," and added that later in the evening, several friends joined the families for bowling at the Boundary on the Montage property. Just before walking down the aisle, Justin took it to his Instagram to show his new Audemars Piguet watch he apparently gifted himself. He captioned the image, "Got me a Lil wedding gift".
He also shared a childhood picture of him with Hailey and her family and captioned it,
 "Me and the wife! and in-laws !! Thanks for letting ur daughter marry a savage like me."
Congratulations to Justin Bieber and Hailey Baldwin Bieber for their official wedding ceremony. Although they've already been living as husbands and wives for a year now, we still wish the couple best wishes for their journey together.
Also, read about Inside Jennifer Lopez and Alex Rodriguez's extravagant engagement party in Los Angeles
A short bio on Justin Bieber
Justin Bieber is a singer as well as a songwriter. His full name is Justin Drew Bieber and he belongs to the Canadian community. In 2010, he had released his first full-length studio album, My World 2.0. More bio…
A short bio on Hailey Bieber
Hailey Baldwin is an American model and actress. She is mainly known as the daughter of actor Stephen Baldwin. She is extremely prominent for Saturday Night Live (2009) and "Entertainment Tonight" (2016). She has made a recognizable position in the American entertainment field and has earned more fame and fans. More bio…
source: people