Justin Bieber and supportive wife Hailey Bieber got a matching 'Peaches' tattoo! What is it for?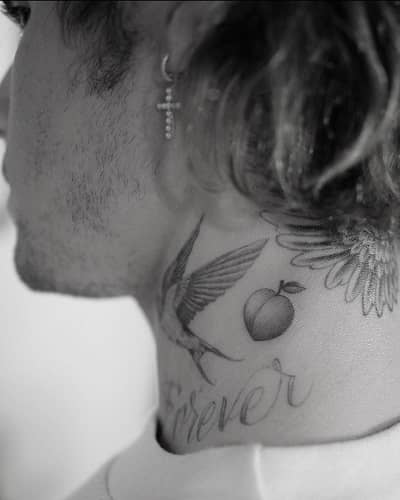 Justin Bieber has a new tattoo on his body! Bieber got a peach tattoo on his neck for his latest single Peaches. The tattoo was done by Dr. Woo and it sits on his neck behind the bird tattoo and above the word 'forever'. The tattoo is not a surprise to his fans as he already has multiple musical references on his body already.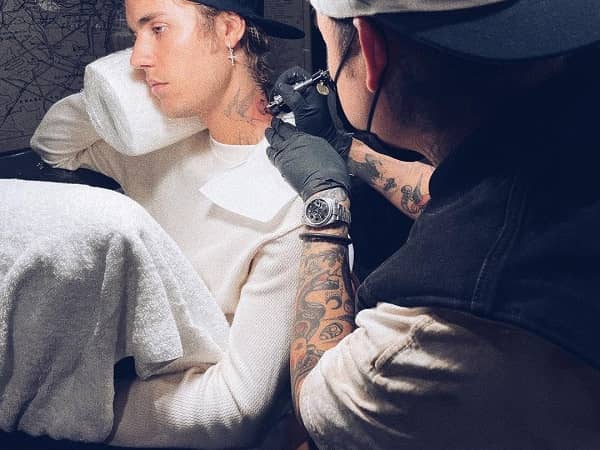 While promoting his album Justice he was confused about whether to get the tattoo or not. He was not sure where he wanted the tattoo to be. He said to a fan who asked him about the tattoo design saying,
"Maybe I'll get like a small peach on my body somewhere. I promised myself, like I didn't want to get tattoos on your hands. And so I don't think I'm gonna get tattoos on my hands. Something about just being able to wear a suit and not having tattoos on my hands; I don't know."
Also read Getting married for the second time! Justin Bieber and Hailey Bieber Married again at Palmetto Bluff in South Carolina.
When mama Bieber found out her son got himself a new peach tattoo through an Instagram post she wrote,
"Don't you have enough yet?"
On 29th March 2021, his wife Hailey Bieber showed off her matching peach tattoo. She got the tattoo on her inner forearm and is small in size as compared to her husband. Hailey is a very supportive wife who started 'Peaches' makeup trend on TikTok as a tribute to Justin's new single.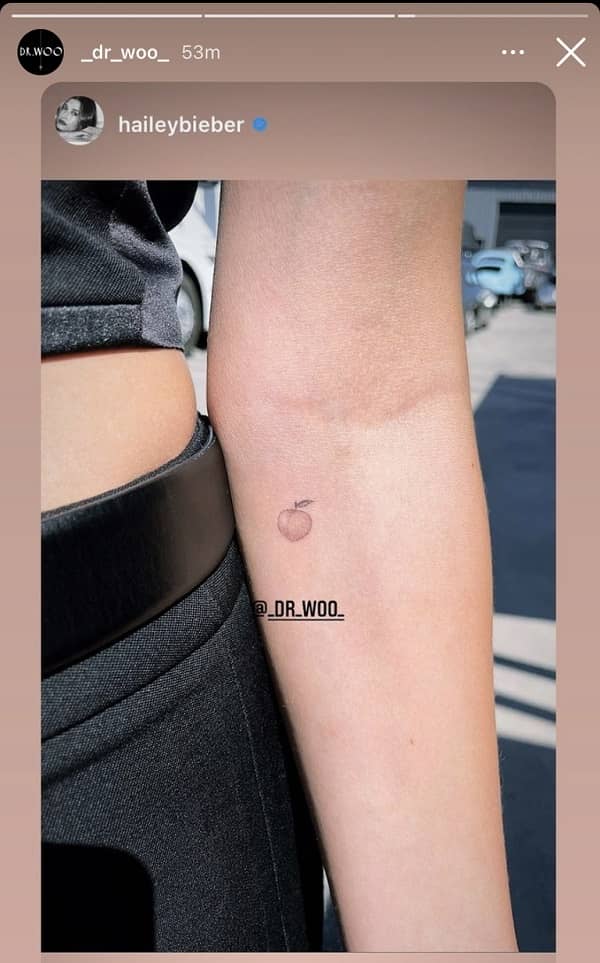 Also read Is singer Justin Bieber unhappy in his nine-month-old marriage with model Hailey Baldwin?
Short bio on Justin Bieber
Justin Bieber is a singer as well as a songwriter. His full name is Justin Drew Bieber and he belongs to the Canadian community. In 2010, he had released his first full-length studio album, My World 2.0.
Furthermore, he had won numerous awards throughout his career, including the American Music Award for Artist of the Year in 2010 and 2012, a Grammy Award for Best Dance in the 2016 ceremony, and a Latin Grammy Award for Best Urban Fusion/Performance for the remix of Despacito at the 2017 ceremony. Read more bio…