Kate Middleton and Prince William are in Pakistan for a five-day tour!
The royal couple is in Pakistan. Yes, Kate Middleton, 37 and Prince William, 37 are on their five-day tour to the Asian country. More on this trip here.
Kate Middleton and Prince William in Pakistan
England's royal couple, Kate Middleton and her husband Prince William are in Pakistan for five days. They arrived there on Monday 14 October 2019. Kate was wearing a light blue dress with pants that matched. This attire was probably inspired by the dress code of this Asian country namely the salwar and kameez which most of the women there wear.
The dress and color that Kate chose to wear on her arrival to Pakistan also bears a close and striking resemblance to what her late mother-on-law Princess Diana wore when she went for the tour to that country in the year 1996. Princess Diana had also worn an outfit of a similar color at that time. Kate's outfit also had a neckpiece and was similar to the scarf that Princess Diana had worn on her tour. The dress was designed by Catherine Walker who used to frequently collaborate with the late Diana on her dresses.
What dress designer Susan Kelley states?
Susan Kelley is the editor of whatSheWore.com website. She told PEOPLE that she firmly believes that on this tour, Kate will wear the traditional wear one more time at least. She also revealed that though Kate does look up to Princess Diana for inspiration while designing and wearing dresses for special occasions, she is also cautious not to copy her in entirety.
Prince William and Kate Middleton and the Pakistan tour details
The tour is an official one. The couple landed at the Nur Khan airbase which is close to the nation's capital, Islamabad. Their arrival time was soon after 9.30 pm and the plane they flew in was a private jet RAF Voyager which took them there from Brize Norton. There was tight and extensive security as the couple landed. More than 2000 police officers were in attendance to guard the royal couple. They are there to strengthen the ties between the two nations.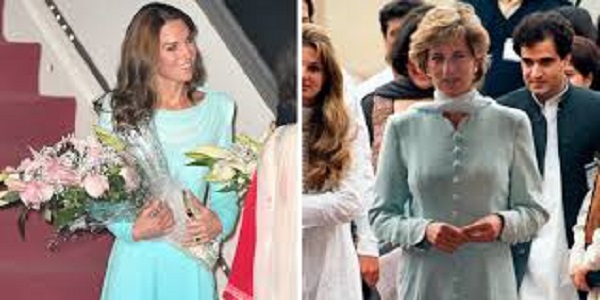 Pakistan's Foreign Minister, Shah Mahmoud Qureshi greeted the couple at the airport.
Kate Middleton and Prince William Pakistan tour-the purpose
The couple from the royal family of England is in Pakistan to improve the relations between the two countries. The Prince will be telling a gathering in Islamabad that UK is always there for Pakistan. It extends its hand of friendship and would help them in their economical growth.
The couple will celebrate the unique bond that UK shares with Pakistan over the years. They will visit Islamabad and Lahore and will travel 620 miles in 4 days.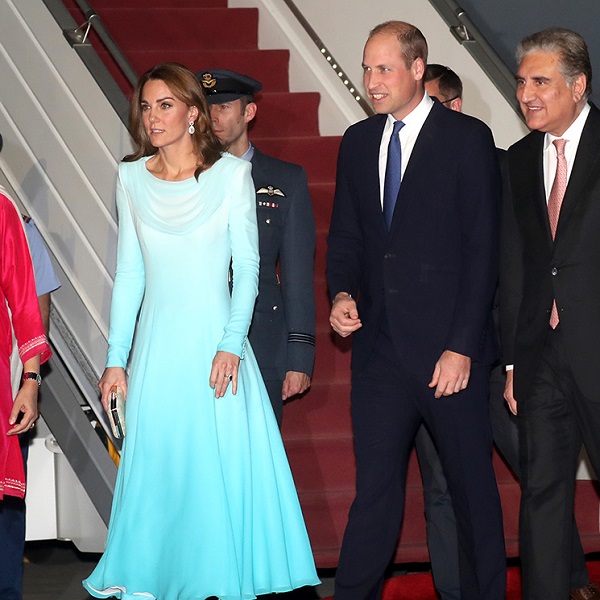 Kate and William will also visit the rural parts of the country and try to find out how the people there are coping with the climate change issues. William will also speak of the geographical diversity of Pakistan from deserts to glaciers. He will praise the country for the youngest Nobel Prize Winner ever namely Malala Yousafzai. He says:
"We share unique bonds so it will always be in our interest for Pakistan to succeed. Not least because of the 1.5 million people living in the U.K. with Pakistani origin and the fact that the U.K. is one of the biggest investors in Pakistan's economy. You can always rely on the U.K. to keep playing an important role as a key partner and friend."
Short Bio on Kate Middleton
Kate Middleton is married to Prince Williams n 2011 at Westminister Abbey in London. She is also famous as a Most Promising Newcomer by The Daily Telegraph magazine. She is also a catalog Photographer and Web designers. Kate was also the Top Fashion Wuzzword in 2011. More Bio…
Source: People, Telegraph UK