Katelyn Faber's rape case against the former basketball player who recently was awarded with Oscar for his 'Dear Basketball'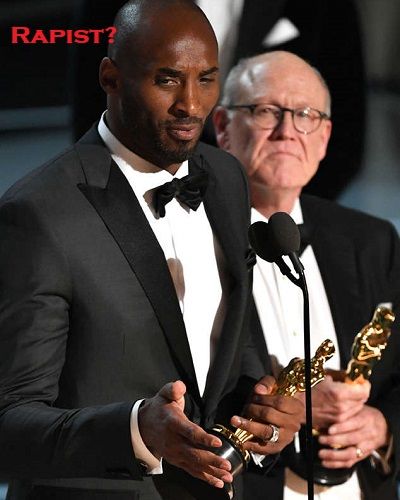 The above video is a small fun rap by Katelyn Faber. Katelyn is a hotel employee. She has shared about her rape incident. She says that Kobe Bryant had physically assaulted her and except Kobe, she had three other men's semen in her panty. Either she is a very frustrated lady or she has been assaulted very badly and did not get justice.
Who is Kobe Bryant?
Kobe Bryant is a former basketball player and a businessman from America. Recently, in the 90th Oscar Award ceremony, he won the Oscars for the animated short category for short animated movie, Dear Basketball.
Congratulations to my good friend @kobebryant for winning the Oscar for best animated short film. Well deserved!

— Earvin Magic Johnson (@MagicJohnson) March 5, 2018
It is a movie based on the poem which he wrote after the retirement in the year 2015. The director of the movie Glen Keane is also very happy as Kobe shared his award with him. Keane thanked Kobe for writing such wonderful masterpiece and said,
"Whatever form your dream may take, it's through passion and perseverance that the impossible is possible."
He received many congratulations messages and tweets. LeBron James, who is a basketball player also congratulated Kobe and tweeted,
Salute @kobebryant on that Oscar!! #WeAreMoreThanShutUpDribble #UJustContinueToSitBackAndWatch

— LeBron James (@KingJames) March 5, 2018
You may like to read:
NBA player Kobe Bryant is married to Vanessa Laine Bryant
Kanye West publicly criticized by NBA all-star player Kobe Bryant!
Katelyn's rape case
Katelyn after being raped, filed for the suit in July 2003. Kobe was then arrested. She worked in The Lodge and Spa at Cordillera and it was said that the incident took place in his hotel room during his stay on 1 July 2003.
The case could not go further for the trial because his accuser filed a civil lawsuit against Bryant. And his statements were,
"First, I want to apologize directly to the young woman involved in this incident. I want to apologize to her for my behavior that night and for the consequences she has suffered in the past year. Although this year has been incredibly difficult for me personally, I can only imagine the pain she has had to endure. I also want to apologize to her parents and family members, and to my family and friends and supporters, and to the citizens of Eagle, Colo.

I also want to make it clear that I do not question the motives of this young woman. No money has been paid to this woman. She has agreed that this statement will not be used against me in the civil case. Although I truly believe this encounter between us was consensual, I recognize now that she did not and does not view this incident the same way I did. After months of reviewing discovery, listening to her attorney, and even her testimony in person, I now understand how she feels that she did not consent to this encounter.

I issue this statement today fully aware that while one part of this case ends today, another remains. I understand that the civil case against me will go forward. That part of this case will be decided by and between the parties directly involved in the incident and will no longer be a financial or emotional drain on the citizens of the state of Colorado."
Short Bio on LeBron James
LeBron James is an American professional basketball player. He currently plays for the Cleveland Cavaliers of the National Basketball Association (NBA). He has won three NBA championships, four NBA Most Valuable Player Awards, three NBA Finals MVP Awards, two Olympic gold medals, an NBA scoring title, and the NBA Rookie of the Year Award. More Bio…