Katherine Diane Williams died at a young age of 27 in a car crash! Know about her family, death, married life, children and biography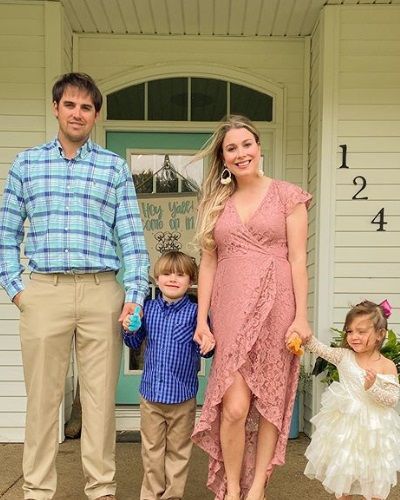 Katherine Diane Williams is the late daughter of American singer-songwriter and musician Hank Williams Jr.
Unfortunately, Katherine suddenly expired at the age of 27 in a car crash in Tennessee, Paris on 13th June 2020.
---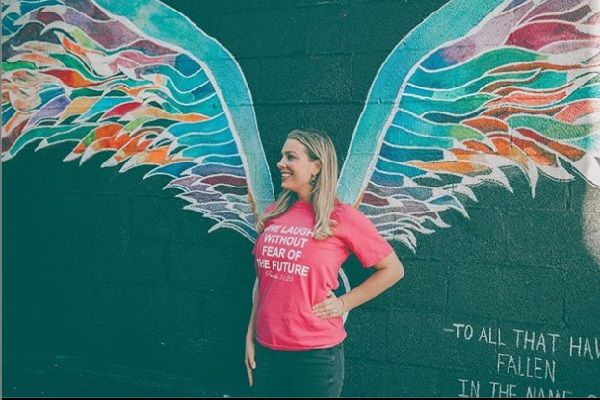 Katherine was a businesswoman as she used to run a clothing company, Weston Jaye. She used to sell handmade by a mom or printed by a mom. She was the only child who did not follow the footstep of her father and did not pursue a music career.
Katherine Diane Williams' family
Katherine Diane Williams was born to Hank Willimas Jr. and Mary Jane Thomas in 1993. She is the granddaughter of Hank Williams and Audrey Williams.
Her grandfather Hank was an American musician and one of the most significant and influential American singers and songwriters of the 20th century. He also died at the young age of 29 after hemorrhages in the heart and neck.
Similarly, her grandmother Audrey was also a musician. Katherine's father is also a musician whose musical style is often considered a blend of Southern rock, blues, and country.
Also, her great-grandparents were Jessie Lillybelle Skipper, Elonzo Huble Williams, Charles Sheppard, and Artie Mae Sheppard. She comes from a famous family.
Her siblings are Holly Williams, Hilary Williams, Hank Williams III, and Samuel Williams. Holly is also an American singer-songwriter and musician. Hilary is a singer and Hank Williams III is a musician.
Also read Who is actress Levi Heaton dating? Know about her family, actor brother Charlie Heaton, social media and biography
Katherine's death
Katherine had a sudden demise after a car crash. Her car crash happened in Tennessee on 13th June 2020 just at the age of 27.
She was driving an SUV and towing a boat when the car crossed the highway median and crashed. She was not alone as her husband Tyler Dunning was also present in the car who was luckily saved.
This incident happened around 7:45 p.m. on Highway 79 near West Antioch Road. Tennessee Highway Patrol said,
"This is an active investigation and more details will be made available later,"
After the news of the death of Katherine, the family is devastated. Her sister Holly shared the last family photo and revealed that her brother-in-law is awake and responding. She wrote,
"I have no words. On Friday morning I talked the family into taking this picture and had no idea it would be our last together with my precious little sister Katie. We all went to my great aunts funeral on Thursday whom we all loved dearly, and now are faced with another one."
She added,
"ALL we need is prayers. My daddy. My little brother. Katie's husband (he is awake and responding don't know injury extent yet). My niece and nephew. Her Mama. The Dunning family. All of us. So. Many. Prayers. Jesus is close. Thank you all ????????❤️ Be merciful to me,"
Not just her but Hilary also shared a picture and prayed for her. Katie's brother Samuel also asked for prayers for the family.
Also read Martha Hart, the widow of late Owen Hart criticizes WWE for their negligence and hand in the tragic death of her husband!
Katherine Diane Williams husband and children
Katherine Diane Williams was happily married to her husband Tyler Dunning. They were dating each other since 2010. They walked down the aisle on 17th October 2014.
At the time of her wedding, she also went for a wedding dress hunt on the TLC's popular show Say Yes to the Dress in their 7th season in 2014.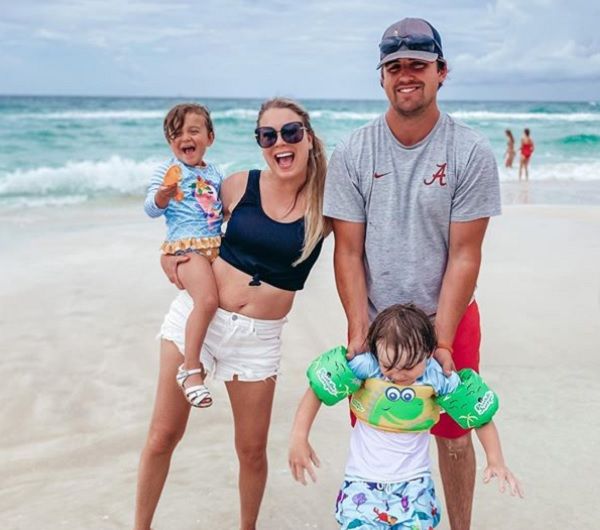 Her husband Tyler works at Tosh Farms in Tennessee, where he is an electrical supervisor. The family lives in Springville, Tennessee.
Katherine and Tyler welcomed their first son Beau Weston Dunning on 15th January 2015. Their second child is daughter Audrey Jane Dunning who was born on 15th September 2017. She was named after her grandmother.
Katherine used to upload her children's pictures on her Instagram. Recently on 20th May, she had shared a picture of them on a beach. It seemed like the family had a great time looking at their smiling faces.