Kathy Griffin: Her Donald Trump beheading photo shoot, and its backlashes: Know it all here!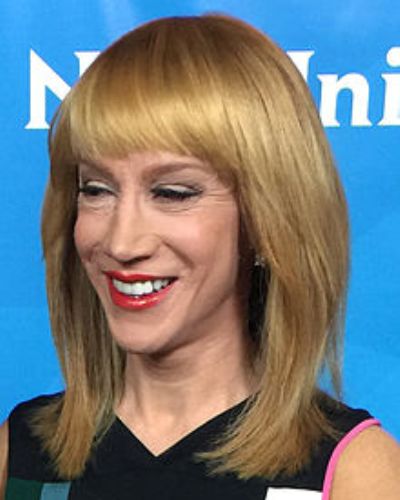 Donald Trump's beheading
56-year-old American actress cum comedian Kathy Griffin did a photo shoot for the artist and photographer Tyler Shields. In the photo shoot, the actress posed with the severed and blood-stained head of present President Donald Trump. Kathy Griffin had also joked during the photo shoot that she along with Tyler Shields will have to flee the country to Mexico when the picture becomes public for fear of punishment or imprisonment. She was heard saying:
"We're not surviving this, okay?"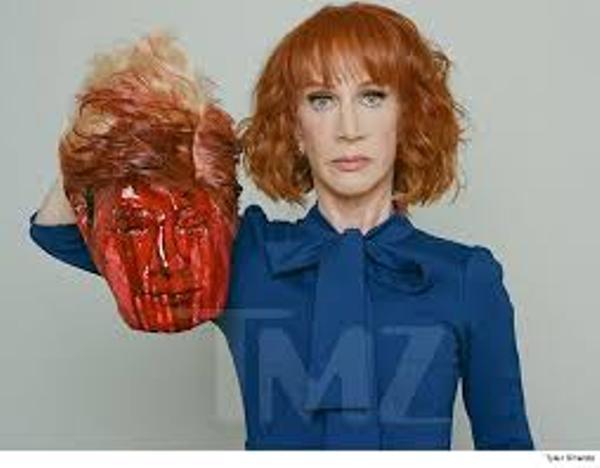 Kathy Griffin has not shied from openly criticizing the US President. In October 2016, She did a mock campaign advertisement which showed her repeatedly telling the Republican candidate at that time to f**k off.
In August 2016, in the comic book 'Spawn' there was a cartoon version of Donald Trump depicted which had his head cut off. The comedian George Lopez had also tweeted a cartoon image in which he had shown the notorious drug lord El Chapo beheading Donald Trump.
Tyler Shields had also provided updates on his new project with Kathy Griffin on his Twitter. He had also uploaded a behind-the-scenes video of their photo shoot.
Kathy Griffin's apology
Soon after the photo shoot and circulation of the photo of her hoisting the gory Donald Trump mask, Kathy Griffin apologized for her action and promised to get the image down. She said:
"I moved the line, and then I crossed it. I went way too far. The image is too disturbing. I understand how it offends people."
She said in a video posted on her Instagram:
"I beg for your forgiveness. I went too far. I made a mistake and I was wrong."
She also said that she would tell Tylers to remove the image.
The Reactions
Donald Trump tweeted in response:
"Griffin should be ashamed of herself."
He continued:
"My children, especially my 11 year old son, Barron, are having a hard time with this. Sick!"
Donald Trump's son Donald Trump Jr. did not find the photo shoot and image comical. He blasted Kathy Griffin and all the liberals. He said:
"Disgusting but not surprising. This is the left today. They consider this acceptable."
He added:
"Imagine a conservative did this to Obama as POTUS?"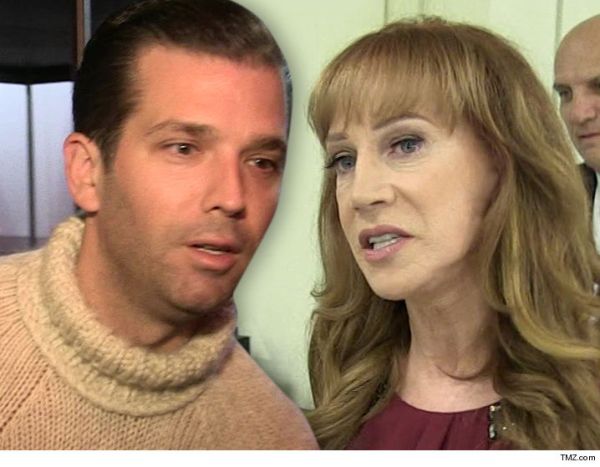 Lara Trump, Donald Trump's daughter-in-law (married to his second son, Eric) told Fox News:
"It is appalling that no one prevented comedienne Kathy Griffin from taking a photo with a bloodied mask resembling President Trump's head. 
She added:
"It probably wasn't just Kathy Griffin. She has many people around her. There was a photographer involved. I'm sure she has a publicist that works with her. There were a lot of people around that could have said, 'You know what, this crosses a line.'
She went on:
"It tells you the society that we live in today and what some people deem acceptable. Had this happened to President Obama, I can only imagine what people would be saying right now."
Lara Trump had more to say:
"I'd love to say that it gets easier. It doesn't get easier, but we can handle it. We've taken it for almost two years and we understand that this is the world we live in and we've accepted it, in a way. But I think what is not acceptable is that people do things like what Kathy Griffin did, that there are people out there that would rather see our president fail rather than see our country succeed. And it's very dangerous and we live in a very, very dangerous place right now and it's very frightening to all of us."
Hillary Clinton's daughter, Chelsea Clinton also pitched in though she sided with the Trump team. She called the photo 'vile and wrong'. She tweeted:
"It is never funny to joke about killing a president,"
Kathy Griffin's co-host for annual New Year Eve on CNN said:
"I am appalled by the photo shoot."
He also wrote on Twitter:
"It is clearly disgusting and completely inappropriate,"
Initially, Kathy Griffin did not backtrack. She said:
"There was blood coming out of his eyes, blood coming out of his … wherever."
She had borrowed this quote from Trump's quote about Megan Kelly.
She said that she does not condone violence but was merely mocking 'The Mocker in Chief'.
Though later she did apologize and vowed to get the image removed.
The Backfire
CNN announced that Kathy Griffin would no more co-host the annual New Year Eve's program for them. Their released statement said:
"CNN has terminated our agreement with Kathy Griffin to appear on our New Year's Eve program,"
Kathy Griffin used to co-host the New Year program with Anderson Cooper since 2007. Their rapport was frequently discussed on the social media.
A CNN spokesperson also commented and called the photos 'disgusting and offensive'.
Squatty Potty, a line of footstools for toilets, decided to take out from air their new ad campaign starring Kathy Griffin. Also, Route 66 Casino Hotel, New Mexico canceled a performance by Kathy Griffin which was scheduled for July 2017 at the resort.
Short Bio on Kathy Griffin
Kathy Griffin is an American stand-up comedian. At the same time, she is also the writer, producer, actress, and television host. She is the single package of many talents. She has also been honored with many awards like 'Emmy Award'. Her comedy albums are also nominated for 'Grammy Award'. She has been successful in keeping her good name in the entertainment world. As per being a comedian, she has a strict no-apology policy with her comedy. More Bio…