Katie Lee marries Ryan Biegel! Know more about the Food Network Star, her relationship, previous marriage and engagement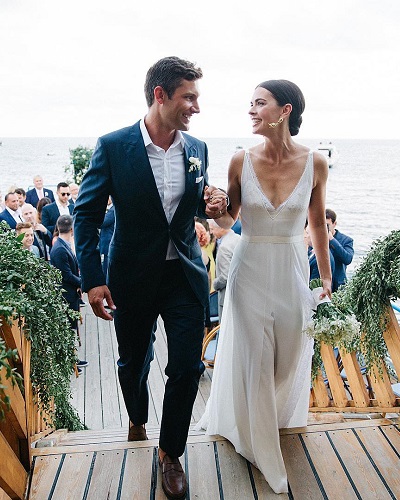 Katie Lee, 37, a Food Network star and cookbook author, and television producer Ryan Biegel tied the knot on Saturday, Sept. 1. The wedding ceremony was held at the Lo Scoglio da Tommaso hotel and restaurant at the Marina del Cantone on the Amalfi Coast of Italy.
The wedding was attended by family and friends. Engaged couple Katie Lee and Ryan Biegel have been vacationing in Capri, Italy over the past week.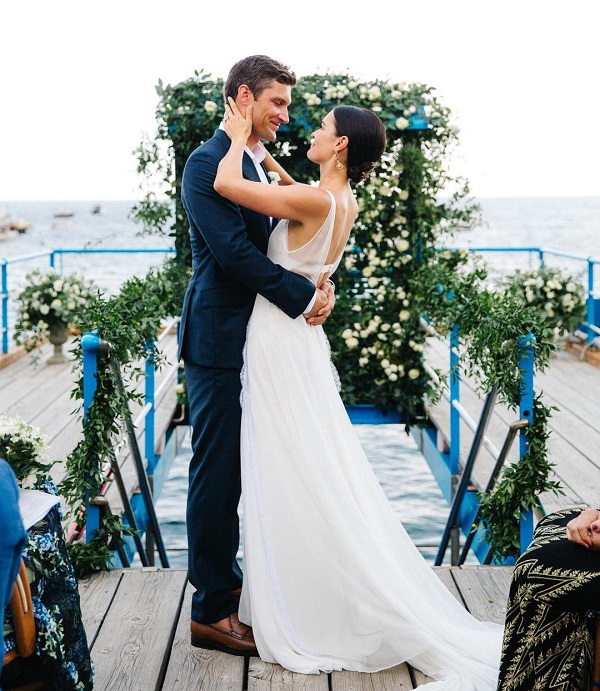 Lee gushed:
"It felt so celebratory and special. It was more than I ever could have imagined it to be."

"I got so choked up, I looked out at him and I could feel my eyes well up with tears, I just took a moment and stood there and looked at him and soaked it in, I was just so happy."
The food lover talked about her wedding:
"We wanted a big feast because we both love to eat so much. It was like one big dinner party. They say no carb left behind — that's been the theme of the weekend!"

"Everybody ate pasta and then we all put on our swimsuits and jumped in the ocean at 1:00 in the morning. It was really, really fun!"
Also read: Carrie Underwood's husband Mike Fisher is the "most amazing husband"! Their pregnancy story is unveiled here!
Like all weddings all had a very good time:
"Everybody, including all of the staff here, was on the dance floor singing and dancing. "It was so hot and humid from the rain earlier in the day, everyone just kind of let loose and didn't care how sweaty they got. It was one of those moments that you always remember in your life."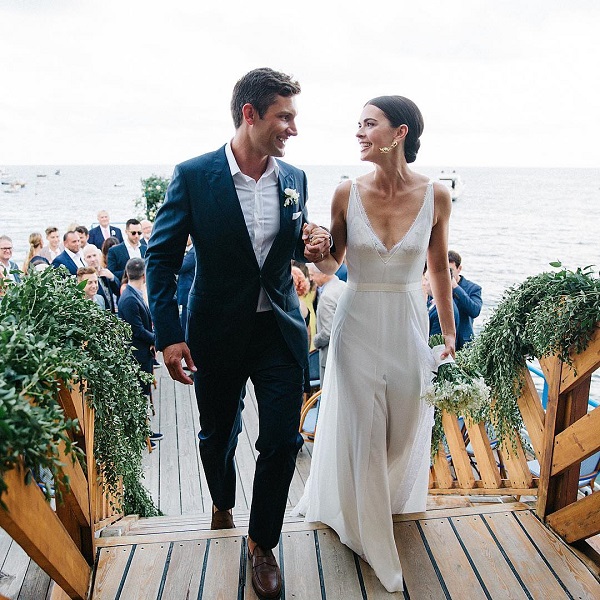 Katie's wedding gown
Katie looked flawless in her wedding gown. She wore a sleeveless gown showing off her back followed by a long train with a low tight bun. And the groom looked handsome in a dark blue suit with perfectly combed hair.
Also read: Paris Hilton pushes back her fairytale wedding with Chris Zylka! Says "you can't rush something like this"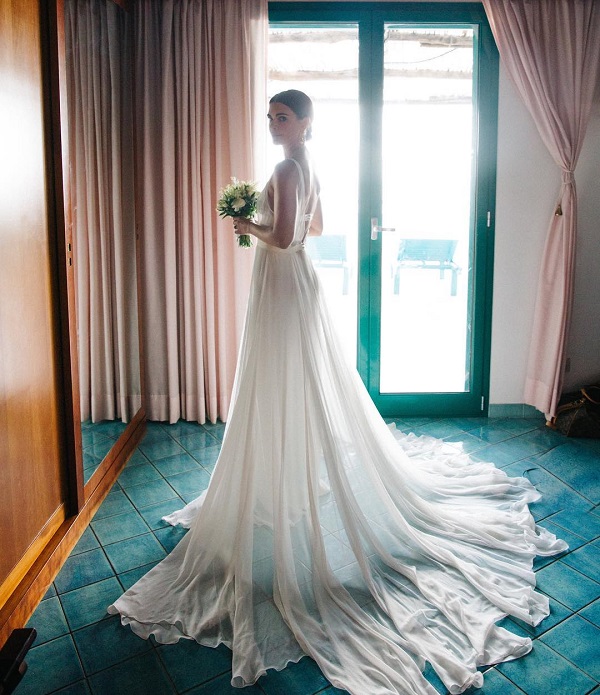 The dreamy engagement
Lee and Biegel had announced their happy engagement back on 23rd March. The couple revealed that Ryan had popped the question while vacationing in March.
Lee, the co-host of The Kitchen on the Food Network, shared her romantic moment:
"It was very romantic. We were going out to dinner to one of my favorite restaurants, and I thought that it was coming. We're on the trip, like I kind of thought, 'Listen we're in Paris and we're taking the Orient Express to Venice. If he doesn't propose on this trip, he'll really miss a great opportunity.'"
And just like she thought, on the second night's stay at La Reserve Hotel,  Ryan had popped the question. Katie then said "yes".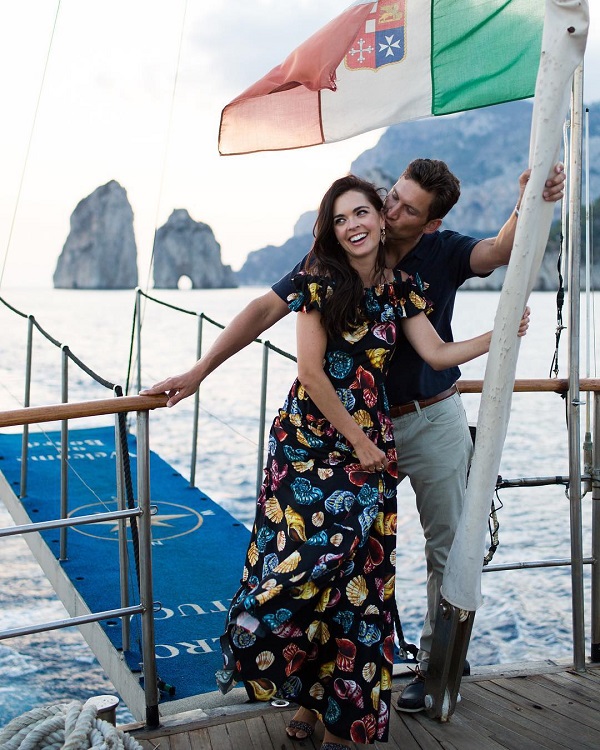 Also read: David Foster talks about his engagement to Katharine Mcphee! Read their relationship details here!
She continued:
"That's [Food] really what brought us together and that's what we enjoy the most. I think just going through life with somebody who I share a similar idea of how we want to live, you know? We really have fun together and aside from all the love stuff, we really like each other."
Lee then went on to describe how perfect they were for each other:
"We like to do the same things. Last night we went out on a date to a place called Din Tai Fung, a dumpling house, and ate a ton of dumplings. That's the type of thing we like to do together. We'll read about somewhere, and then we'll go and we'll pig out, and we'll have a lot of fun."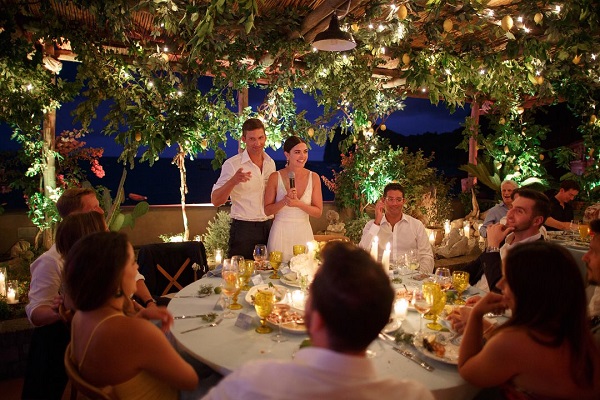 Katie Lee and Ryan Biegel vacationing on the beach
The power couple, Katie Lee and Ryan Biegel were caught by the media during their holiday on Miami beach. She was looking stunning in the blue bikini. They had a good break on the beach. The couple was also seen cozy walking together on the beach.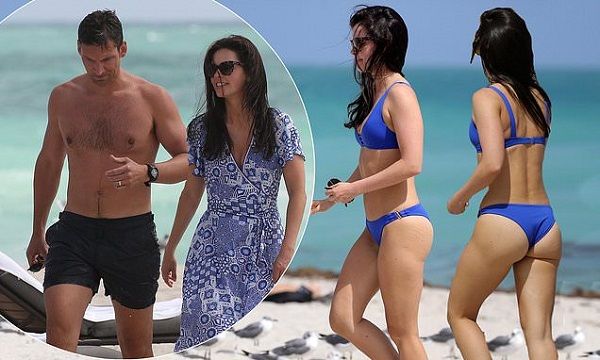 Previous relationship and marriage
Katie has been married before, this being her second marriage. She was previously married to musician Billy Joel for 6 years from 2004 to 2010. She is their third wife of Billy.
And for Ryan Biegel, this is his first marriage.
Katie Lee's short bio
Katie Lee was born Kathleen Rebekah Lee on September 14, 1981, in Huntington, West Virginia, USA. Her mother is Kim Becker.
She began to cook at the age of 4. Currently, she also writes for Hamptons magazine, Gotham, and The Huffington Post. More bio…
Also read: Will they give another chance for their marriage?? Know about Allen Iverson and his ex-wife Tawanna Turner!