Katie Price and her boyfriend Carl Woods get matching tattoos as a sign of their love for each other!
Katie Price seems to be always in the news for one reason or the other. She is never tired of making headlines. It appears that she enjoys it. And now, the news is that she and her boyfriend of four months, Carl Woods got matching tattoos.
Katie Price and Carl Woods-the matching tattoos
It has been four months now that the new love birds on the block, Katie Price and Carl Woods have been dating. And now they did something together to declare their immense love for each other. Katie, 42, and Carl, 31 got matching tattoos. They went to a tattoo parlor in Essex to get their matching inks. The design will take several weeks to get completed.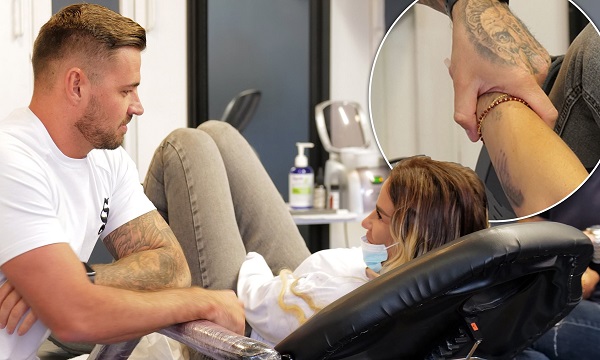 Carl also was in pain for his girlfriend when she was getting the ink from the tattoo artist on her right forearm. He winced and appeared concerned for her. Katie was looking into Carl's eyes and holding on to his hand as the tattoo artist was working on her tattoo. It is not certain what design the two have decided to get. But it will take many weeks to complete.
More about this trip to the tattoo parlor
Carl seems to be a very doting boyfriend of Katie. When they reached their destination for the ink, Carl carried Katie from the car to the tattoo shop. It may be recalled that Katie had suffered an accident while holidaying in Turkey. It needed major surgery and she was in plaster for many weeks. But she is yet not recovered completely and still requires no weight-bearing as the injury involved her lower limbs at the ankles and foot area.
Despite all her ordeal and pain, Katie was still grinning and in smiles when she arrived at the tattoo shop. Maybe it is the love of Carl that is helping her heal faster and not see or feel her pain!!!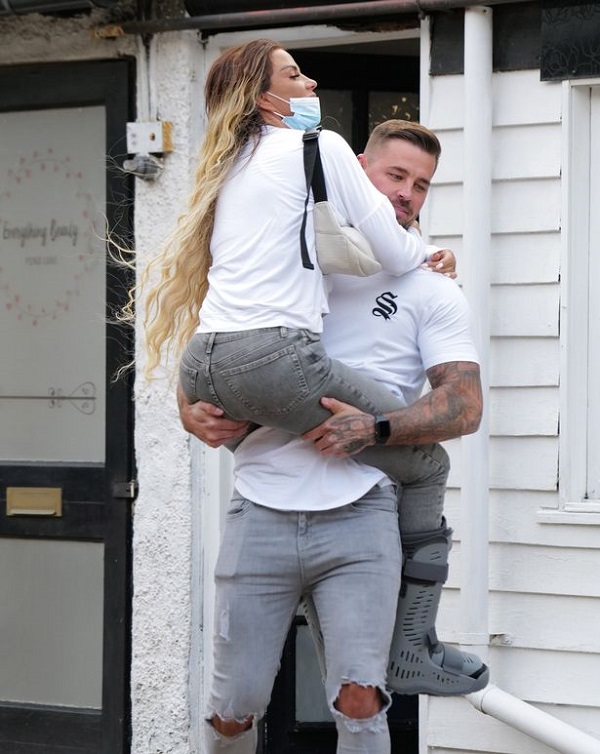 The couple was in matching outfits when they came to the shop. She wore a white top with grey jeans and plastic boot casts. He too was in a white T-shirt and ripped denim jeans.
Katie and her tattoos
The former supermodel has a host of other tattoos on her body. These include name tributes to her ex-husband Peter Andre and also ex-fiancé Leandro Penna. Now she has covered up these tattoos. Then she has a garter on her thigh, and one crown for her daughter Princess who is now 13 years of age. In place of Peter's name, she did a cover-up with a rose design. Earlier in 2009 after her split from Pete, she had put a giant X over his name.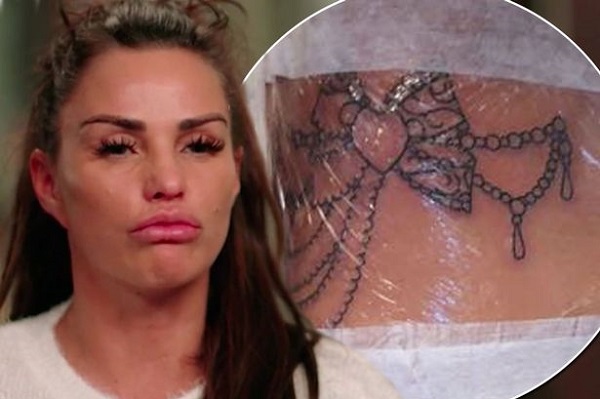 Leandro's name she had put on her ankle. In 2012 after her breakup from him, she covered this up too. Additionally, she has red hearts and stars on her wrist as a mark of tribute for her sons Harvey, 18, and Junior, 15, a bow on her hip to represent her loved ones 'tied together, and the initials H and J sit on the back of her neck.
Katie also has a pony and ribbon on her ankle, two more bow tattoos, a crown, and microphone, a heartbeat on her right wrist, and a heart with wings on her left wrist. She also has purchased a puppy with Carl and wants to have a baby with him.