Katie Price takes her fans to a tour of her messy home in West Sussex with piled-up discarded old clothes and wall graffiti!
Oh what a mess! The former glamor supermodel Katie Price, 41 allowed cameras upstairs in her mansion for the first time! And her fans got a look of her messy home which had old clothes piled up everywhere and graffiti on the walls. One wonders how she and her children live in that type of a home!
Katie Price and her messy house
The former model Katie Price's fans were horrified when she let the cameras to her home and upstairs. It revealed a house which was in a mess. There were clothes strewn all around and the walls were dirtied by graffiti. This is the first time that the reality TV star gave her social media followers a tour of her West Sussex home. Each room of the mansion had piles of old clothes and there was also a suitcase in one of the rooms which was full of sexy pants.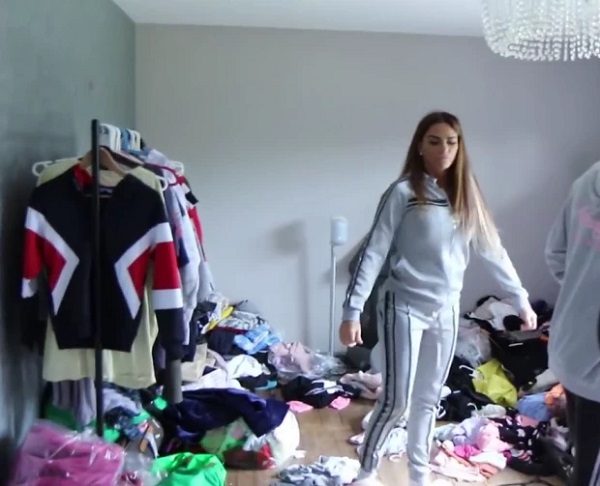 Katie Price and what her YouTube video revealed?
The model Katie has uploaded a new video on her YouTube channel which shows floors as well as the beds in the rooms overcrowded with clothes and other junk. One of the rooms, there was a giant pair of lips. This was from an old perfume launch and there were also some golf clubs scattered around the place in the midst of a pile of discarded clothes.
Katie kept chatting to the camera and was totally oblivious of the fact that behind her the wall was defaced with a messy graffiti. In a second room, there were two cleaners whom she had employed to clear up the mess. They were going through the clothes and were some saucy underclothes as well in a case there.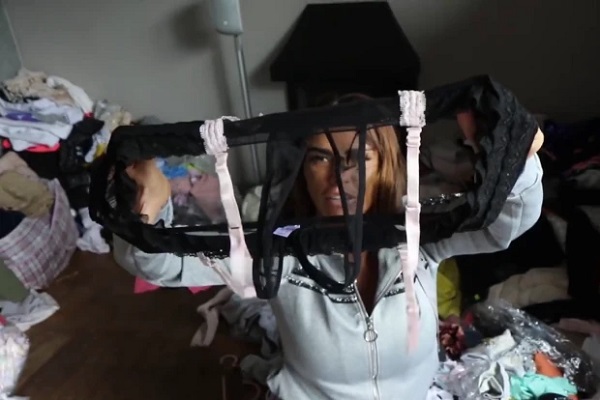 Katie picked up a pair of crotchless knickers and showed it to the cameras. And pointing towards her sexy pants, she asked:
"Would you think I'm boring in bed looking at all this?"
One of the cleaners replied:
"Hell no"
Without listening to the answer, Katie went on to say:
 "I'm so bloody boring. I just love stockings and suspenders. I love it."
Katie then asked the cleaners to find out her kids' underwear in the mess. She said:
"I tell you what I do need – Jett and Bunny's pants and socks."
She tried to sort out the clothes and added:
"It's an absolute headache. Most of these I'll put on eBay. Where do I start?

"My plan is I've got to go in each room, find what I want and what I don't want. I've been putting stuff on eBay for years but I do have to sort this out."
The other mess in her house
Katie was finding it difficult to sort out the mess and segregate it. She also has an outbuilding in her mansion which was similarly messy. There was also an old huge TV in the trash there. She said:
"The place is literally full of junk. You know when someone's got a garage full of crap? I've got nine."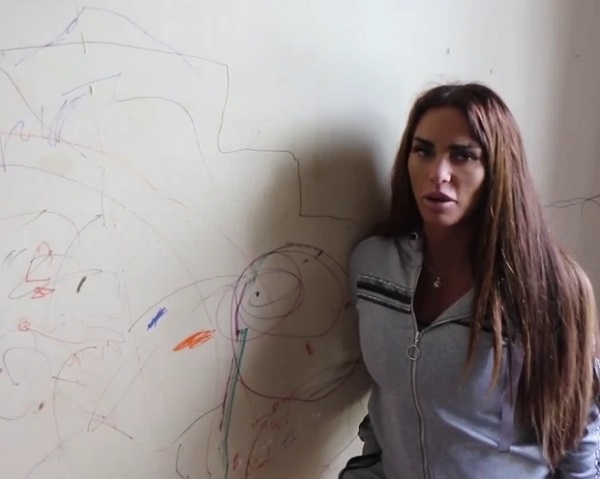 Katie and her kids were staying in the 'annexe' as her home renovation was ongoing. But it has been a long-stretched thing now. An insider revealed:
"Work on Katie's house has now gone on so long, she can't really live in it at all."
Katie has taken a loan and supposed to pay the creditors £12,000 a month but has been unable to do so. She has a bankruptcy charge against her and the Judge has ordered a notice to be served on her within a week. But she is now going to film the Celebrity version of SAS: Who Dares Win.
Short Bio on Katie Price
Katie Price is an English television personality and glamor model. She was previously known as Jordan who rose to fame as topless female glamor model in a pictorial Page 3 in British tabloid newspaper The Sun. She was ranked #2 in a list of the 100 Worst Britons We Love to Hate in 2003, voted by viewers of television network Channel 4. More Bio…
Source: The Sun UK