Katie Price has a six-hour surgery for her broken feet, sobs in agony outside Chelsea and Westminster Hospital, London!
The former Glamour model, Katie Price, 41 had a recent surgery for her broken feet. She was outside Chelsea and Westminster Hospital in London on Saturday 15 August 2020 on a wheelchair and was sobbing in agonizing pain. Her boyfriend Carl Woods helped her get into their car.
Katie Price and her surgery for her broken feet
The former supermodel, Katie Price, 41 is in trouble again. She had yet another surgery on her body. This time it was for her broken feet. The surgery lasted 6 hours and was done at Chelsea and Westminster Hospital in London. She was outside the hospital on a wheelchair and was sobbing in deep pain. She was waiting to go home.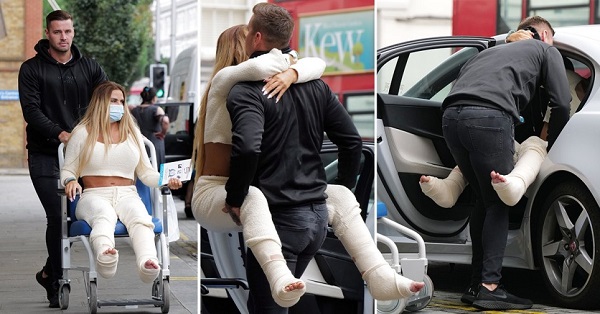 Her dutiful new boyfriend, Carl Woods, 31 was with her. He lifted her carefully and put her into a waiting car. Katie was on a holiday in Turkey with Carl and her two children, Princess, 13 and Junior, 15. And then she landed into trouble when she broke her feet and ankles in an accident there. The surgery seems t have been successful but the model still had a lot of pain.
More about this waiting time outside the hospital
Katie was wearing a white teddy bear cropped jumper with matching bottoms. Her both legs were bandaged and stretched in front of her as she sat on the wheelchair. Her head was down and she was holding it in her left hand as she winced in pain and discomfort.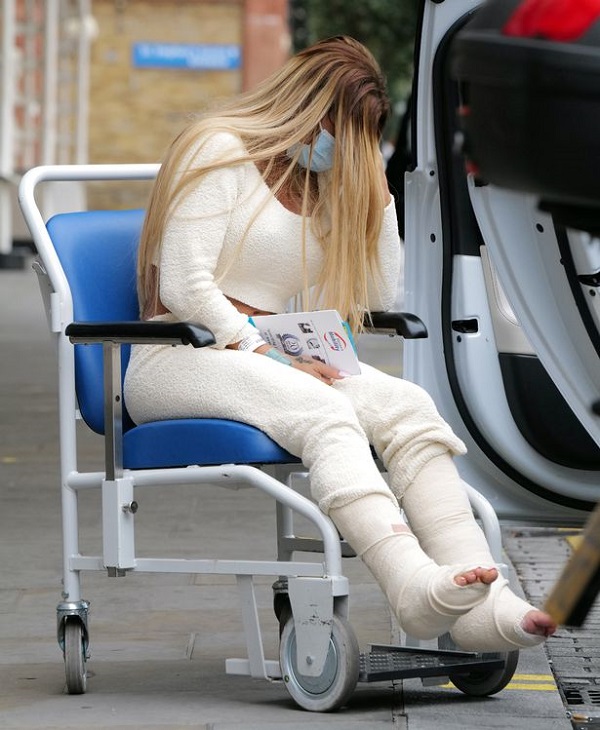 Carl wheeled her out of the hospital onto the pavement and went to prepare the car to take her home. He lifted her in his hands and put her in the car gently. Katie had hooked her arms around Carl's neck as he was carefully placing her in the car. Her face and body language clearly revealed that she was in extreme pain.
Katie gives her health updates
After the accident last month, her doctors warned her that she will have to take the recovery period seriously or she could lose her leg. A source revealed:
"Katie's doctors have warned her she must take her recovery seriously and it's left her terrified. 

'She's prone to getting infections after operations, and her surgeon says she could lose a leg if her feet get infected.

'She'll have to be so, so careful – she'll have medical professionals on call 24/7 – and change the dressings regularly. She's got a long road ahead of her.' 
On the night of 14 August 2020, she told her fans that she has completed her 6-hour long surgery. She also revealed that she might need more procedures after that. On 15 August 2.30 am in the wee hours of the morning, she posted a video of her on hospital bed in an empty ward.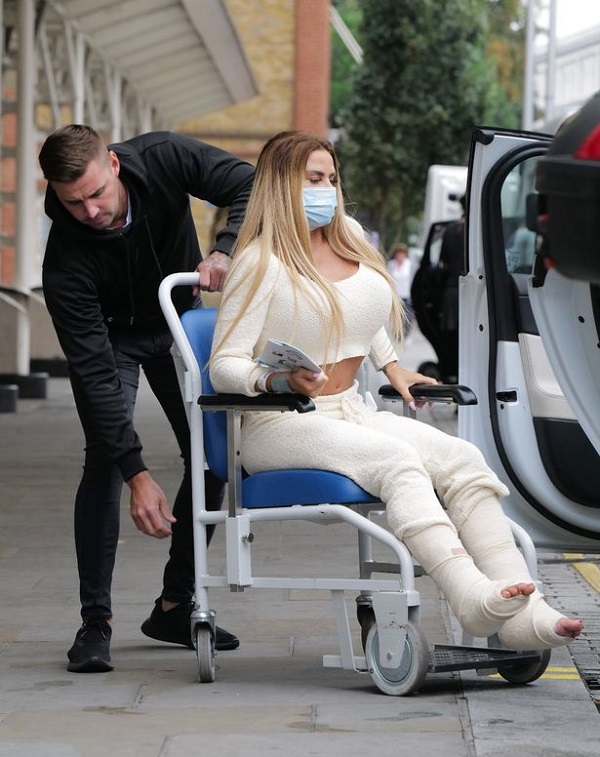 She wrote:
'So 02:30am I can't sleep despite the fact I've had pain killers and I'm in so much pain and so tired,' 
and followed it with a sad face emoji. Doctors have advised her to take a proper 2 weeks rest and she can only go to the toilet. She cannot have sex in these two weeks.
Short Bio on Katie Price
Katie Price is an English television personality and glamour model. More Bio…