Kehlani answered "You" to Rapper YG's "Who Do You Love?" An insight on her life prior relationship
American singer, songwriter, and dancer Kehlani reveals her love-relationship with rapper YG to the public. Kehlani raised tons of eyebrows with a picture she posted of herself with rapper YG.
The picture made it seem like the pair has a good life now appreciating one another's presence. "cats out the bag????" she says having a million people screaming over the new pair.
Did you know favorite singer Ellie Goulding is now married?
Kehlani's life prior to the relationship
Kehlani is an American singer, songwriter, and dancer who debuted in the year 2009. She was a member of a former group PopLyfe.
The band auditioned for the sixth season of America's got talent and finished off at the fourth place. During their final appearance, a judge told Kehlani "You've got real talent, but I don't think you need the group." Following this, she began functioning as a solo artist.
In January of 2016, it was confirmed that Kehlani was in a relationship with star NBA point guard Kyrie Irving who eventually broke up.
Later in the year 2018, Kehlani came out as queer and pansexual and clarified herself by tweeting,
"I'm queer. Not bi, not straight. I'm attracted to women, men, REALLY attracted to queer men, non-binary people, intersex people, trans people. lil poly pansexual papa hello good morning. Does that answer your questions?"
On the 12th of October 2018, she announced that she was carrying Javaughn Young-white's child. Kehlani gave birth to her daughter, Adeya Nomi, in an extraordinary way in her bathroom at home in March 2019. She recently posted a picture of herself with her daughter.
Rapper YG's life prior to the relationship
The famous rapper YG debuted in the entertainment industry in the year 2005. He aggregated 'young gangster' into YG and eyed for a successful career. Rapper YG is more of a private person and has little about him known to the world.
This was until his ex-girlfriend Catelyn Sparks called him out in public. Catelyn claimed to be hacked but the information about her pregnancy came out. Currently, YG and Catelyn are blessed with two children Harmony Jackson and Vibe Jackson. YG hasn't shared any happy news directly, but we can obviously tell that he is happy to be a father.
The big reveal
Singer Kehlani dropped a huge bomb on the internet in the form of a picture with rapper YG. It was much of a shock to the world as it came out in an unexpected manner.
The two were happy in their own worlds separately, now they seem happier together. The pair seem to have created their own happy world within themselves. Kehlani loves her daughter unconditionally.
Now that she's in a relationship with YG doesn't mean her love for her daughter decreases. The couple has been happier together and has been blessing us with beautiful pictures together.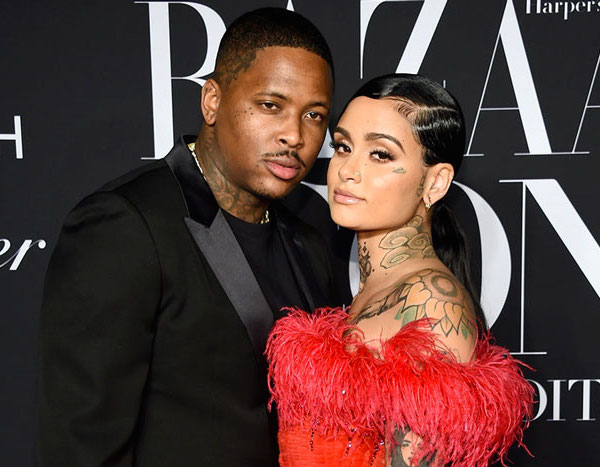 Also, learn about Nikki Bella's secret marriage to her unnamed high school sweetheart.
Short bio on Kehlani
Kehlani Ashley Parrish is a singer, songwriter, and actress from America. Originally from Oakland, California, Kehlani got original notoriety as a part of Poplyfe teenage band. her first business mixtape, Cloud 9, got published in 2014. Kehlani's commercial mixtape, You Should Be Here got debuted at number 5 on the R&B Hip Hop chart. More bio…