Kellyanne Conway married to an Asian? White House officials called coronavirus "Kung-Flu"!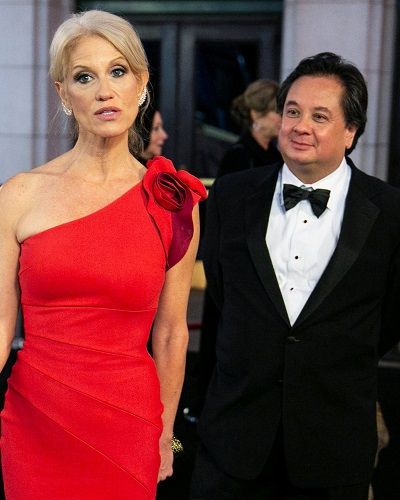 Kellyanne Conway is happily married to George T. Conway III. Recently after the White House official and Donald Trump called the virus "China virus" and "the Kung-flu" Kellyanne is not happy with them.
She responded to the criticism over the White House's conflating the novel coronavirus with China by saying,
"I'm married to an Asian"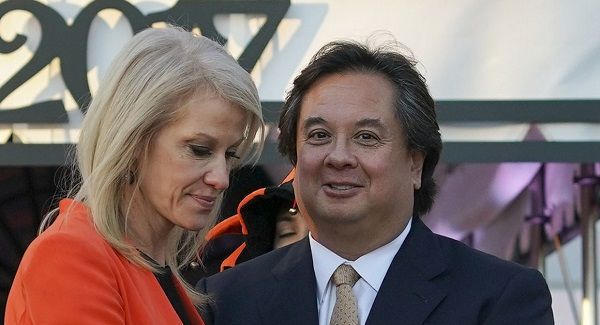 The PBS NewsHour correspondent Yamiche Alcindor pressed Kellyanne to denounce the reported "Kung-flu" remark. She responded,
"That's been alleged….I'm not dealing in hypotheticals here, of course it's wrong, but you can't just make an accusation and not tell us who it is" 
Kellyanne added,
"Weija, who was it? Tell us, I think we out to know?"
When Jiang asked her how the conversation went, she replied,
"I don't know how these conversations go, and that's highly offensive so you should tell us who it is, I'd like to know who it is. I'm not going to engage in hypotheticals, I'm married to an Asian…my kids are partly — I'm married to an Asian-American, my kids are 25% Filipino." 
Her husband is of Filipino descent on his mother's side.
Also read Interesting Facts about CBS correspondent Margaret Brennan early life, carrer, education and her personal life. You can find out here!!
Who is her husband George T. Conway III?
George Thomas Conway III is an American attorney who was considered for a post as an Assistant Attorney General heading the Civil Division in the U.S. Department of Justice.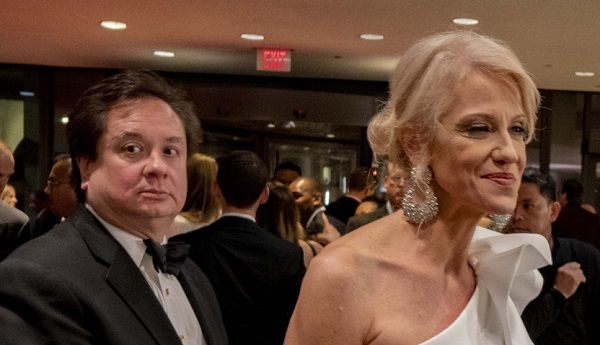 He is the son of a defense contractor Raytheon and organic chemist. Conway is a Harvard College graduate with an A.B. degree in biochemistry. From 1987 and 1988, he served as a law clerk to Judge Ralph K. Winter Jr. of the U.S. Court of Appeals for the Second Circuit.
Similarly, on 9th November 2018, George and Neal Katyal wrote an op-ed in the New York Times challenging the constitutionality of Trump's appointment of Matthew Whitaker.
Kellyanne Conway's marriage with her Asian husband
Kellyanne Conway married George T. Conway II on 28th April 2001. They have four children. Their twin's children are Claudia and George IV. The other two children are Charlotte and Vanessa.
It seems like their marriage is not is a good place as George is talking about wanting to make their marriage work. He wants his wife to get out of the White House "cult".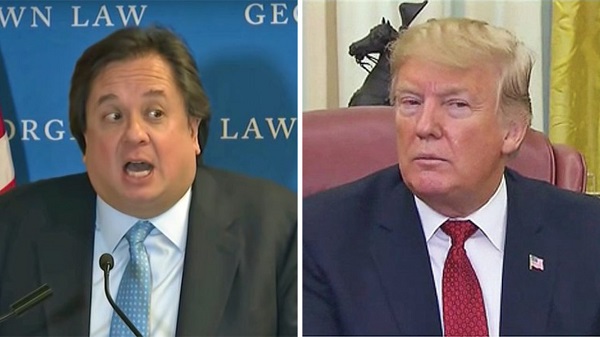 George loves his wife but he is not happy with her working for the president. At present, the family of six reside in Alpine, New Jersey.
Likewise, Kellyanne dated the late senator and 2008 presidential candidate Fred Thompson.
Also read Political advisor Sarah Sanders to speak in the desert! Know about her married life, children, President Donald Trump relation, net worth
Short bio on Kellyanne Conway
Kellyanne Conway is a political activist who is currently working as a Counselor to President Donald Trump, the President of the U.S.A.
She has also been a Republican Party campaign manager, strategist, and pollster. Kellyanne has also served as president and CEO of The Polling Company Inc./Woman Trend. Read more bio…
Source: AlterNet, Business Insider, Washington Examiner