Kendall Jenner Won't Let the Cucumber Memes Get to Her Head as She Dresses Up as One for Halloween!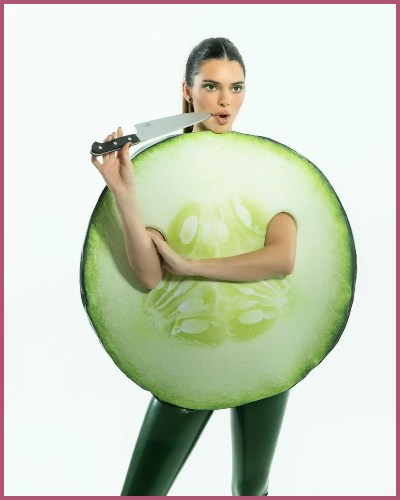 Kendall Jenner surprised fans by dressing up as a cucumber this Halloween.
The model was trolled heavily some time back for not knowing how to cut the vegetable.
The  26-year-old wore a full sliced cucumber costume in a photo that she shared on Instagram on Monday.
---
Kendall Jenner pokes fun as a cucumber this Halloween
By now, we are very much convinced that Kendall Jenner loves cucumbers; even if she doesn't know how to slice one.
The supermodel made fun of herself by dressing up as a cucumber for Halloween- just months after her infamous video where she could not slice the vegetable.
Jenner donned a fully sliced cucumber costume, dark green leggings, and stiletto boots in a photo that received millions of likes on Instagram.
The photo showed the Kardashians star holding a knife as she captioned the picture:
"I'm giving out fruits and veggies tonight,"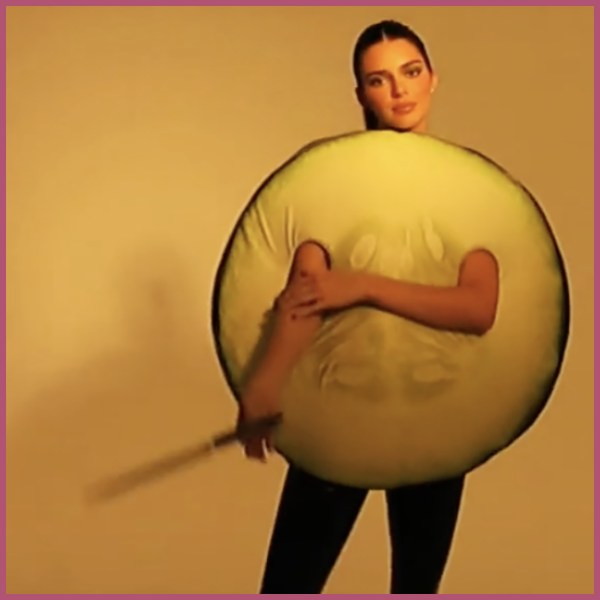 The model also posted a funny video to audio about slutty costumes from the movie Mean Girls.
Jenner knew the comment section would be filled with funny, humorous, yet sarcastic opinions so she turned off the comments.
But desperate fans gathered on other social media platforms where they praised her for continuing the joke.
One of her 262 million fans wrote on Instagram:
"THIS IS TOO ICONIC😭,"
Another one joked:
"Only 3 things are guaranteed in life, death, taxes, and kendall delivering on halloween 😂❤️,"
Referring to Jenner's inability to slice the veggie, one fan  commented:
"did the chef cut that for you? Or did you figure out how to use that knife?"
Also, Read It's a rare PDA! Kendall Jenner and Devin Booker Kissed at the US Open months after Getting Back Together!
Kendall faced backlash for her Toy Story Halloween look
Back in May, the model faced severe backlash after an episode of the Kardashians showed her struggling to cut a cucumber.
Many of her family members and the model herself were not happy after the online criticism she faced for her actions. Kendall, however, seems to handle the situation pretty well as she made fun of the situation after calling the situation tragic.
Now, the Jenner girl seems to have improved her cooking skills. She posted a photo of the fruit on a chopping  board and captioned it: "here we go again."
Before the funny cucumber costume, Jenner dressed up as a sultry version of Jessie from Toy Story over the festive weekend.
She completed her look with butt-baring, cow-printed chaps and denim underwear.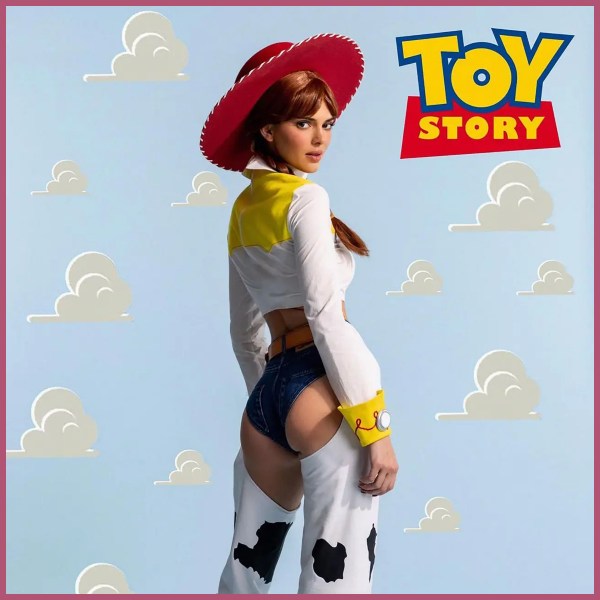 While many think she looked sensual, many criticized her for sexualizing their favorite childhood TV show character.
One angry fan wrote:
"It's a kids movie WHY?!?"
Another one added:
"This is a lot for my childhood memories to process."
Her sisters who are also very famous for their bold Halloween looks shared pictures that grabbed everybody's attention.
While Kim dressed up as a character from the iconic movie Avatar, Kylie donned the Bride of Frankenstein look.
Also, Read Kylie Jenner Stuns Fans in Bride of Frankenstein Halloween Costume!