Why Did Kevin Durant's Bodyguard Antjuan Lambert Get Suspended? Reason Revealed!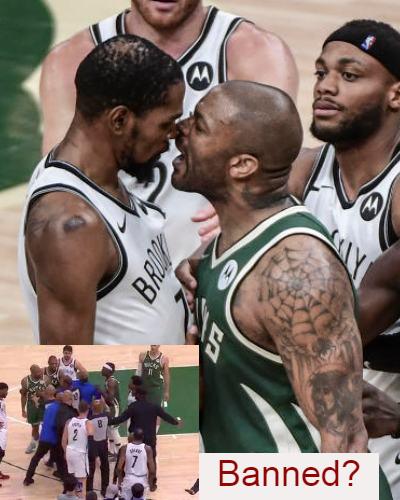 Antjuan Lambert, Kevin Durant's bodyguard got suspend from the rest of the game of the series. 
He got suspended after he ran to the court to defend Durant from an altercation. 
The footage shows him making physical contact with Tucker as got near to the court. 
---
Brooklyn Nets basketball player, Kevin Durant has made headlines a lot this year. From paying fines in April to going on a date with the social media personality, Lana Rhoades. But this time, he is on the news not because of him but his bodyguard. The authorities suspended him from the ongoing game series and also the rest of the game of the series. During the semi-finals against the Milwaukee Bucks Durant's bodyguard made the headlines. The footage of the court shows him getting physical while defending Durant.
What happened at the game?
On June 10, 2021, there was a game between the Milwaukee Bucks and the Brooklyn Nets. In the third quarter of the game, P.J. Tucker had an altercation with Kevin. During the confrontation, the players started getting physical and more players got involved. As things couldn't go any worse, Kevin's bodyguard Lambert joined in to defend Kevin. Meanwhile, the video footage shows him getting in a physical altercation with P.J. while defending Kevin. The video footage shows him bumping and allegedly shoving Tucker to defend Durant. Othet teammates and referees had to get between to pull them apart. Moreover, Jones started confronting Kevin after referees got involved to stop the fight. Later on, Bucks forward Bobby Portis addressed the incident: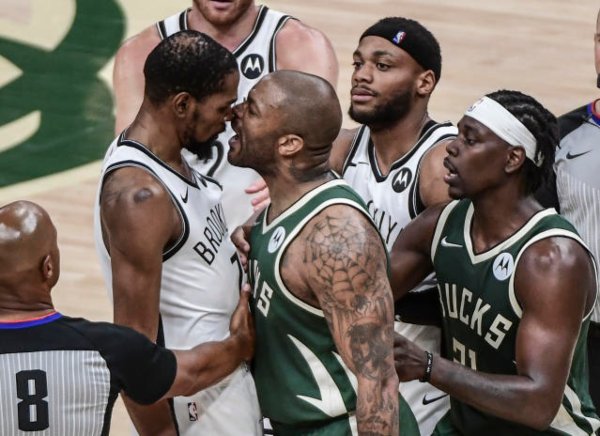 "It was kinda crazy, he just attacked P.J. Most of the time, team security comes in and gets in between everybody, so (he) probably did cross the boundaries with that."
Moreover, Portis' teammate Jrue Holiday had something similar to say. He added:
"He bumped Tuck kinda hard, though. I don't know if he's supposed to do that. I think when it comes down to it I'm here to play basketball and that's not something I'm gonna worry about. And I like the chippiness and the talking of KD and Tuck. I'm gonna back Tuck every time. I feel like that's something the league has to deal with or the teams have to deal with. "
Suspension of Antjuan Lambert
After the incident, the Nets have not yet released a statement on what happened. At the mean time, Bucks forward Bobby Portis shared his opinion saying he thinks it is crazy that he "attacked" P.J. He further added that Lambert specifically pushed him. Portis thinks Lambert crossed his boundaries with his action on the court room. Though NBA hasn't released any statements, they surely took action against what Antjuan did on the court. NBA writer ESPN Tim Bontemps made a tweet on their behalf saying: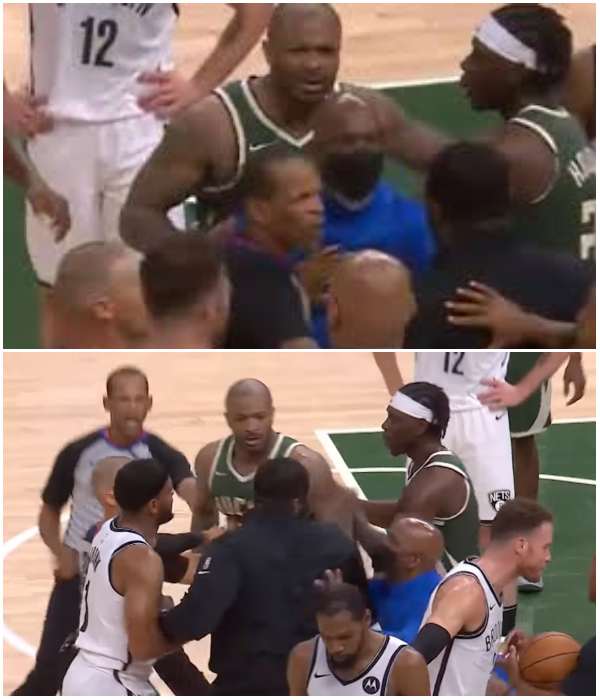 "A league spokesperson said that the Nets security official who made contact with PJ Tucker during Game 3 will not work any remaining games of this series in Milwaukee, and won't be assigned to the court in Brooklyn during the remainder of the Eastern Conference semifinal,"