Quick Facts of KGB Andrea Lee (fighter)
Age:
33 years 9 months
Birth Date:
February 11, 1989
Full Name:
KGB Andrea Lee (fighter)
Net Worth:
$80 k US
Last Updated:
November, 2022
Birth Place:
Atlanta City, Texas, USA
Horoscope (Sunshine):
Aquarius
Salary:
$31,500
Height / How tall :
5 feet 7 inches (1.70m)
Ethnicity (Race):
All Texan American
Nationality:
American
Profession:
MMA Fighter
Father's Name:
Kent Lee
Mother's Name:
Cheryl Lee
Education:
Queen City High School, Cass County, Atlanta City, Texax, USA
Weight:
56 Kg
Hair Color:
Blonde
Eye Color:
Blue
Lucky Number:
4
Lucky Stone:
Amethyst
Lucky Color:
Turquoise
Best Match for Marriage:
Aquarius, Gemini, Sagittarius

Social Media

Facebook Profile/Page:
Twitter Profile:
Instagram Profile:
Tiktok Profile:
Youtube Profile:
Wikipedia Profile:
IMDB Profile:
Official Website:
View more / View fewer
Quotes
"My family and I are handling the situation to the best of our ability, as this is a very sensitive issue and one that as a public figure I wish was not taking place in a public forum. I respectfully ask that everyone respects our privacy at this time as we work towards resolutions and closure."
"I look forward to returning to the Octagon and resuming my winning ways in the near future. Competing has always been a sanctuary for me and brings great joy to my life."
"As an amateur I was 9-3 in MMA. I won several regional titles along the way. I was also a three-time Muay Thai World champ through the IKF and TBA. I was a two-time North American champ through the WKA. I won two state Golden Gloves boxing titles, two regional Golden Gloves, and 1 Women's National Golden Gloves. I am also a two-time Naga World champ and a two-time North American Champ."
"Origin of nickname: "Before you ask, it's not a political statement. KGB came originally from my coach and the guys picking on me in the gym saying I look Russian. It kinda stuck but not until the 2014 Muay Thai world Championships did it really get roots."
"A Russian team coach saw the KGB on my shorts and asked my coach Donny if I was Russian. He said no and then the Russian coach exclaimed "WHY KGB THEN ?!?!" He was pretty agitated and I didn't know what was gonna happen. Donny just said "SHE looks like a Russian chick, man." He looked me up and down and said, "She does," then walked away. We fell out laughing. After I won the world championship that year the whole Russian team came up and took pictures with me. it was a great feeling and KGB has since been my brand."
"The UFC is where I've always wanted to be and it's where I feel I belong. I am a warrior and I want to test myself against the best on the biggest stage in the world."
Relationship Facts of
KGB Andrea Lee (fighter)
KGB Andrea Lee (fighter) is married to Donny Aaron.
She is mother of One (Ainslee Lee).
KGB Andrea Lee (fighter) is not having an affair with anyone presently.
Her sexual orientation is straight.
---
What is the relationship of KGB Andrea Lee (fighter)?

Andrea Lee is married to Donny Aaron. Donny Aaron is a former policeman, a former World Kickboxing Champion, and a Retired IKC Champ Kickboxer & Pres. of Outlaw Muay Thai, Head Coach of Karate Mafia and trainer of champs KGB Lee & Andy Nguyen. He has coached KGB since a teenager

Andrea and Aaron have a daughter, Ainslee.

Following a charge of domestic violence/battery and false imprisonment, Andrea's husband was arrested on 29 May 2019, by the Shreveport police after a nine-month hunt from the day his arrest warrant was placed.

KGB Andrea Lee lives with her daughter in Bossier City, Louisiana, United States
Who is Andrea Lee?
Andrea Lee is a multi-titled Texan MMA fighter. Andrea loves her nick 'KGB'. Lee is a kickboxer and mixed martial artist in the flyweight division.
As of December 10, 2019, Andrea is signed up with UFC and is #8 in the UFC women's flyweight rankings.
Andrea Lee- Birth Age, Family
Andrea Lee was born on Saturday, 11th February 1989 in the city of Atlanta in Texas, USA. Andrea's sister is Jacque Lee, who loves to follow KGB in her professional fights.
Their parents are Kent Lee and Cheryl Lee of Atlanta, Texas.
Andrea Lee-Education, Professional Career
How it all began
Andrea was educated at Queen City High School, Cass County bordering Atlanta City, Texas to the south. While at Queen City High she regularly competed in powerlifting and volleyball.
Thereafter KGB moves to Bossier City in Bossier Parish, Shreveport-Bossier City on the eastern bank of the Red River, Louisiana, where she took a waitressing job at a local sports bar. The sports bar ran MMA events on its bar television and Andrea followed the martial arts fights as she worked around the bar. She was fascinated and intrigued by the fights and being the 'rough and tumble Texan-cowgirl' she started having thoughts of becoming one of the prize fighters.
Given her interest in powerlifting, Andrea followed up on her bar colleagues' encouragement she sought out a trainer and has not looked back. She realized that a career in MMA and Muay Thai was the right choice for her!
She started training in martial arts at the age of 20, in 2009 while bartending. At this point, she started boxing too and after 6 years of preparatory training, she then set her sights on accomplishing her goals as a mixed-martial arts prize fighter.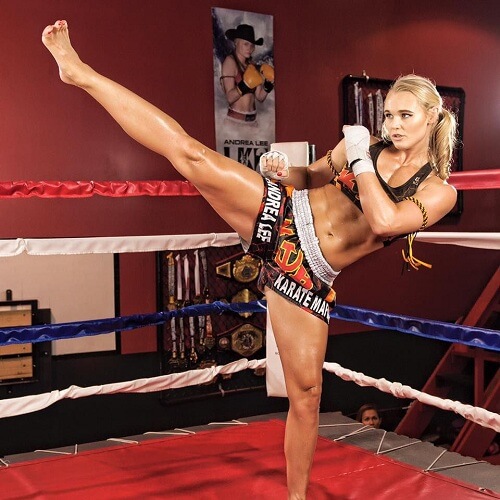 Professional Details
She made her Invicta FC debut in November 2014. KGB's association is with KARATE MAFIA,  Gladiators Training Academy USA, under W Flyweight. She works with Team Gladiators Training Academy, under the nick KGB.
KGB Andrea Lea FIGHT STANCE is Orthodox.
Fighting for a major organization has made Andrea Lee ineligible for regional rankings.
Gyms & Affiliations
Karate Mafia MMA (Primary)
Relson Gracie Brazilian Jiu-Jitsu (Jiu Jitsu)
Pro MMA Record: 11-3-0 (Win-Loss-Draw)
Current Streak: 1 Loss
Last Fight: September 07, 2019, in UFC
Weight Class: Flyweight | Last Weigh-In: 126.0 lbs
Fighting out of Shreveport, Louisiana
Foundation Style: Muay Thai/ BJJ
Head Coach: Donny Aaron
Other Coaches: Relson Gracie
Andrea Lee- Technique, Style
KGB uses her favorite grappling technique that gets her to tap, and her Favourite Striking technique is the one that lands.
Career Summary 2014-2017
KGB has a combined sports record of 36-6. She is a three-time amateur world Muay Thai champ, a two-time North American champ, and has countless MMA titles. Andrea is also a National Golden Gloves Boxing Champ and a two-time Brazilian Jiu-Jitsu World champ.
As of 2019, she now is in a fight for the elite Women's MMA promotion, Invicta FC, and ultimately a career in professional kickboxing and Muay Thai.
In 2014, she was named Amateur of the Year, The WMMA Press Awards "Newcomer of the Year" and also was the recipient of the Julie Kedzie "Most Exciting Fighter" award.
Andrea is one of the fastest rising flyweights in the world and after suffering a ruptured eardrum just days prior to her split decision loss to Roxanne Modifier in Dec of 2014, she came back strong post-surgery.
She came First by winning a unanimous decision for Legacy Kickboxing against No 10 world-ranked Lindsey Marino. She then went on to defeat Hawaiian standout Rachael Ostovich by Arm-bar.
On Dec 4, 2015, KGB defeated Ariel Beck, also by Arm-bar submission, to win the Legacy FC World Flyweight title in what was referred to as Women's Fight of the Year- a stellar performance.
The year 2016 was a disappointing year for KGB with one fight that was lost by submission loss and also received a 9-month administrative suspension for a banned diuretic.
The year saw marked improvements in her ground game that continued into the rest of 2017 when she began with a World Flyweight title with a 3rd Arm-bar submission.
After a stellar beginning in 2017, KGB ended the year 4-0 (1 ko 2 sub 1 Dec), the second win in Invicta in the inaugural LFA title, and made 1 title defense. KGB was taken up in the UFC singling-g a multi-fight deal. She debuted in the UFC around April.
Fast-forward- 2019 and KGB Andrea Lee
There is a story about how Andrea got the nick 'KGB' and it stuck!
Andrea trains hard every day and also hits the gym as often as she likes. Every day she trains in a beautiful 20-acre "fight" ranch that is fitted with the latest in martial arts combat- from agility fields to state-of-the-art wrestling rooms. This fight ranch is surrounded by a 40-acre azure lake. KGB, it is the best place to concentrate and relax mentally at the same time.
Living at the fight ranch allows Lee time for both training and relaxation with her family- they have everything they need on the ranch.
The fight ranch also has Muay Thai pavilions and housing for new-training partners.
KGB's Daily Routine
Monday through Thursday
-Cardio from 8-8:45, strength or agility on alternating mornings from 8:45-9:45
-Muay Thai from 10:00-12:00, 12-1 free roll, rest for lunch 1-3:30
-Back at 3:30 for MMA until 5:30.
Friday is a day of rest and Saturday is a half-day – open bags and ring for heavy sparring. Sunday again is a half-day – open mat for three hours of gi training.
KGB Lee- Ratings
Rating: 9.6/10. From 43 votes.
Andrea is one of the fastest-rising flyweights in the world today. In 2014 October, KGB was recognized as the 2nd Most Viewed Awakening Profile.
Rank According to the latest reports, Lee is the No. 12 ranked contender in the official UFC flyweight rankings.
UFC vet Tim Credeur compares Andrea Lee to his other pupil Dustin Poirier: 'KGB is intent on your destruction.
Andrea Lee's fight records
MMA 11-2-0
Muay Thai & KB 1-0-0
MMA (Amateur) 7-3-0
Muay Thai & KB (Amateur) 10-0-0
Boxing (Amateur) 9-2-0
Andrea Lee Martial Artist Details
MMA- Professional Champion
Muay Thai- Professional Amateur World Champion
Kickboxing
Professional North American Champion
Brazilian Jiu-Jitsu- Purple Belt
World Champion Boxing
Amateur National Champion
Judo Brown Belt
Accomplishments
Andrea is the first person to win the triple crown in amateur Muay Thai – she won the IKF, WKA, & TBA titles all in one year (2014). Andrea turned professional in Kickboxing in 2015.
She is also a wrestling practitioner and holds a Brown Belt in Kyokushin.
In December of 2015, Andrea was awarded her Purple Belt in Brazilian Jiu-Jitsu by Relson Gracie.
Legacy FC
2017 – LFA women's defending Flyweight world champion
2017 – LFA Women's Flyweight Champion (inaugural)
2016 – Legacy FC professional women's flyweight Champion (inaugural)
2014 – Legacy FC Amateur Flyweight Champion (inaugural)
Ascend Combat
2013 – Ascend Combat Amateur Flyweight Champion (2 defenses)
Kickboxing
2014 – International Kickboxing Federation (IKF) World Classic Amateur Featherweight Muay Thai Champion.
2014 – TBA Amateur World Open Lightweight Muay Thai Champion
2014 – WKA Amateur North American Kickboxing Champion
2014 – WKA Amateur North American Muay Thai Champion
2013 – International Kickboxing Federation (IKF) World Classic Amateur Muay Thai Champion
Boxing
2013 – Amateur National Golden Gloves Champion
2013 – Louisiana State Golden Gloves Champion
2010 – Louisiana State Golden Gloves Champion
Andrea Less- Net Worth, Income
She has a net worth of $80k US as of 2022. As a professional wrestler, Andrea earns a salary of $31,500 which includes $14,000 from the show, $14,000 from win bonus, and $3,500 fight week incentive pay. Her Average Salary is $34,000, and her Expected Lifetime Earnings may amount to $1,419,432 and above.
Point of View- A head-in-the-clouds kinda-sorta-fan thinks that 'top UFC fighters can make a ridiculous amount of money for a single fight—especially if it's such a big deal that it's televised on a pay-per-view with a number in the title.'
Point of View- A financially concerned fan (S.Jkbs) retorts '13k is peanuts for pro athletes. If … 3x fights per year, that's only 39k… deduct trainer and other various fees… How on earth can you support yourself with a minuscule amount of money…They need to work another job… That's terrible…!'
KGB- Complete Fighter, Height, Weight Stats
KGB is a blonde with blue eyes, weighs 56.7 kg, and 5 feet 6 inches tall/ 1.70 meters.
Fighter Stats Nickname: KGB
From: Atlanta, Texas
Fights Out Of: Shreveport, Louisiana
Age: 30 Height: 5′ 7″ ( 170 cm )
Weight: 125 lb ( 56 kg )
Reach: 69″ Leg Reach: 37″
Status- Active
Skill Breakdown based on the result from 1 fight- Record: 9-2-0
Overall Agility Summary: Truly all-rounder, complete MMA fighter, multi-dimensional- unlike other female fighters, natural body strength, is a physically stronger fighter and challenger in all bouts.
KGB Fun Facts
#1 Song on KGB's birthday- February 11, 1989, was "Straight Up" by Paula Abdul, a Billboard Hot 100 on February 11, 1989.
#1 Song on her 14th birthday- It was "All I Have" by Jennifer Lopez Featuring LL Cool J.
Born on a Saturday
-February 11, 1989, was the 6th Saturday of that year, the 42nd day, and also the 2nd month of 1989 in the Georgian calendar. The next time KGB will reuse her 1989 calendar is 2023 and wonderfully exact to the last detail.
-There are 55 days for her next birthday; the 31st birthday will be on a Sunday, and after that on Thursday, and the next birthday is on a Sunday
Since KGB was born on this date, she has been alive for 11,266 days, she was born in the Year of the Serpent, and her r birth sign is Aquarius.
Her ruling planet is Uranus.
There were precisely 382 full moons after she was born up to this day.
Her billionth second will happen sometime on October 20, 2020.
Sleep-o-meter
She has slept 3,755 days or 10.29 years and counting.
KGB- Victim of Domestic Violence
-In 2018 August, a warrant was out for the arrest of Lee's husband-coach, Donny Aaron on charges of domestic violence and manslaughter. He was on the run as a fugitive till May 2019 when the cops finally arrested him from his hiding.
Till his arrest, Lee had to leave her home for a time, then later was granted a temporary restraining order against Aaron. At that time with no other place to live, Lee was given a place to stay with her daughter by an old friend and long-time trainer,  the UFC veteran, and The Ultimate Fighter alum Tim Credeur.
Tim Credeur is the owner of Gladiators Academy in Lafayette and works in the Octagon, Dallas, Texas, acknowledges that both Lee and Aaron are his longtime friends and that Aaron's domestic violence may affect KGB's MMA Fighting.
Tim wants Lee to be the best possible version of herself she can be, "put it on the shelf", and focus on her training and MMA career.
After his arrest Aaron, 43, was extradited to Caddo Parish, Louisiana, to face charges of failure to appear in court and domestic battery, and booked into Caddo Correctional Center. He was released on a $1,700 bond that same day.
– On 11th March 2016, during the Invicta FC 16 bout, Flyweight Andrea Lee tested positive for a banned diuretic, canrenone, and/or spironolactone. She was informed via an email by the Nevada Athletic Commission notifying her, and her temporary suspension. She is also to appear before the NAC for a disciplinary hearing.
KGB- Controversy
On May 31, 2019, MMA Fighting confirmed the arrest of Aaron by the Shreveport Police Department, on May 24 in Upshur County, Texas, when he was stopped by an officer for allegedly speeding in a school zone and discovered an illegal amount of marijuana in his possession.
He was extradited to Caddo Parish, La., and charged with failure to appear in court and domestic battery. Aaron has been on the run since a warrant was issued for his arrest last August.
And this is not the first time. I 2009, Aaron was found guilty of manslaughter for the death of Ronald Jamison after shooting Jamison multiple times outside of Aaron's home, and he was previously charged with assaulting an ex-wife's fiancee.
In both instances, Aaron was arrested and served jail time.
When serving his jail sentence, Aaron got himself tattooed all over and posted his pictures on the net. There was outrageous indignation in response over the tattoos Aaron claimed he got to survive during his prison stint. He replied that he does not want to cover his tattoos because in his defense he said that "it would make him look "even more redneck"!
Well, go figure.
And then what happens is a total confuser. Andrea Lee comes to her husband's defense over the highly offensive ink, and in a now-deleted Twitter post, she wrote, "It's just a Nazi tattoo. You sensitive-ass mofos."
That did not go over well with the Twitterverse and received severe backlash for her insensitivity.  After removing the tweet, she tweeted back on June 3, 2018, requesting her fans to accept her full apology for defending her husband.
What goes around, come around, Twitter, Twitter, tweet!
Andrea Lee- Social Media
Andrea has more than 114. k followers and 2174 posts on Instagram, 30k on Twitter, and 30k views on her YouTube.
You may also want to read about the loves and life of international personalities like Ace Frehley and Candy Ken.
Photos of KGB Andrea Lee (fighter)